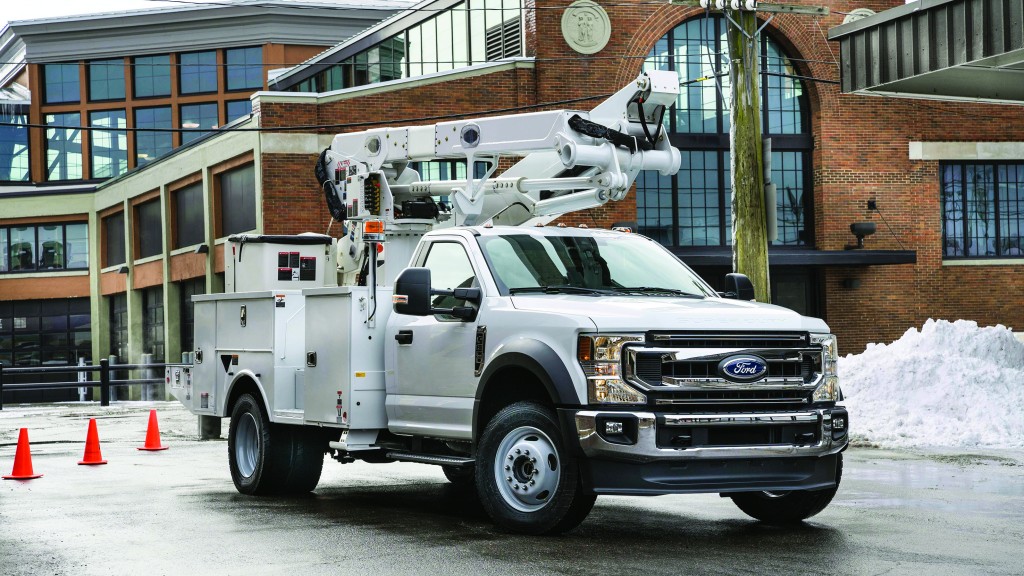 When Ford held its annual press event at the Work Truck Show this past March, nobody was expecting a brand-new nameplate to be introduced - but that's just what happened, and buyers will be able to take advantage of that surprise addition to the company's chassis cab line in 2020.
Ford rolled out the entirely new F-600 Super Duty work truck to fill a gap that has been a challenge for customers for some time: they have been asking for more capacity in a smaller package. The new truck will deliver the capability of a Class 6 truck in a Class 5 footprint. It was one of several updates to Ford's work truck line that were released at the event.
Medium-duty customers had been asking for a number of new features in the Super Duty line, and Ford found an opportunity to take that feedback and run with it, said Mike Pruitt, global chief program engineer.

"There's certainly a need there for that increased incremental GVWR for vocational users, whether it be for dump beds, bucket trucks or in landscaping - it helps them do more work," Pruitt described. "The best way to categorize it is that it's between our Class 5 chassis, the F-550, and our medium-duty F-650, which is Class 6."

Customers drive development
Ford has been hearing customer demand for a truck along these lines for some time, said Kevin Koester, Super Duty fleet brand manager.

"This was something on our wants list for some time; we go out and poll our customers pretty regularly and we have advisory boards that provide us a lot of feedback, and at some point over the last two or three years, their voices steered us in this direction, where they wanted to have more capacity in the F-550," Koester said.

The main desire was for an increase in payload capacity, as much as was possible to fit into the F-550 chassis size, Pruitt suggested.

"The real advantage here is providing that increased GVWR, which for the F-600 is up to 22,000 pounds, in that familiar Class 5 chassis," he said. "Our tagline is 'it's poised to go where the bigger trucks can't.' That's what we're excited to deliver."

Ford's customers in the market segments that will be interested in the F-600 are leaders in their industries and are looking for tools that are better suited to their tasks than the competition, said Koester.

"Let's say you have a customer who's going out into an oil field; they're loading up their truck, trying to make decisions about what tools they can put on and stay under weight. Are they going to be able to bring enough people for the job? When you get to a point where you are having to make decisions about what you're going to put into your truck based on the weight capability. . . quite frankly, you're in the wrong truck," he explained. "This keeps people in a platform that they very much like, that's an industry leader, and it gives them the extra payload so there are fewer decisions; the feedback we had that drove us to this is very much focused on that point. People are continually asking for one more pound, one more foot, and that's what this achieves."
New 7.3-litre V8 available
The F-600 Super Duty will feature Ford's new 7.3-litre V8 gasoline engine, which replaces the previously available 6.8-litre V10. The company says its new V8 will generate more torque and power than the V10, in a more compact package that allows better maintenance access for technicians while using fewer parts. The new engine features an all-new cam-in-block, overhead-valve architecture with cast iron block and forged steel crankshaft to ensure durability. It will include port injection with variable-valve timing and oil jets to cool pistons under heavy loads.
Koester said many customers are gravitating toward gasoline engines for work trucks due to recent emissions changes with diesel engines.

"Comparatively between a gas and a diesel, when I can remove the need to function with diesel exhaust fluid and a much more complex exhaust system than there would be on a gasoline engine, that's definitely been a driver for our customers," he said. "Certain vocations are definitely skewing toward the gas engine over the diesel. It's able to give them a little more displacement and power comparative to the 6.8-litre and smaller gas engines."

Pruitt said the new truck will also be available with Ford's third-generation 6.7-litre diesel, itself an upgrade on the current offering. Both will be paired with the 10-speed heavy-duty TorqShift automatic transmission.

Range of applications
Ford is expecting plenty of interest from a number of key truck-buying segments when the F-600 becomes commercially available.

"Utilities will be very interested in this truck - those are applications where, in some cases, they may never even turn the truck off - they run cycles where a new driver comes in and takes off," Koester said. "When you can make sure that the tools are on that truck to handle any job that comes along, that's definitely a big driver for that segment."

Applications such as dump trucks will be a good fit for the F-600 as well, thanks to the added payload available, Koester noted.

"If I can get a little bit of a fuller load, or shift my vehicle from a full-sized Class 6 vehicle down to a Super Duty, then you have some cost savings there; you also have the ability to potentially shift your body purchase from an aluminum to a steel body, which also gives the customer cost savings with the same, or a little more capability," he said.

Customers and Ford dealers have been very excited about the potential offered by the new addition to the Super Duty line.

"It's exciting to bring this to the market, and the feedback that we have had from the market, from both existing customers that have been partners of ours for a long time, as well as new customers who see this as an opportunity to start working with Ford, has been extremely positive," said Koester.