Grove and Strongco celebrate six decades of dealer success in Canada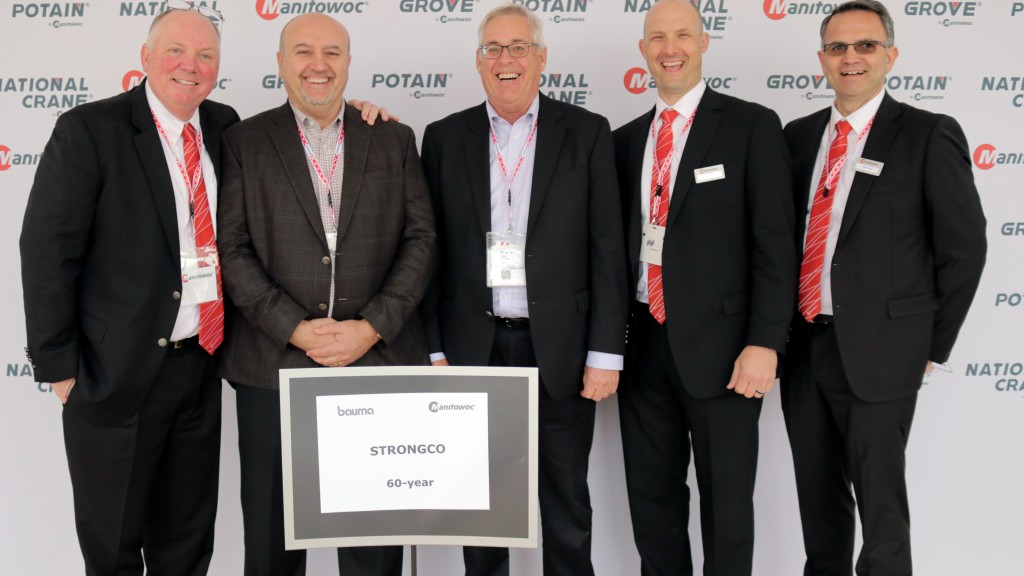 Grove and Strongco celebrated 60 years of doing business together during a special ceremony at bauma 2019 in Munich, Germany. Strongco is a Grove, Manitowoc and National Crane dealer that has a strong presence in selling, renting and servicing equipment across Canada.
Dave Hull, vice president of sales, Americas for Manitowoc Cranes, presented the company with an award. Strongco representatives William Ostrander, vice president of cranes and material handling, and Oliver Nachevski, vice president and COO, joined Manitowoc's booth at bauma to celebrate and accept the award.
Being proud of the 60-year partnership, Strongco's Nachevski said, "Strongco is very proud, and we value our partnership with Manitowoc. We look forward to continuing to represent this premier group of crane products for many more years to come."
Echoing his statements, Ostrander stated, "Manitowoc has been a key part of our success in Canada, and we're proud to be associated with this market leader in cranes and lifting solutions. The products and support they provide us and our customers is the best in the industry."
Manitowoc's Hull added, "Their ability to provide strong crane sales, rentals and service across Canada has been instrumental in ensuring our cranes are dependable for our valued customer base. Strongco is an important partner for us, and we look forward to many more years of good business."