Triton Tri-Drive air suspension latest addition to Link vocational line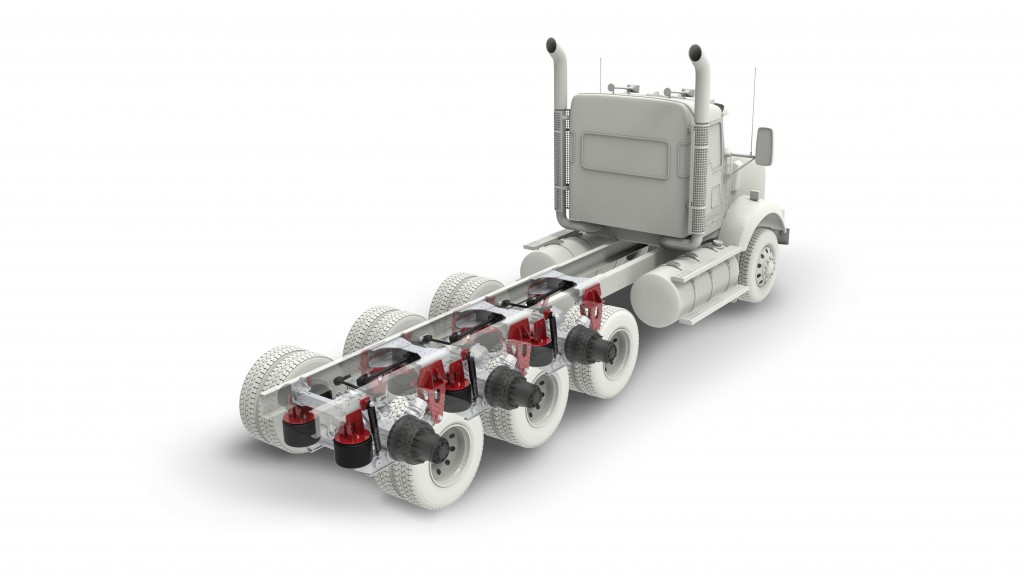 Link Mfg., Ltd. has delivered the first set of its new Triton Tri-Drive Air Suspensions. The industry's first ultra-high-capacity tri-drive air suspensions are engineered to be used in multi-axle configurations for heavy-haul and off-highway applications, according to the manufacturer. Designed for traditional production line installation, Triton's brawny 105K carrying capacity gives OEMs a viable and efficient path to broaden their product offerings by increasing the load-bearing capabilities of existing vehicle platforms.
Triton Tri-Drive Air Suspensions are engineered for application flexibility and can be combined to provide a variety of vehicle carrying capacities, including 35K single-drive, 70K dual-drive and 105K tri-drive configurations. Regardless of disposition, Triton Air Suspensions are designed to seamlessly integrate with most major heavy-haul axle makes and models.
"Using our new Triton Tri-Drive Air Suspensions, OEMs will now have higher-capacity equipment to offer, giving them access to off-highway mining, quarry and logging markets they may not currently serve," said Bill Ott, vice president of engineering for Link Manufacturing.
"Our line of Air Link Suspensions have been 100 percent off-highway-rated for 25 years, giving us decades of practical engineering experience in that market space. The Triton Air Suspension is the byproduct of that experience."
Ott explained that the Triton's heavy-duty mounting system was another innovation born of the company's off-highway experience. He noted that through voice-of-the-customer feedback, many of the problems associated with other tri-drives have been engineered out of the Triton, making its traditional installation fast and simple.
The Triton mounting system features extra-wide weight-bearing brackets that provide yaw stability, delivering predictable and well-balanced handling. Ride quality is also enhanced by Triton's high-mounted air springs and under-slung spring saddles, which allow plus or minus 4 inches of articulation, minimizing roll.
"Link's experience in designing rugged military suspensions has also contributed to the development of the Triton Tri-Drive Air Suspension," said Neil Mardell, manager - defense programs and heavy vocational products for Link. "Triton's ability to articulate, providing maximum traction over the most punishing terrain, is partly the result of its highly advanced, military-grade beam design."
Triton is also equipped with both longitudinal and lateral control rods that ensure proper axle tracking and alignment. Trailing beams are interconnected by a torsion bar, further improving ride stability. Unique dual-height control valves help the suspension maintain optimum ride height independent of load levels, and all units are fitted with heavy-duty shock absorbers.
Triton Tri-Drive Air Suspensions are engineered to maximize durability, while minimizing maintenance requirements. Polyurethane bushings provide longer service life and eliminate lubrication requirements. Polyurethane is also far more resilient than natural rubber bushings and resistant to petroleum distillates and other common contaminants.
All Triton suspensions are treated with Link's exclusive Link-KOAT migratory self-healing metal treatment. Link-KOAT provides unparalleled corrosion resistance and rust protection, even when surfaces are exposed to excessive abrasion, harsh chemicals and other severe-duty environmental factors.
"For the end user, this suspension will improve the laden and unladen ride quality for the driver and the lifespan of the vehicle it serves," Mardell said. "With Triton, users will enjoy the load-bearing capacity and roll stability of traditional steel spring suspensions, without the bone-jarring ride."
"Drivers will also be able to traverse uneven off-highway topography much more swiftly, which means more loads hauled in each work cycle," Ott added.
More from Trucking & Transportation
The all-new CASE TR340B compact track loader — operating at 90 horsepower with a 3,400-pound rated operating capacity — is the most powerful radial-lift CTL in the CASE lineup. Its all-new 8-inch LCD display improves on industry-leading CASE visibility with a new backup camera that is viewable in both forward and reverse operation. The display also showcases critical operating information and "trip" details. All-new electro-hydraulic controls, managed through the display, make it easier than ever for operators to dial CASE CTLs into specific application demands. All new cab controls and joysticks make the new TR340B easy to own and operate.
Industries such as construction, mining, energy, utilities and forestry, face many challenges when it comes to tracking assets and employees. Equipment often has to be transferred between locations, or monitored while it is dormant during off seasons. Lone workers may have to travel long distances or visit multiple sites during the course of their activities. And, all of this is further complicated today with shifting supply chains and economic realities putting further strain on the bottom line.