Hydrema ready to raise standards for safety with new dump truck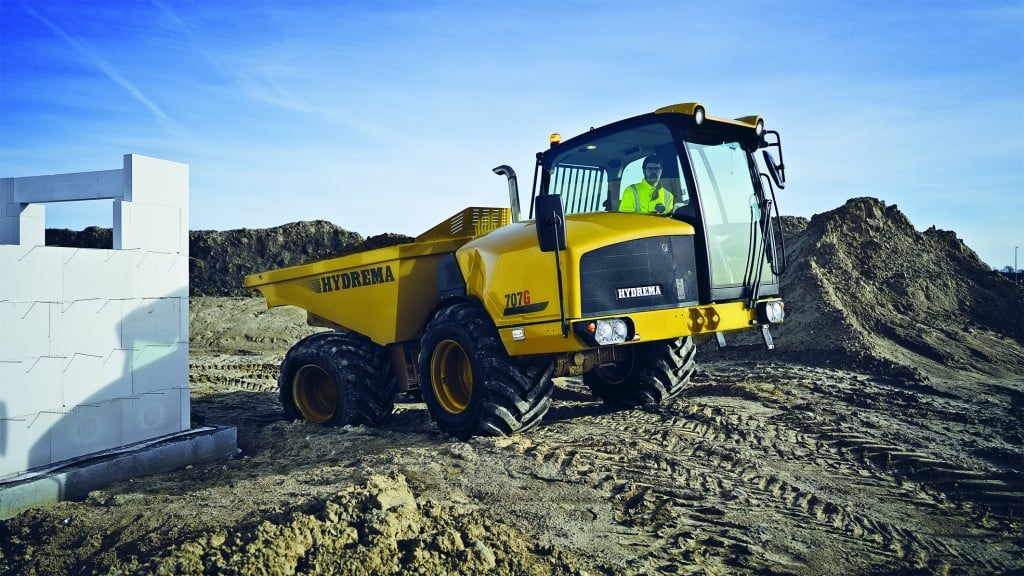 Hydrema is ready to set new safety standards for working with small dump trucks. In its 60th year, the Danish construction equipment manufacturer will launch a new dump truck that breaks with old traditions by offering a brand new design in the 6-9 t sector. This new machine has been made to comply, in particular, with UK safety regulations concerning site dumpers.
The UK is the world's largest site dumper market and in the last couple of years operators and contractors have pioneered a strategy to reduce dumper accidents on site. "Site dumpers are involved in a lot of earth-moving related accidents every year. Machine operators lose their lives or are seriously injured in accidents involving site dumpers. The causes are often due to poor stability, reduced visibility or slips & trips," explains Hydrema's R&D Manager, Thorkil K. Iversen.
To address these safety issues Hydrema has designed a small dump truck that breaks with all previous conceptions of what a site dumper should be. Offering all the benefits of a larger rear tip ADT but with the compact size of a traditional site dumper, the new Hydrema is a scaled down version of an articulated machine but in the 7-tonne class.
"No other manufacturers have produced a new or different solution so far. At Hydrema we have taken our well-proven 912-dump truck and incorporated all its qualities into a smaller version. This means that we can now supply a dump truck in the 7 tonne class with excellent all-round visibility, high stability, easy one-step access to the cab and great performance too," says Iversen.

The Hydrema 707G dump truck is the first in a new family of Hydrema earth-moving machines. It comes in two models with engine sizes of 55 kW (74 HP) and 90 kW (122 HP) respectively, the more powerful version being named the Power+.
The machine is fitted with a 3.8-litre Stage 5 Cummins diesel engine which meets the 2020 emission requirements and the 55-kW version does not require the use of AdBlue. The dump truck's unladen weight is 5.3 tonnes, and the load capacity is 6.5 tonnes.
The 707G has a fully variable hydrostatic transmission achieving speeds of up to 34 km/h, without interrupting traction.
Using the ECO-mode the Hydrostatic transmission keeps fuel consumption to a minimum as does the start/stop function as seen in passenger cars. Dump trucks typically idle 40 percent of the time so this makes for considerable fuel savings.
Superb visibility
"Our main focus for the 707G is safety and visibility. Forwards and to the sides, there is 100 percent visibility and to the rear you never have to look over the load but have full visibility through the large mirrors and rear-view camera. The roomy cab, which has been taken from our MX wheeled excavator offers the operator very high levels of protection and superb comfort. The cab is certified both ROPS and FOPS," explains Iversen.
With one-step-entry, the operator need only take a single step to get into the cab and can remain seated in the cab while the dump truck is loaded.
Chassis as a larger dump truck
For the best possible stability Hydrema has simply copied the chassis design of the 912-model. The chassis comes with the unique Hydrema articulation with oscillation joint and double hydraulic stabilizers. The machine comes as standard with the multi-tip (swivel tip) this gives the 707G greater flexibility and makes it ideal for working in confined areas.
In addition to the brand-new safety standards, Hydrema 707G dump trucks are also able to 'tread softly' in the literal sense of the word. With the optional 700 mm wide tyres, the 707G stands out from the field with a ground pressure of just 83 kPa.
Also available as a multi-chassis tool carrier
All the operator functions are controlled by means of a multi-function joystick in the right armrest. Just as in the 912 dump truck, it follows the movements of the seat. In addition, the cab is suspended and equipped with air conditioning as standard.
A multi-chassis version of the dump truck will also be available. This will provide an opportunity to equip the machine with a number of alternative attachments for example a flatbed or salt spreader, water / fuel bowser, etc. The multi-chassis / tool carrier version will be supplied with the larger 90-kW Cummins engine.
More from Earthmoving
The all-new CASE TR340B compact track loader — operating at 90 horsepower with a 3,400-pound rated operating capacity — is the most powerful radial-lift CTL in the CASE lineup. Its all-new 8-inch LCD display improves on industry-leading CASE visibility with a new backup camera that is viewable in both forward and reverse operation. The display also showcases critical operating information and "trip" details. All-new electro-hydraulic controls, managed through the display, make it easier than ever for operators to dial CASE CTLs into specific application demands. All new cab controls and joysticks make the new TR340B easy to own and operate.
Industries such as construction, mining, energy, utilities and forestry, face many challenges when it comes to tracking assets and employees. Equipment often has to be transferred between locations, or monitored while it is dormant during off seasons. Lone workers may have to travel long distances or visit multiple sites during the course of their activities. And, all of this is further complicated today with shifting supply chains and economic realities putting further strain on the bottom line.