Skills Ontario gets a lift from Skyjack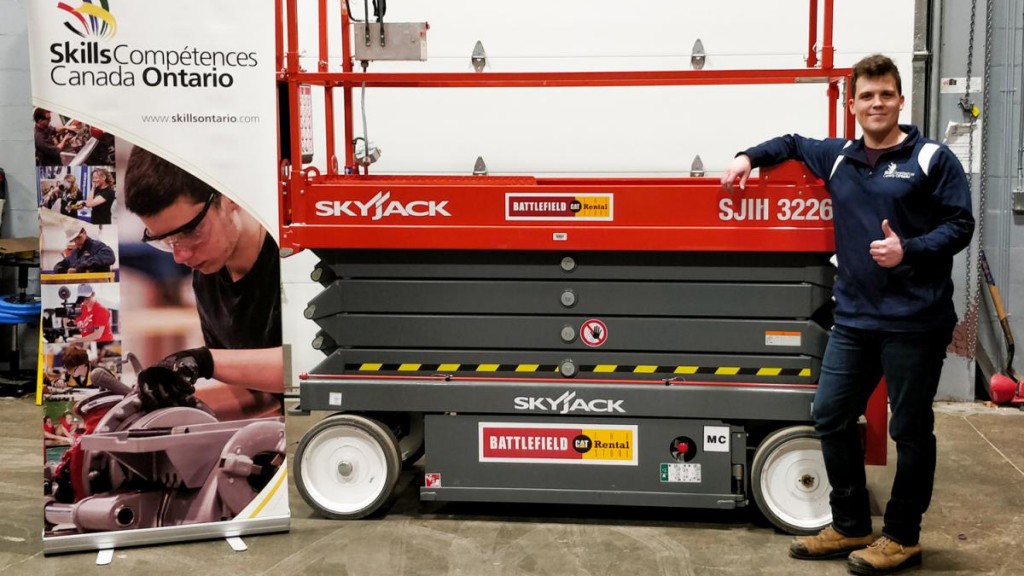 Skyjack has partnered with long-term customer Battlefield Equipment Rental to give setup crews a lift at the 30th Skills Ontario Competition. The two-day event kicked off May 6 at the Toronto Congress Centre and includes over 2,400 competitors and more than 500,000 square feet of action, demonstrations, and inspiration.
"The Skills Ontario Competition is the largest event for skilled trade and technology students in Canada," explains Ian Howcroft, CEO at Skills Ontario. "Our competition encompasses students of all ages varying from 4th grade students all the way up to apprenticeship-level professionals. It's an exciting opportunity for these participants as they prepare themselves for a future in skilled trades and technology."
Skyjack worked with Battlefield Equipment Rental to provide two SJIII 3226 DC electric scissor lifts for the skills competition. The work height of 32 feet (9.75 m) was integral in helping set up a competition for those working toward their Journeyman certificate. The scissor lift, which is driveable at full height, helped secure telephone poles to the ceiling trusses to set up for the competition.
"We were happy to work with Skyjack to help out with this event," said Colin Goheen, vice president of Battlefield Equipment Rental's Ontario and Manitoba branches. "There's a shortage of trades throughout our industry so it's great that groups like Skills Ontario are pushing these workshops to help get more people thinking about a career in trades."
Skyjack's manufacturing centres are in located in Ontario and the company employs a wide range of engineers, electricians and welders.
"We've been contributing to the Skills Ontario competition for the past couple of years and we're happy to help an organization that brings the benefits of a career in skilled trades to life," said Malcolm Early, vice president at Skyjack. "Our parent company Linamar is also a strong supporter of this event and we look forward to partnering with them again in the future."