"Smooth Operator" contest winner recognized - and certified - by Serious Labs at bauma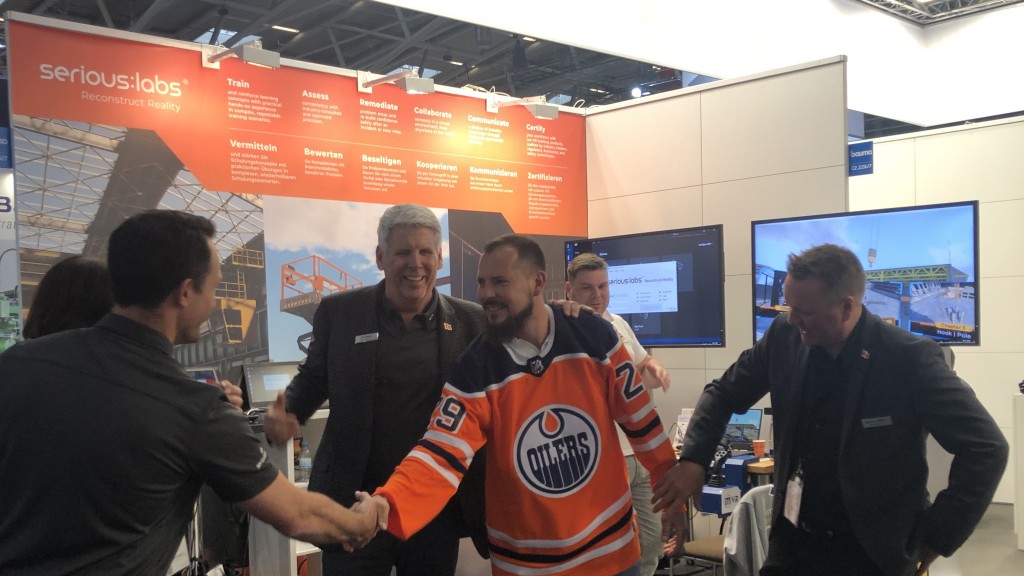 Attracting dozens of visitors from all over the world to test their operating skills on its Mobile Elevated Work Platform (MEWP) VR simulator at the bauma trade show in Munich, Germany, Edmonton-based pioneer of virtual reality (VR) training solutions Serious Labs announced the winner of its "Smooth Operator" contest, Nico Reinhold of Nimo Industries. Reinhold not only skated away with the grand prize but was also officially certified as a Mobile Elevated Work Platform (MEWP) operator.
Reinhold, from Germany, achieved the top score on the Serious Labs' VR Simulator during the three-day contest. In addition to bragging rights, Reinhold won the grand prize: a signed Edmonton Oilers hockey jersey which was donated to Serious Labs for the contest by superstar forward Leon Draisaitl. As a hockey fan, Reinhold was happy to have won the grand prize and was planning to wear it at an upcoming game in Iceland.
Reinhold also took advantage of his booth visit to be certified as an official MEWP operator by Matthias Mueller of AST-Safety (AST GmbH Arbeitssicherheit & Technik). Operators can now be certified via training and testing conducted on a Serious Labs' VR simulator in Germany.
"Our simulators not only train users how to operate equipment, but they also provide data on their performance. This helps to identify where they may need extra training," said Wade Carson, Director of Business Development, Serious Labs.
"The contest was a fun way to promote the product, but it was especially nice to actually certify a contestant. Nico was planning on certifying for some time and took advantage of the practical testing on the simulator while at the show," said Carson.
The MEWP VR Simulator, named the most innovative product of 2018 by RER Magazine, combines Serious Labs' scissor lift and boom lift modules providing a comprehensive operator assessment within the VR MEWP operator training solution.
Serious Labs MEWP VR training is now available by subscription, lease or rental through Rapid Access, Manlift, Nationwide Platforms, Loxam, Riwal, United Rentals and AST GmbH Arbeitssicherheit & Technik. For more information about Serious Labs, please visit http://seriouslabs.com