Terex Finlay unveil's Omni system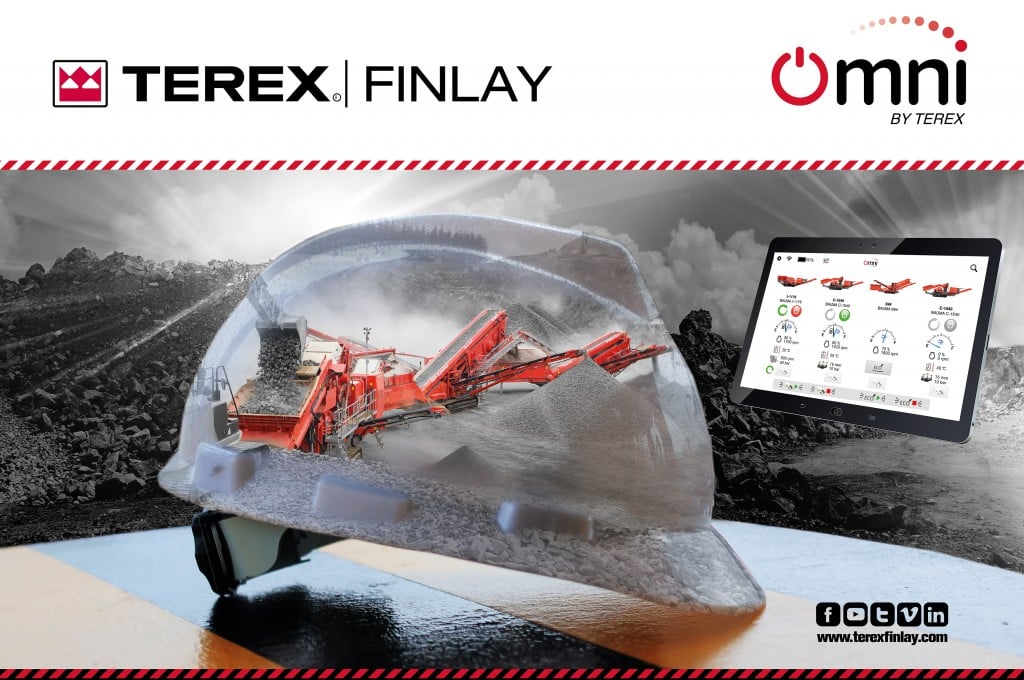 At bauma Terex Finlay unveiled the capabilities of OMNI by Terex, a new system that promises to help improve jobsite safety and efficiency in operating crushing and screening equipment.
"OMNI by Terex is ground-breaking technology that will revolutionize the crushing and screening jobsite," Barry McMenamin, Group Engineering Director with Terex Materials Processing explained.
Watch, Monitor and Adjust all from the Safety of the Cab
OMNI by Terex is a real-time connected tablet based system that is fitted within the cab of a material feed excavator or shovel that provides centralized remote access and keeps the operator in control using a simple and intuitive onsite live interface. The generation of a secure and separate WIFI network and the integration of tablet technology enables multiple operators to be connected in real time on up to six machines in a crushing and screening train. It has been diligently and intuitively designed to give unrivalled, easy-to-use control to the operator with information and views of the entire machine train.
The OMNI by Terex system allows the operator to view working information from each machine that is connected to the system, make informed decisions about each machine's operation, and remotely manage the entire machine train to maintain high efficiency and produce the required material specification. The operator can adjust individual machine metrics or use global features, such as pausing the entire material flow across the train with one action, allowing unprecedented levels of control — all from the comfort and safety of the excavator or shovel cab.
Additional Features
Additional features of the new OMNI by Terex system include alerts that indicate when someone on the ground is making process adjustments and camera view of up to two cameras per machine—from vantage points such as material transition points, chamber inlets, and material choke level on cones. The OMNI by Terex system offers an option for other personnel on the jobsite (such as the wheel loader or excavator operator) to have read-only system access, enhancing their efficiency through remote view of the operation and timely interaction.
McMenamin, explains, "Crushing and screening equipment operates in busy, challenging work environments with many hazards to consider—typically with one operator having multiple machine responsibility and limited process control, limited view of the process and the transition points for material, whilst another operator clears stockpiles and loads dump trucks, and has to manage both of those competing activities. We have invested in research and development to design a system that provides a level of central control, enhanced safety, connectivity and multiple-user support for the jobsite. We are excited to launch OMNI and encourage visitors to meet with our experts at bauma to learn about its full capabilities, and how it will revolutionise the crushing and screening jobsite of today and tomorrow."
"OMNI keeps you in constant contact and complete control of the machines. It gives the ability for immediate intervention without the need to leave the cab and engage in operational changes at ground and machine level. OMNI enhances the onsite safety of our operators without restricting the functionality of the machines. Simple commands from the safe initiation of crushing operations to the changing of crusher closed side settings, including on the fly adjustments, make OMNI not just a safer system, but a more efficient system. One big advantage of OMNI is that our operators don't have to be in close proximity to the machines. The WIFI connection of OMNI is so strong that they can monitor and safely intervene when doing another job away from the crushing zone. If I'm loading a truck at a different location and see that the product stockpile at a machine is backing up I can safely react and either slow down the speed of the feeders into the machine or stop the flow altogether until the stockpile can be reduced. And when I've cleared the material away I can re-execute the operation. I can do this quickly and safely using the tablet in my cab even when 100's of metres away from the crushing zone,"
Owen Gourley, RJT Excavations, Jedburgh, Scotland, commented.
"This really is a milestone for Terex Finlay. Our aim is to give even more control and get greater flexibility and efficiency for our customers. With this new technology we are able to offer our customers a safe way to maximise their productivity. We know this is important for them and it feels great to be our leading industry with the introduction of this technology," Alan Witherow, Lead Technical Support and Product Manager, Terex Finlay, commented.