Raptor 500 from PRINOTH changes carrier landscape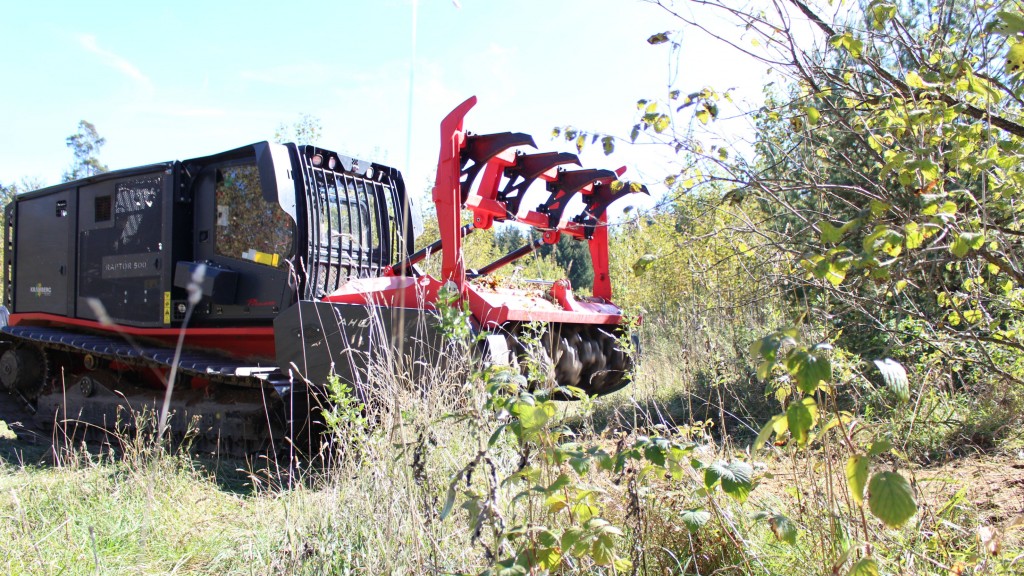 Challenging terrain has met its ultimate match. PRINOTH conceived the RAPTOR 500 to be a carrier vehicle unlike any other - driven by a 430 HP EUROMOT Stage-V-compliant engine and weighing in at only 19 tons it wields the strength to work the roughest jobs at the same time sporting an impressively low ground pressure footprint. A combination, which helps deliver exceptional manoeuvrability while protecting the soil during sensitive storm damage reparations in delicate reforestation areas.
Contribution to new environmental standards
One of the first crawler mulchers equipped with a Stage V, 9l Cummins engine with over 430 HP. Less fuel consumption than any comparable vehicle on the market in the same HP and performance rate ensure owners & operators economical operation even at maximum power.
The direct mechanical power train by HDDL, high productivity on the 700mm in diameter and 2300mm working width - that means a mulching head with almost no power loss and more area performance (Ha) per hour by having less costs for the customer.
Low weight and low ground pressure
The possible weight full equipped is less than 19.500 kg. Possible transport without special permission, which are mostly required for similar vehicle in the same HP-range. Equipped with the latest safety standard as ROPS/FOPS, the RAPTOR 500 is fulfilling the highest standard of comfort to ensure that an operator can work up to 14 hours without getting tired or taking a break to refill the tank.
The proven pivoting Delta undercarriage with its self-cleaning feature is unique for less wear and very comfortable driving characteristics. Furthermore, the easy access to all service parts guarantees a daily maintenance and scheduled service.
RAPTOR 500 ensures order in a German sovereign forest
Before it's official launch the prototype of the new RAPTOR 500 was put to the test by customers of the German dealers of PRINOTH VEGETATION MANAGEMENT (VM). During a field assignment, the VM developers, acting as silent observers, were able to enjoy a smooth test drive with a satisfied customer: the Fürstenberg family's forestry forester, who has been based on the Baar, Black Forest, Hegau and Linzgau rivers for over 700 years. The test driver Kevin Schilli talks about his assignment.
I have now been working as a carrier vehicle driver for three and a half years and have had to deal with a number of forestry machines," says Kevin. "I really like the RAPTOR 500! Especially with this pendulum drive, you have a really high driving comfort. And this is really important to me during long operations," he adds with a wink. His client is enthusiastic about the hunting lanes left behind by the RAPTOR 500.
"The forest floor looks like a sports field after that," enthuses professional forester Robert Schrenk, who gives further instructions to Kevin by walkie-talkie from his high seat. Three so-called hunting or fire lanes are milled into the forest from the high seat. They serve for a better overview for the hunter, in order to recognize game in time, which probably crosses all three lanes on its way through the forest.