Manitou presents electrified solutions across its product lineup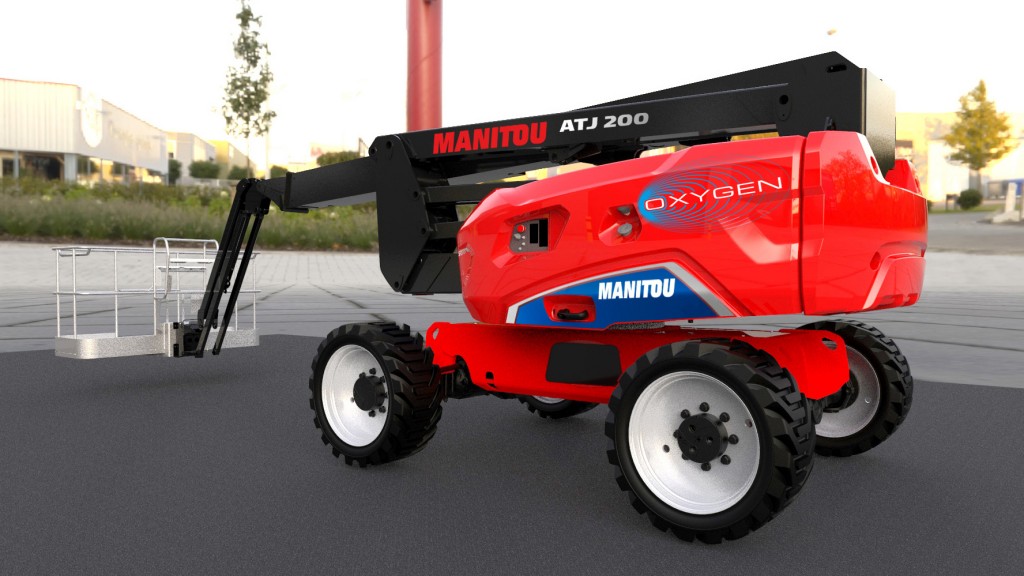 The Manitou group, a world leader in rough-terrain handling, presented a wide range of connected, sustainable solutions dedicated to construction and mining at the BAUMA trade fair. A 100% electric platform is premiered as part of the new"Oxygen" label, which is devoted to alternative energies. It reinforces the group's committedCSR policy, offering efficient, sustainable solutions to its users.
The Manitou group presents an innovative booth at Bauma, with a strong focus on alternative energies. A corner of the booth entirely devoted to the"Oxygen" label illustrates the group's global thinking in this field, and highlights its capacity for innovation to meet tomorrow's material handling needs using green energy. The new initiative consists of three levels:
Oxygen: all the low-carbon solutions intended for the market.
Oxygen Lab: all the low-carbon prototypes and solutions in the process of being tested/evaluated.
Oxygen Concept: range of concept trucks and future trends towards which the group will direct its low-carbon solutions.
This strengthened ambition confirms Manitou group's interest in offering users ever more sustainable solutions, while maintaining a level of performance and cost-efficiency that are inline with users' expectations. The group also provides an offering that conforms with new fossil fuel standards and regulations,particularly in Europe.
Arnaud Sochas, Innovation Manager for Manitou group, explains the approach: "Players int he construction market (rental companies and manufacturers) are faced with an increasing demand for flexible, low-carbon solutions, especially for urban work sites. In this context, it has become essential to focus on the requirements of zero emissions and low noise levels on extended work areas. With the Oxygen label, the Manitou group wants to provide a concrete response to these needs. Our approach obviously includes electric machines, but our primary aim is to provide a proportional solution tailored to each application. These solutions must be cost-effective for the user, and we are working on reducing their total cost of ownership while at the same time reducing their environmental impact".
The Manitou group has established a list of mandatory eligibility criteria for the Oxygen label:
Use of an alternative energy to diesel, which can be used on a continual or temporary basis in zero emission mode
Reduction of environmental impact (emissions: C02, particulates, decibels)
Reduction in energy consumption (based on the standard UTAC cycle: handling,loading, road and idle)
Reduction of TCO (a common criterion for all Manitou solutions)
200 ATJ e Oxygen, a new 100%electric platform!
Integrating seamlessly into the new"Oxygen" label, the ATJ 200 e Oxygen platform is the group's first 100%electric all-terrain platform model.With a working height of up to 20 m for a maximum capacity of 230 kg,this model provides the same performance as a diesel-powered model while reducing total cost of ownership for the user. François Desbrière, head of platform development, describes this innovation: "This model responds to strong demand from rental companies, and more generally from various constructors. With the 200 ATJ e Oxygen, we offer a versatile machine with very good autonomy. The electric engine provides flexibility when traveling, optimizing operator safety".
Equipped with a 48 V battery, it can achieve up to one working day's autonomy in adverse weather conditions. The low-voltage battery allows technicians to work on it without special certification. With a weight of 7,200 kg and a length of 6 m, it is also easily transportable.Another engine located inside the turret drives a pump that provides hydraulic flow for all the platform movements. This model's new features also give it an excellent ability to climb slopes of up to 45°. The reduction in total cost of ownership for the user is estimated at 20%compared to a diesel-powered equivalent (fuel cost included).
On display for the first time, this platform will be marketed early next year. A hybrid version of the 200 ATJ e Oxygen will also be launched at a later stage, during 2020.
This model is equipped with a new, easy-to-use dashboard with enhanced intuitiveness.On the basket/platform, the dashboard takes the form of a screen, which indicates, among other things, the amount of battery remaining and ongoing operations. It also optimizes operator safety with indicator lights to prevent the risk of excess loads or tipping over.
It is worth noting that the 10 m 100 VJR vertical platform is on display with a new "Safe ManSystem". This consists of a cable at controller height to prevent mishaps when working high up and so improve operator safety when traveling.
MRT 2550 h Oxygen Lab
To represent this label, theManitou group has worked on a hybrid prototype of the MRT2550 model capable of operating in 100% electric mode. Retaining the same characteristics as the diesel-powered version (25 m lifting height for a capacity of 5 t),this solution also allows the two forms of energy to be used as needed (transport, handling). The"zero emissions" mode provides high versatility and complete flexibility on any type of work site(inside / outside / urban), day or night. Thanks to its reduced fuel consumption and optimized maintenance due to the Stage V engine, the user's TCO is reduced significantly. This solution is entirely autonomous in energy, and can be charged via the diesel engine for a day's work if there is no electrical charging area.
MT 625 e Oxygen, a futuristic concept!
The Manitou group expresses its vision for the future of material handling with a particularly avant-garde concept-truck. Designed to accommodate an electric engine,this model sports specifically designed lighting and in corporates blue elements to illustrate a non-polluting compact telehandler concept. The cabin has also been redesigned with new intuitive interfaces. Natural, contemporary and sustainable materials, such as wood, are also provided in the cabin, an example of the group's eco-design policy.
Responding to mining activity requirements
The range of machines dedicated to mining is expanding. The MHT 12330 complements a wide range that addresses the various issues related to mining sites. With a lifting height of 12 m, the very high capacity model ranges from 33 t with forks to 36 twith hook. Equipped with a 245 hp Deutz stage V engine, this model also benefits from special protective covers on the work road lights. The controls and cabin are identical to the MT telehandler range, making them easier to use.
There is also a substantial range of mining attachments, with a fork positioner (width 2,900 mm)with side shift and a capacity of 33 t to 12 m. Designed specially for the high tonnage MHT 12330 telehandler, this positioner assists in the handling of heavy loads used in mines (including spare parts).
The Manitou group also presents its mining maintenance attachments. The TH 63 / 12000 tire clamp is a good example. It can be used to transport tires of up to 12 t for wheel rims of up to63". This clamp is particularly recommended for the maintenance of dumpers used in open-pit mining operations. Another solution on display is a platform dedicated to underground mining applications. Designed to withstand impacts of up to 3 t, this attachment has reinforced safeguards, allowing up to three people (1,200 kg) to be accommodated and providing greater safety for operators working on high-risk sites.
Related Articles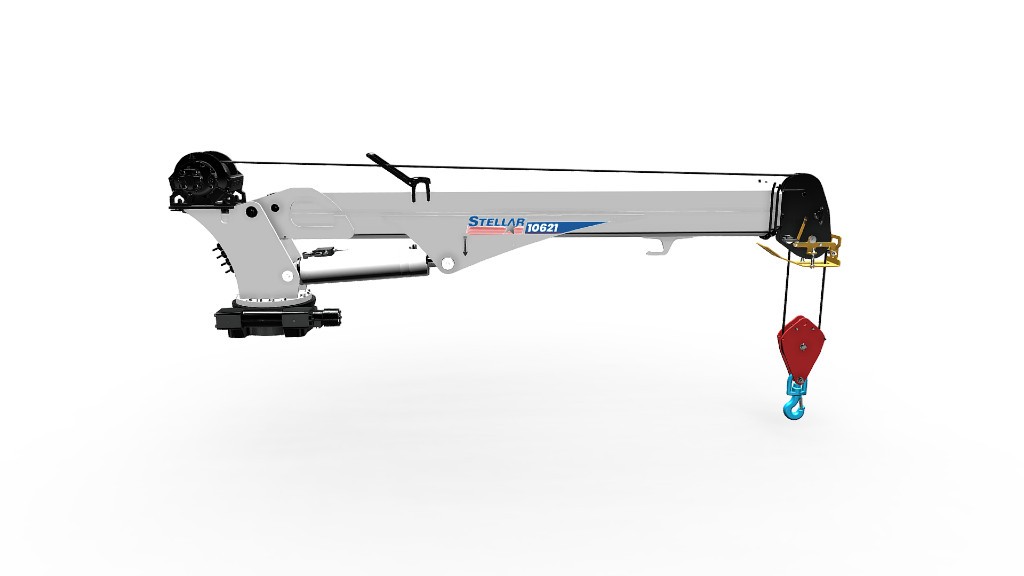 Six new Stellar telescopic service cranes feature redesigned booms and radio remote controls