SharpBlade Leveller introduced at World of Concrete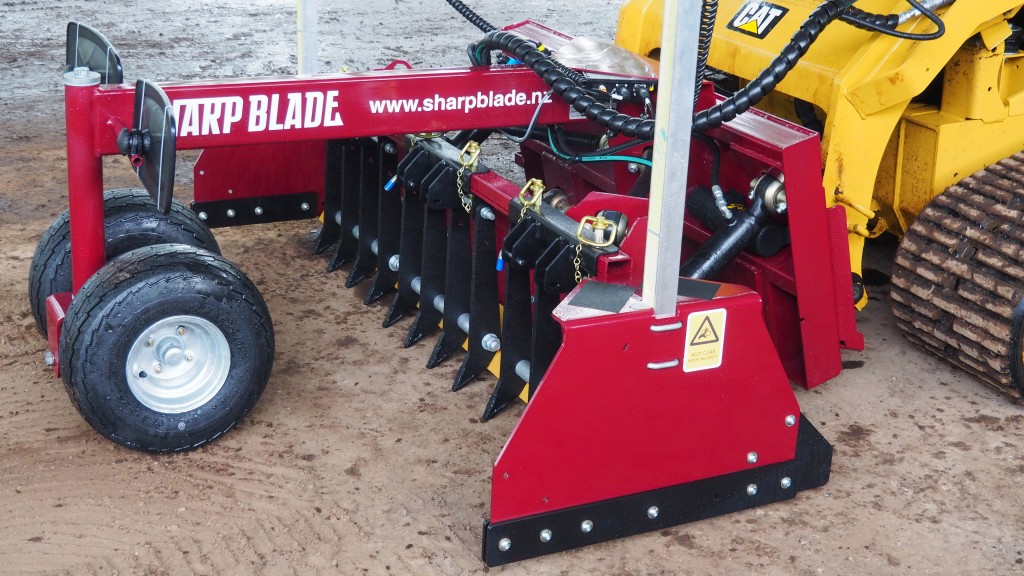 For Site International is proud to announce the release of their latest design, the SharpBlade.
The SharpBlade is a universal size box blade leveller, designed to meet the needs of finish grading in the 75- to 90-hp segment.
The company says that the SharpBlade has all of the critical features required for accurate, precision grading forward and reverse, in a compact, efficient package.
Standard SharpBlade 2.2-m (7-foot) features are:
Patented Quadrod linkage: the most rigid and robust in class
Sealed, shielded and lifetime lubricated Hardilube bushes: never need greasing
Adjustable hitch plate: sets SharpBlade level for perfect precision grading
Graduated receiver poles: set grade height quickly and easily, no measuring required
Large, twin parabolic mirror: see blade and both wing tips for confident grading
Pivoting rear blade: reduces blades packing, maintaining grade accuracy
Mono beam chassis: narrowest in class, with outstanding visibility
Twin, close-coupled wheels: ultra slim design with low ground pressure
Underslung walking beam: reduces wheel scuff in turns
OPTIONAL ACCESSORIES:
FRONT MOUNTED SCARIFIERS: Scarify forwards, trail in reverse, Pin-up or unclip and remove
DIRECT CONNECT: control SharpBlade directly from spare buttons on joysticks
Sonic tracker for following string lines, for curb and side walk prep
The SharpBlade is available with two control options:
QUADGRADETM 2D Dual laser control with adjustable grade height receivers as standard
LEICA iCON 2D Dual laser control system, upgradeable to 3D at any time
Company info
Related products