Manitowoc launches internal mast operator lift for Potain top slewing cranes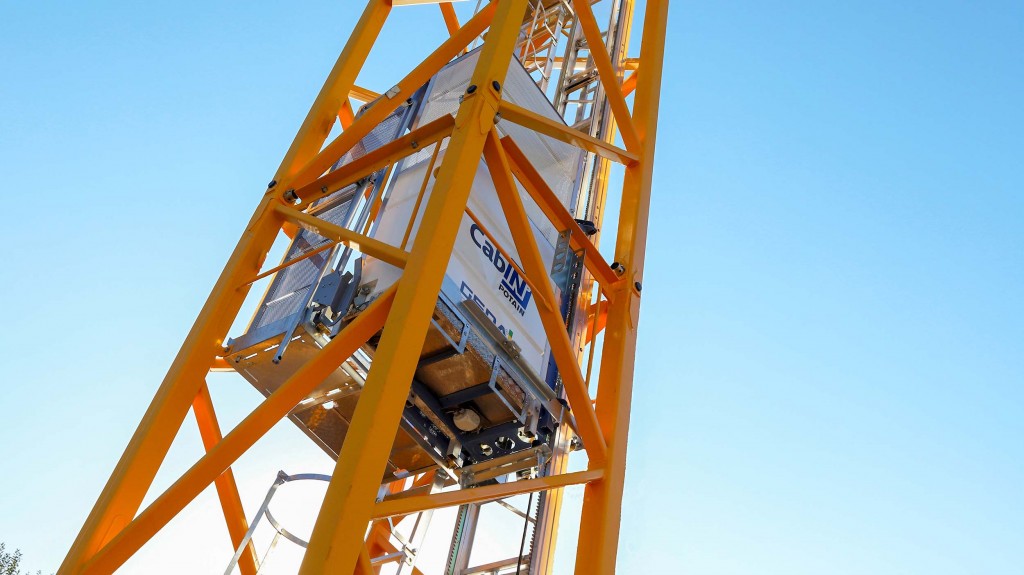 Manitowoc has officially launched an internal mast operator lift for Potain top slewing cranes. The Potain Cab-IN allows for fast, easy and safe travel to and from the crane cab, while retaining regular mast ladder access. It fits inside all K-mast systems of 1.6 m, 2 m and 2.45 m sections. The system is also compatible with all Potain bases/chassis, meaning it can be fitted into both existing and new crane models.
The Potain Cab-IN was previewed at Intermat Paris in April 2018. The design meets French regulations being implemented in January 2019, which requires all tower cranes to include a lift when the crane mast exceeds 30 m. The Cab-IN also complies with existing regulations in the Netherlands and Scandinavia.
The elevator has a maximum weight limit of 200 kg, allowing up to two people to utilize the lift at the same time. Maintenance technicians will also benefit from the lift, as it provides superior mast visibility and access all the way to the top.
The Potain Cab-IN was developed specifically for Potain top slewing cranes in partnership with GEDA, a well-established and proven industrial elevator and construction lift manufacturer, to meet the needs of tower crane customers.
"The Potain Cab-IN was designed with the help of Voice of the Customer feedback," said Thibaut Le Besnerais, Manitowoc's global product director for tower cranes. "Our customers wanted a design that could maintain the use of the access ladders even with the lift installed. From that, we developed the idea for an internal mast operator lift, taking special care to ensure access to the lift was safe at all times. Having already presented the Potain Cab-IN to some customers, we can safely say that they appreciate the ease-of-use and quick installation time."
Another significant benefit of the Potain Cab-IN is its cost-effectiveness. As it is fitted inside the mast, the installation is parallel to the crane erection time and no additional transportation cost or storage space on the yard is required.
The Potain Cab-IN is just one example of the continuous improvements that are deeply embedded in Manitowoc's culture, thanks to the principles of The Manitowoc Way.
"We are now moving into a new phase of our growth, where customer engagement, new product development and aftermarket support will help us build on our leadership position," said Aaron Ravenscroft, executive vice president of Manitowoc. "We have already been busy bringing new products and innovations to the market with the velocity that customers expect, and we plan to continue to do so for many more years to come."