NC Equipment purchases DYNAPAC'S NEWEST MOBILE Feeder in North America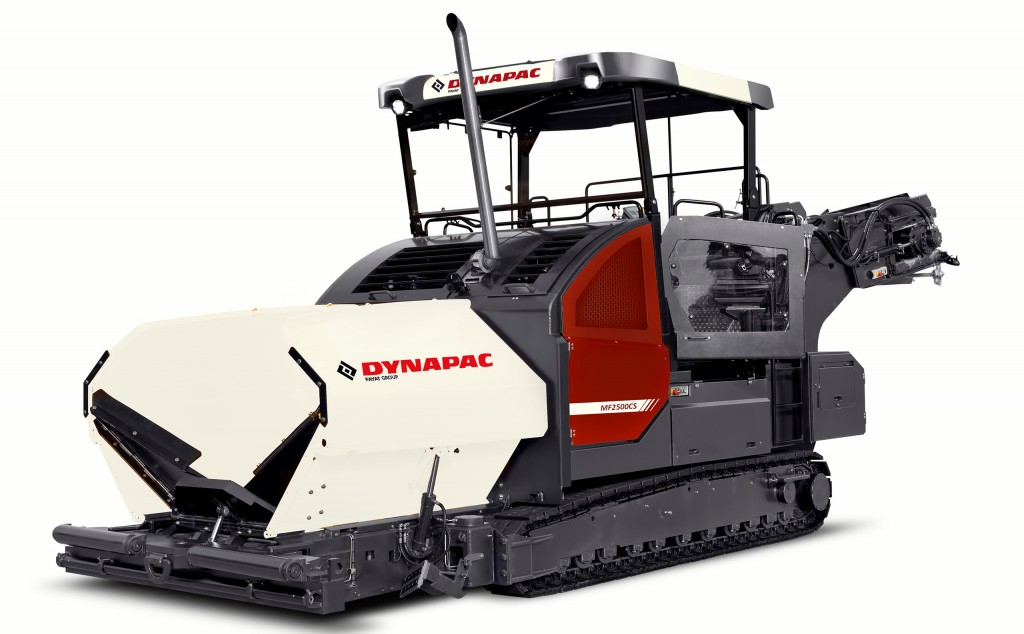 Segregation - the separation of asphalt mats that can cause headaches for road maintenance crews - is a hot topic in the paving industry as more contracts include clauses regarding this challenging condition.
As a long-time dealer and rental house serving northern Alberta's asphalt contractors, NC Equipment keeps track of the trends in the industry. As a full-time Dynapac dealer since 2017, it has taken the lead for its customers by bringing in a North American first to help reduce segregation problems on roadbuilding jobs.

That's no surprise to anyone who's worked with NC Equipment over the years. The company, based just south of Edmonton in Nisku, Alberta, spends a lot of time ensuring that its rental customers are well-equipped, whether they're laying asphalt or digging dirt for pipeline installation. That's been a key part of its service since its founding, described John Logan, Dynapac Sales Manager for NC Equipment.

Like many equipment rental operations, NC Equipment started out as a contracting firm that did roadbuilding and concrete work before the owners recognized the potential profit to be made from renting idle equipment a little more than 20 years ago.

"They grew from small beginnings, you could say - they had just a few pieces they'd use on the roadbuilding side," Logan described. "They put it together and put the word out that they had this equipment for rent."

When owner Dennis Carriere wanted to add some compaction equipment to the growing rental fleet, he looked to Dynapac, Logan noted, because the quality of the machines was well-known in the industry. Then, when a dealership opportunity came up in early 2017, Dynapac approached NC Equipment - which currently runs around 30 pieces of its compaction equipment in its fleet - to see if the company was interested in taking that step.

They signed a dealer agreement in February of 2017 and equipment started to roll in that spring.

"We recognized that to be a good dealer, it's not about having just the best piece of equipment, you need to have the support," Logan said. "We do training for our service people and brought on a specialized parts person, then filled the shelves with parts."

Currently, Logan said, that makes NC Equipment one of the top Dynapac dealers in North America. Their customers run the gamut from municipalities to contractors, with many presently coming from the asphalt paving sector thanks to a growing infrastructure drive in northern Alberta.

NC Equipment has been selling to plenty of smaller operators doing medium-sized paving operations, as well as highway contractors. Paving roads is a busy area as infrastructure is improved, and more contracts are focusing on the quality of the mat being put down - which drives interest in new types of machines.

Segregation occurs when the asphalt loses the proper temperature when it's being placed on the road surface. Often it is associated with the paver having to stop operation when the truck pushing it has emptied its load of asphalt and a new one moves into place. It may not be noticeable at the time it happens, and the mat looks just fine once it's completed, but within a few years the road surface may start to split at that joint. That results in additional maintenance costs down the road.

"They may get the asphalt down and compact it, and then the final inspection will say 'you have to throw this out,' so they have to take a milling machine, take out the stuff they just put down and lay it again because there was segregation," he said. "We think it's best to give them an opportunity to have a product that will meet their needs . . . it's all part and parcel of highways that will last."

One way the industry has started to combat segregation is to keep a steady flow of asphalt through the paving train. Using material transfer vehicles or mobile feeders that can ensure the pavers keep moving to produce a smooth, unbroken sheet of asphalt has proven popular in Europe, and is becoming more of a focus in North America.

"Asphalt needs to be [laid down] at the right temperature so that when the operators roll it, it's at that right temperature. They need to maintain the heat right to the hopper, so that as the paver's putting out the material it has even heat," Logan said. "They've found that material transfer units are able to keep that paver moving. They never have to slow down their stockpile to catch up with the truck . . . if they keep it uniform and maintain a good process of laying it down and compacting it, it will stay together, expand and contract as a whole unit, which helps it last longer."

Paving contracts in North America have begun to encourage more use of material transfer units of various kinds, and Alberta is no different. Seeing that trend, NC Equipment decided to give its customers an opportunity to experience Dynapac's latest offering in that area and debuted North America's first Dynapac MF2500CS mobile feeder at an open house in April.

"Dynapac has been producing the 2500 for the last five or six years. We have proven the product in European countries, and now we're expanding our market outside of Europe," said Vijay Palanisamy, Dynapac product manager - pavers, who joined NC Equipment at the open house.

According to Logan, demand from government agencies and contractors is moving towards the use of mobile feeders, and NC felt it was a good time to offer its customers a chance to give the machine a try. So, they brought in not one, but two MF2500s, one a MF2500CM with a few hours on it to offer for rent, and the other a brand-new MF2500CS.

"We thought we would bring them in, because we want to be able to give contractors an opportunity to try it out for a few weeks or a month, or whatever they take to get used to the product," Logan said.

The MF2500 series is designed with a variety of features that offer contractors more efficient and cost-effective asphalt handling, said Palanisamy, covering everything from weight and size to visibility and controls. At its core is the conveyor system, which is designed to move plenty of material and remain durable over time.

"The conveyor uses a 47-inch belt, the widest you can get," Palanisamy said. "The belt is joined with mechanical connections so, if there's a belt tear off, you can buy sections of belt, stitch it together and keep running without changing the whole belt."

A feature unique to Dynapac is the ability to lift the operator's platform for a better view; the system can raise the platform around four feet.

Automated control features include a distance setting that, once set, ensures the feeder remains a certain distance from the paver, ensuring that asphalt isn't spilled because the feeder moves away from the paver as well as keeping the paver from running into the feeder. In addition, sonic sensors on the conveyor track the flow of asphalt into the paver's hopper.

The MF2500CS is equipped with Dynapac's Swingapp feature, which allows the operator to feed pavers that are offset from the machine. Capable of swinging up to 55 degrees to both sides, the Swingapp means the mobile feeder can provide asphalt to two pavers working side by side or work while running in a different lane, among other tasks. NC's MF2500CM is essentially the same machine, but does not include the Swingapp.

Those features, Logan said, will help contractors avoid potentially costly follow-up work on their jobsites.