Why fitting radar safety systems to heavy vehicles prevents a major cause of road accidents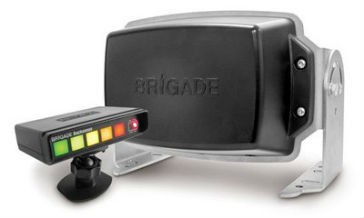 Poor weather increases risk and affects the safety of site workers. Whether maneuvering mining equipment, or using a construction machine on site, one thing's for certain – safety devices have to be effective. Working at night and battling poor visibility caused by rain, snow and ice are everyday hazards for tens of thousands of mining and construction drivers across Canada.

Heavy equipment and trucks often have to maneuver into tight spaces, as well as interact with other site workers and machines in congested areas. With adverse weather conditions, it's no wonder accidents happen.
The complex shape and size of many machines and work trucks means drivers have to deal with a significant number of blind spots. Given that vehicle blind spots are cited as one of the leading causes worldwide of machine workplace accidents, it's clear that drivers need a helping hand to identify when there is a risk of collision.
Blind spots are responsible for thousands of collisions around the world each year. According to the 2016 WSIB statistical report, being struck by a vehicles accounted for 13 percent of all workplace fatalities. It is the third highest cause of work-related deaths after motor vehicle incidents (36 percent) and falls (18 percent).
Technology to assist drivers to avoid collisions with both obstacles and people is becoming ever-more sophisticated. Brigade Electronics has been pioneering a range of systems to warn and help drivers negotiate a raft of hidden dangers, protecting workers and road users alike.

According to Henry Morgan at Brigade Electronics Canada, "The priority is keeping people safe and saving lives by avoiding accidents but also protecting equipment from costly damage and down time. We've worked hard to develop technology that helps highly skilled drivers to be even safer and assist them with not only eliminating blind spots but doing this in difficult conditions and tough terrain. For example, our Backsense Radar Obstacle Detection can detect both people and objects in blind spots even in harsh conditions, such as fog or snowfall, and provide the driver with the distances between the vehicle and nearby obstacles, whether they're moving or stationary."
More from Safety
A bottleneck of haulers waiting to be loaded is inefficient. Idle machines burn unnecessary fuel, increase maintenance costs and decrease resale values when you're ready to trade them in.
When you pair the new Volvo EC950F crawler excavator and A60H articulated hauler, you can load trucks faster. The EC950F can utilize a 10-yard bucket to fill a 60-ton capacity A60H in only four passes — reducing passes lowers fuel consumption and drastically speeds up cycle times to keep your haulers moving. See how the massive EC950F and A60H improve cycle times and more to boost your profitability.