Engcon tiltrotator helps contractor get the most out of an excavator
Specialty contractor completes excavation work 30 to 40 percent faster, works in tighter areas, uses a bigger machine and changes attachments in 10 seconds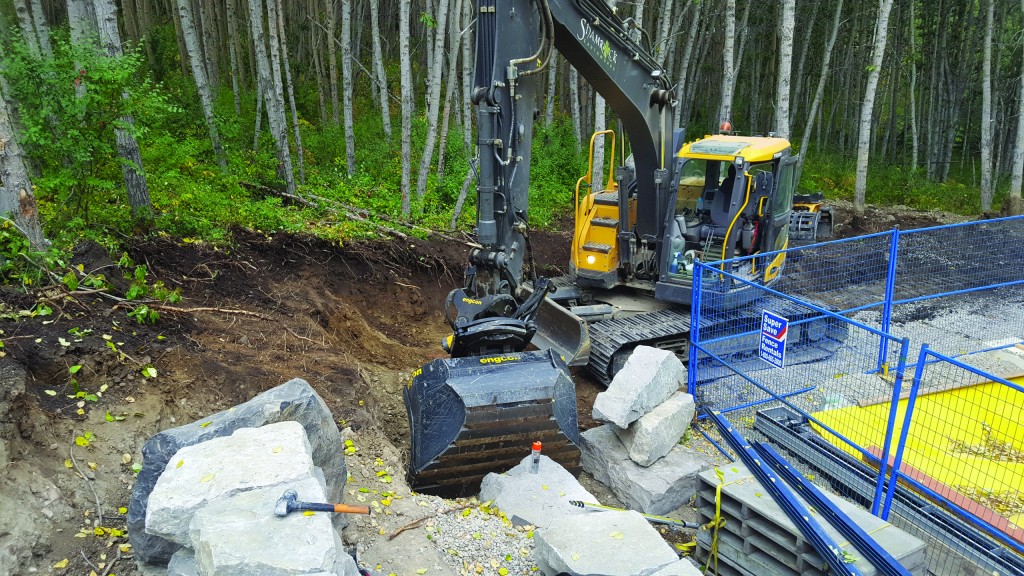 When Sean Coghlan, owner of Shamrock Earthworks Ltd., first attended CONEXPO trade show in 2008, he was looking to find equipment and ideas that would make his business more efficient. He was intrigued by a device called a tiltrotator, demonstrated by dealers representing engcon, a Swedish firm. But he'd just started his Calgary, Alberta-based company, and knew he had to wait a while to make a significant investment.
Fast forward 10 years, and Shamrock Earthworks Ltd. has become a highly respected contractor specializing in large-scale natural rock retaining walls, acreage development, and general excavation. Coghlan is now the proud owner of an engon tiltrotator. He has outfitted a 2015 Volvo ECR145DL excavator to accommodate it, as well as a stone/sorting grapple, digging bucket, grading bucket, compactor, joy sticks, Q-Safe quick coupler and EC-Oil automatic connection system.
"I looked at other tiltrotator systems, but engcon had a great attachment selection, their hitch design made the most sense to me," Coghlan says.
The tiltrotator is a hydraulic attachment mounted on an excavator. The excavator bucket (or any other attachment) can be rotated through 360 degrees and can tilt 45 degrees to each side. It has been described as similar to a human wrist in its movement. Although tiltrotators have been used on jobsites in Europe for more than 30 years, they are relatively new in North America.
"Thanks to this system, I am probably completing excavating jobs 30 to 40 percent faster," Coghlan says.
One reason for this increase in productivity is that he can now maneuver his attachments into tighter areas with ease, and precisely place boulders or other materials exactly where he wants them. "Previously, I had to hand-shovel material into or out of corners or next to structures and tricky-to-reach areas that a standard bucket just can't get into."

Another reason is that the engcon system also allows him to better position his excavator. Coghlan explains that on a typical job, they are always grading material, creating slopes anywhere from one to 45 percent, to make sure that water goes where they need it to, usually away from a house or retaining wall. "With a regular bucket setup I must either put the machine on the same angle I want the bucket to cut, which can be hard on the machine, or square to the slope, which isn't always possible due to site conditions, trees, buildings and the like, and repeatedly move the machine. The tiltrotator allows me to sit level while the bucket cuts any combination of grades, profiles or contours I am trying to achieve, which means less wear and tear on the undercarriage and swing gear.
"A tiltrotator really makes you rethink how you execute a job," Coghlan adds. An example he gives is building a road into a property. The engcon tiltrotator with the grading bucket allows him to strip the organics, cut the ditches and crown the road all in one pass. In addition, being able to stay within the work area means less ground disturbance in sensitive areas and less rehab, which saves time and money.

Another benefit is that it allows Coghlan to use a far bigger machine on a site. "Previously, I had to use a six-ton excavator. I am now using my 15-ton unit because I no longer have to sit square to a retaining wall like before. I can manipulate materials and attachments from any angle now. When you combine the power, reach and capacity of a bigger machine with the finesse and dexterity of the tiltrotator, that's a game changer."

Coghlan also adds that when it takes an operator 15 minutes to change an attachment, say from a bucket to a packer, there is a temptation to cheat a little and use the bucket to do some compacting – a job for which it's not intended.

"Thanks to the Q-Safe quick coupler and the EC-Oil system, changing attachments takes as little as 10 seconds.

"If you've ever tried to pick up an attachment with a regular hitch, you know it can be frustrating if you aren't squared up to that attachment. When you can tilt and rotate the hitch it doesn't matter how the attachment you want is sitting. If I can reach it, I can grab it. Plus, there's no switching hoses, no undoing bolts, no pounding wedges – no leaving the cab. When it's easy to change, you tend to always use the right tool for the job," Coghlan emphasizes.

When asked if the addition of new engcon joysticks was a challenge, he replies: "Sure, there was a learning curve for a couple of days. The addition of two rollers on each joystick that each control something different gives you a lot to think about at first.

"Really, you are almost doubling the number of hydraulic functions the machine can do with this system, so I put some thought into how I wanted it set up before the install happened. Now it feels natural; it's very intuitive."

Was he concerned about having a critical equipment supplier nearly 7,000 km away? "It hasn't been a problem at all. When I ordered new teeth for my grapple, they showed up in two days. That's fast," he says. Engcon now has a North American office, which should make any future orders even quicker and easier.

"I'm always looking to learn about new equipment, attachments, materials, suppliers and techniques. Excavators have evolved from just a simple digging machine with one bucket to the incredibly capable and adaptable machines they are today. It's hard to put into words how much more accurate and versatile my excavator feels with the tiltrotator. It's like going from 2D to 3D. There's no question, I'm much more efficient with my engcon system. This is good for business, but at the same time I deliver the type of high-quality finish my clients deserve."