HDD provides homes with fibre for the future
Quebec's TRJ Telecom and its Vermeer HDD units are part of the fibre optic boom in Eastern Canada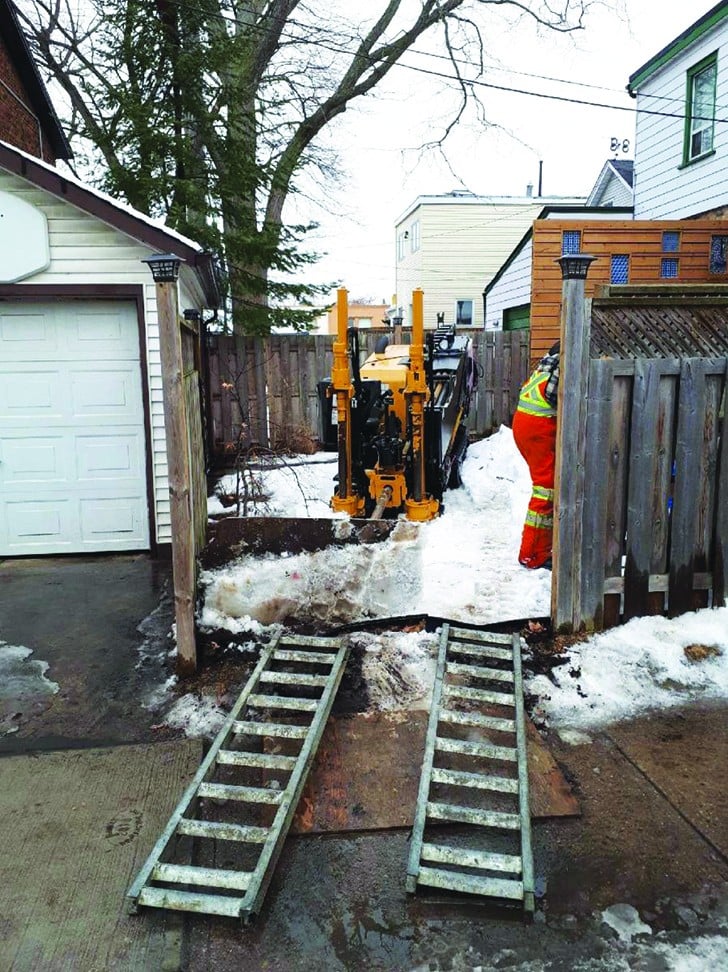 Today's cities are busier than ever, both above and below ground. Utilities of all kinds are expanding everywhere, none more actively than the installation of fibre optic telecommunications lines.
In the past, those lines would have been above ground, but there's no room in today's cities for telephone poles – services in new developments and older subdivisions alike are moving underground.

Based in Anjou, Quebec, TRJ Telecom started out doing above-ground cable installations in the Montreal area, spreading out to cover parts of Eastern Canada as needed. It grew with the fibre boom, and today is well-known for both its underground and more traditional installations as the continued development of higher-speed communications systems drives greater numbers of fibre jobs.

"I've been in the telecommunications business now for 47 years, and I would say in the last ten years there's been a definite explosion in the industry," said Lincoln Anderson, business development manager with TRJ Telecom. "How many people have a cellphone or iPad and a portable computer in their home? The average family has five to seven different items in the home that require bandwidth, and everyone is going to be streaming instead of watching TV. That's one of the reasons why there's such a demand for fibre."

Telecommunications infrastructure has advanced steadily, and the approach that companies have taken to install that infrastructure has changed in the process.
"Back in the 1970s we were doing a lot of aerial projects. We were doing a little underground work, and there wasn't that much conduit involved – there were manholes, there was conduit, open trench, and so forth," said Anderson.

Most of that early work was done by installing copper wire, but in the 1980s with the growing boom of technology came a need for different approach – and fibre optics were introduced.

"Back then, we were doing what was called point-to-point, but we were plowing the cable straight into the ground – which they still do today in some cases when you're dealing with long distances," Anderson said. "But then they'd come up to a road, or a sidewalk or an area that had to be threaded like a needle."

To deal with those obstacles, TRJ Telecom founder Pierre Trudel decided that directional boring would be the way to go.

"Pierre proved to customers that directional boring was an easier, faster and more economical way to install underground fibre; before that, it was a lot of manhole work and aerial work," Anderson said. "Now, everyone's going directional drilling."

Parts of Canada, such as British Columbia and northern Ontario, represent more of a challenge in terms of directional drilling because of the rocky terrain; TRJ Telecom has focused its work on areas of southern Ontario and some parts of Quebec where drilling is more effective. There, the challenges are more man-made: the vast number of other services that have proliferated under city streets.

"In every directional run that we do, there are obstacles – often it's hydro, [telecommunications], gas lines that are already in the ground at a certain depth," Anderson said. "That is becoming a big challenge."

TRJ Telecom has emerged as a dominant player both in Ontario and Quebec. The installations are complex and never easy, Anderson noted.

"Directional boring on the fibre to the home (FTTH) projects are challenging on a daily basis because of the multitude of obstacles – the sheds, trees, buildings and existing utilities," he said. "You do have to open pits every once in a while to make connections . . . but replacing the grass, trees, flowers and so on – if you're trenching a site like this, my god, you'd be there forever."

150 to 200 metres a day
A typical installation for TRJ Telecom involves shooting 150 to 200 metres a day, connecting in to distribution points and then fanning out to customers from there.

"The drill will go, let's say 100 metres to a distribution box . . . then from there you have another cable that goes toward the customers . . . it runs into another box, where you have the multi-tap. From the multi-tap you have the drop that goes to the customer. So, you have to drill from the distribution point right to what is called a GLB splicing vault then to what is referred in telecom terms as a flower pot . . . the last point on a customer's property before the drop wire goes into the house," Anderson described.

For those challenging drilling jobs, TRJ Telecom has had a long relationship with Vermeer for its horizontal drilling units.

Anderson said Trudel started using Vermeer gear thanks to a combination of strong local service and pricing. Vermeer Canada's Laval dealership works with TRJ Telecom regularly to ensure that their drills are ready to go.

For utility jobs, TRJ Telecom's Vermeer D24x40 HDD units provide a small footprint and high performance. The drill offers 28,000 pounds of thrust and pullback along with 4,200 ft.-lbs. of rotational torque, ensuring improved productivity. The drill's carriage speed of 240 ft./min means more line installed per day, while also providing more comfort for the operator thanks to its excavator-style cab.

The flexibility and capability of Vermeer's HDD units combined with TRJ Telecom's expertise makes the challenging work of underground fibre installation a little easier.

"We had a job a while back, with one of our first drills, we had a 1,500-metre run . . . we had to bring the conduit across a major intersection and four-lane highway, bring it up across their lot, underneath a cedar hedge, up beside a major air conditioning system and bring it to exactly where the project manager had put a four-inch circle on the wall," Anderson said. "The customer's project manager was on site, so he saw us bring the head of the drill about two inches from the circle."

That kind of precision and quality has been the hallmark for TRJ Telecom, and a big reason for its growth over the years.

The company started with around 30 employees; today it has more than 600 and is running multiple Vermeer drills of various sizes.

"The high demand for bandwidth from customers today means everyone wants to go fibre," said Anderson. "[Customers] were satisfied with the quality of the work we were doing – then they requested, 'Can you do more?' Directional boring has definitely opened things up for the FTTH installation."
Company info
Related products
Related Articles
As one of the latest models in the R2-Series excavator lineup, the Bobcat® E88 delivers durability, performance and quality for more productivity. Technically speaking, it's a compact machine, but it brings big performance with its redesigned engine and optimized lift performance, plus undercarriage and counterweight improvements. All these enhancements make this excavator one of the highest-performing models in its size class. With impressive over-the-side lift capacity, you can dig with greater confidence over the side of the machine. Put it to the test against similar models from other manufacturers. You'll see that the E88 can outwork the competition.