JLG: "Exclusive technologies differentiate scissor lift offering"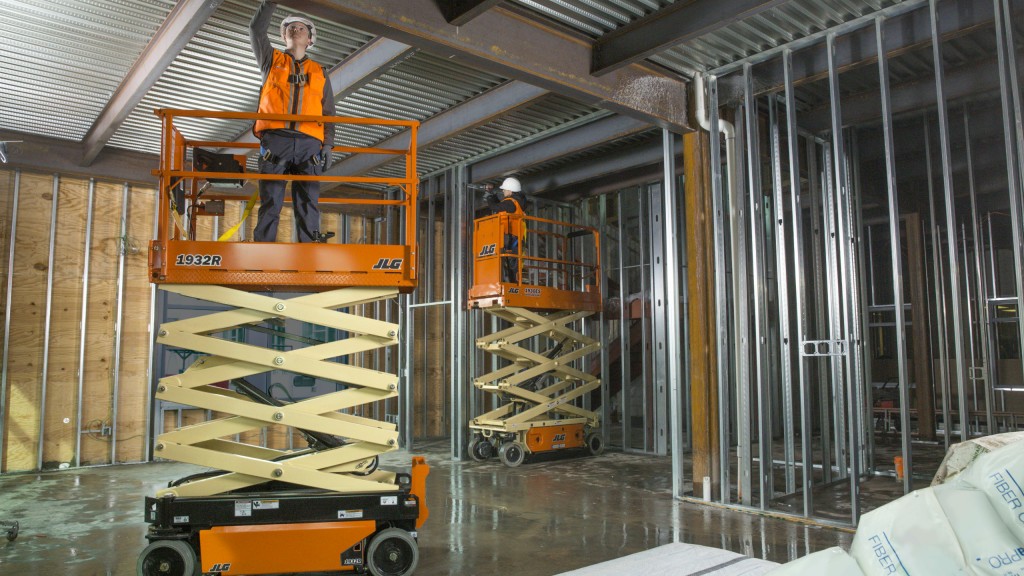 JLG Industries says that it builds its ES-Series and R-Series slab scissor lifts with intuitive technologies that differentiate them from each other and the competition. This approach allows JLG to offer a broad range of models that cater to the specific needs of its customers.
"We offer two distinct lines. Our popular ES-Series with premium features including an efficient electric drive system and our value-driven hydraulic drive R-Series with a simplified active pothole protection system," said Rafael Nuñez, scissor lift product manager at JLG Industries, Inc. JLG is uniquely positioned in the marketplace by offering two electric slab scissor lines. In some instances, such as lubrication-free scissor arm bushings, the lines share common technologies to deliver maximum uptime.
Built for rugged reliability, the rental-ready R-Series electric slab scissor lifts offer 19-foot and 45-foot models with up to 770 pounds platform capacity. Premium and efficient ES-Series scissors are available in five models from 19 to 32 feet, with dual capacity on select models, which deliver up to 1,000 pounds platform capacity.
"The technologies built into every one of our scissors, be it an ES or R model, is what set them apart," said Nuñez. "For example, our exclusive variable tilt technology, included on both ES and R-series scissors, allows operators to elevate to limited heights when working on slight slopes, maximizing the work envelope."
Additional technologies included on JLG scissor lifts include:
• Controlled elevation descent, which cushions the ride for the operator when the scissor is coming to a stop on the way up, or just before it reaches the bottom on the way down. This is technology is included on both ES and R-Series Models.
• Controlled drive descent allows for smooth descents, which protects machine components as customers traverse steep slopes and is Included on both ES and R-Series Models.
• The 4045R, the narrowest machine in its size class, offers zero load calibration. Its pressure-based load sensing system (LSS) includes functionality for a simple calibration which can be performed in the field without the need for calibrated weights. As a bonus, the JLG LSS is less sensitive to ambient temperatures, especially in cold-weather applications.
• Dual capacity is available on select ES-Series models, providing customers and end users with the ability to take additional materials and tools to lower elevations up to the restricted capacity of the unit.
Company info
Related products
More from Cranes & Lift
The all-new CASE TR340B compact track loader — operating at 90 horsepower with a 3,400-pound rated operating capacity — is the most powerful radial-lift CTL in the CASE lineup. Its all-new 8-inch LCD display improves on industry-leading CASE visibility with a new backup camera that is viewable in both forward and reverse operation. The display also showcases critical operating information and "trip" details. All-new electro-hydraulic controls, managed through the display, make it easier than ever for operators to dial CASE CTLs into specific application demands. All new cab controls and joysticks make the new TR340B easy to own and operate.
Industries such as construction, mining, energy, utilities and forestry, face many challenges when it comes to tracking assets and employees. Equipment often has to be transferred between locations, or monitored while it is dormant during off seasons. Lone workers may have to travel long distances or visit multiple sites during the course of their activities. And, all of this is further complicated today with shifting supply chains and economic realities putting further strain on the bottom line.