360-degree camera from Brigade features customizable software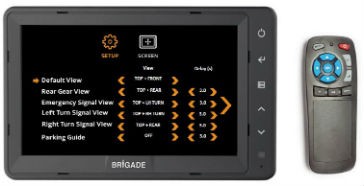 Global leader in vehicle safety Brigade Electronics has launched its latest 360-degree camera monitor system – the Backeye 360 BN360-200 – incorporating a range of new and unique features to eliminate blind spots and improve safety.
Designed to assist with low speed maneuvering the technology provides drivers with a comprehensive 360-degree bird's-eye view of the area surrounding the vehicle via an in-cab monitor display.

Research has shown that in the time it takes to scan four mirrors, assess and then react to hazards, even at speeds as low as 5 kph a vehicle could travel as far as 10 metres. The Backeye 360 BN360-200 addresses the issue by eliminating blind spots and creating maximum visibility around the vehicle at all times, with the driver only needing to view one monitor.
The Backeye 360 BN360-200 retains all the features of its predecessor (BN360-000), along with the new and unique benefit of customizable software, which can be intuitively set up using the monitor and accompanying IR remote control by just a single engineer.

There are 19 different on-screen views available to suit almost all applications and environments, these include; portrait and landscape options, full 360-degree vehicle modes and split screen modes with 360-degree view.

Customizable triggers allow for a complete hands-off experience, ensuring the driver is focused on maneuvering the vehicle and reacting to possible hazards.
Company info
Related products
More from Equipment Maintenance
A bottleneck of haulers waiting to be loaded is inefficient. Idle machines burn unnecessary fuel, increase maintenance costs and decrease resale values when you're ready to trade them in.
When you pair the new Volvo EC950F crawler excavator and A60H articulated hauler, you can load trucks faster. The EC950F can utilize a 10-yard bucket to fill a 60-ton capacity A60H in only four passes — reducing passes lowers fuel consumption and drastically speeds up cycle times to keep your haulers moving. See how the massive EC950F and A60H improve cycle times and more to boost your profitability.