Western Star and Women's Trucking Federation of Canada promote trucking careers and the industry for Canadian women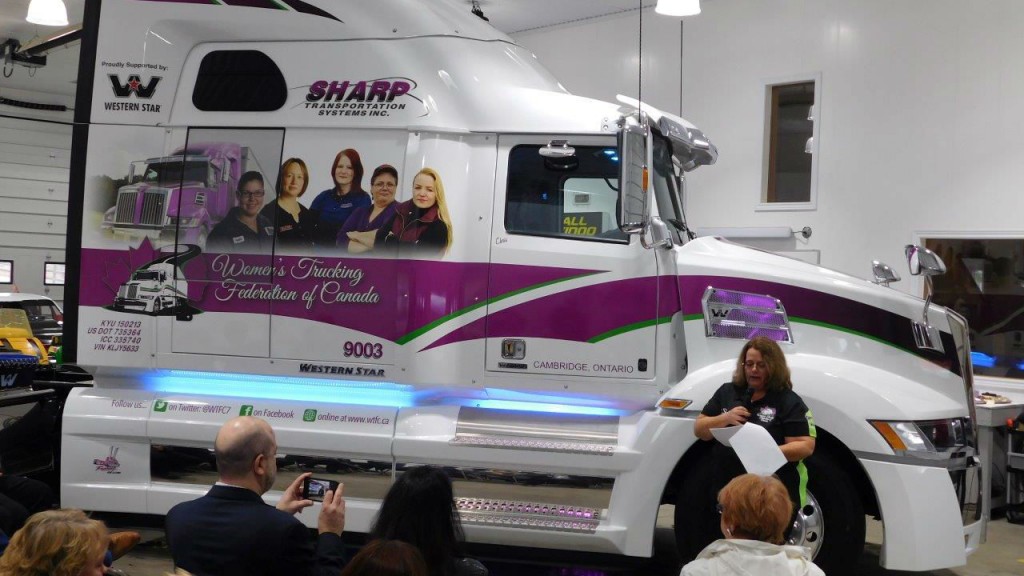 The campaign to attract more women to the Canadian trucking industry now has its most visible promotion yet.
The Women's Trucking Federation of Canada (WTFC) recently unveiled a 2019 Western Star 5700XE with a promotional wrap featuring the organization's name and pictures of its members.
The 5700XE model, which is owned by Sharp Transportation Systems, has been named "Miss Destiny Star" by company driver Shelley Uvanille-Hesch, founder of the WTFC and a tireless champion of women in the trucking industry.
"I will be driving this truck across Canada and into the United States and I know everyone who sees it will be a little more aware that women do work in trucking and that it's an industry that can provide a good living for them," Uvanille-Hesch said.
Several years ago, she contacted Western Star to ask for the company's support of the WTFC. Since then, Western Star has been a corporate member of the organization and funded the truck wrap.

The WTFC has worked closely with the group at Highway Western Star in Ayr, Ont., the dealership where the 5700XE was purchased.
"The Women's Trucking Federation is doing great work," a representative from Highway Western Star said. "The trucking industry needs to attract more women and help the women already in the business. We're proud to be associated with the organization and glad we had the opportunity to assist with this new truck purchase and the message it promotes with the exterior wrap."
Since its founding in 2014, the WTFC has grown to more than 300 members. It's active on a number of fronts, from mentoring women in driving school and hosting career events at high schools to giving interviews to polish the public image of truckers. The federation also is involved in several charitable causes and appears at industry events to gain visibility and recruit women drivers, managers, dispatchers and technicians.
The federation is drawing growing support in the industry. For example, Challenger Motor Freight, one of Canada's largest trucking firms, recently announced that it would pay a year's membership dues for any of its female drivers who join WTFC.
"Western Star has a long heritage of females in executive positions and believes women play a critical role in diversifying our industry," said Samantha Parlier, vice president of marketing and strategy for Western Star. "We are honored our 5700XE truck model is the flagship representation of this important organization."
The 2019 Western Star 5700XE is an ideal truck to raise awareness of the WTFC. The 5700XE already turns heads with its striking aerodynamic design and classic Western Star style, and the wrap, as well as a custom-designed blue-and-pink LED lighting scheme, are guaranteed to draw attention. When Uvanille-Hesch isn't driving it, the truck will make appearances at shows and charitable events in Canada.
"I want to thank Western Star, Sharp Transportation, Highway Western Star and the other organizations which have done so much to help WTFC," Uvanille-Hesch said. "I can't wait to get behind the wheel."
More from Trucking & Transportation
The all-new CASE TR340B compact track loader — operating at 90 horsepower with a 3,400-pound rated operating capacity — is the most powerful radial-lift CTL in the CASE lineup. Its all-new 8-inch LCD display improves on industry-leading CASE visibility with a new backup camera that is viewable in both forward and reverse operation. The display also showcases critical operating information and "trip" details. All-new electro-hydraulic controls, managed through the display, make it easier than ever for operators to dial CASE CTLs into specific application demands. All new cab controls and joysticks make the new TR340B easy to own and operate.
Industries such as construction, mining, energy, utilities and forestry, face many challenges when it comes to tracking assets and employees. Equipment often has to be transferred between locations, or monitored while it is dormant during off seasons. Lone workers may have to travel long distances or visit multiple sites during the course of their activities. And, all of this is further complicated today with shifting supply chains and economic realities putting further strain on the bottom line.