Revised weight regulations in Ontario behind the design of new vacuum excavator truck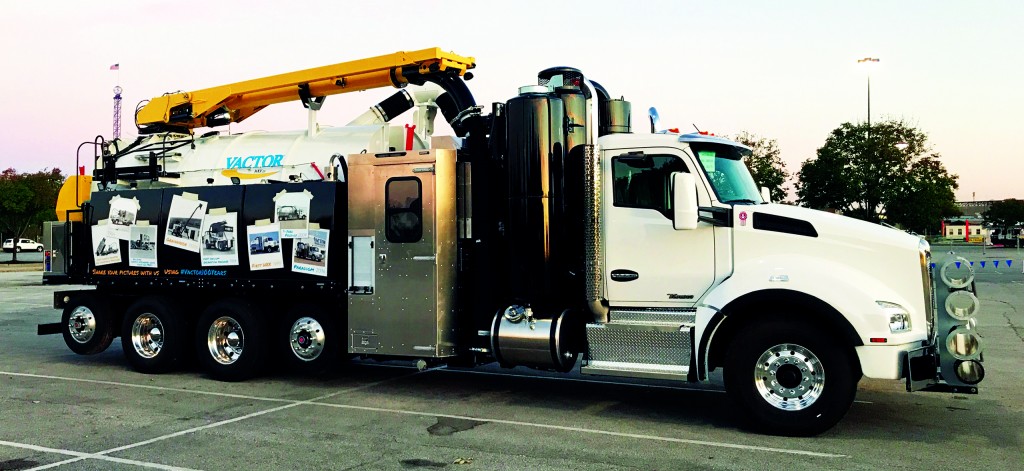 Regulations focused on various types of trucks and equipment in the province of Ontario have had a small loophole in them for quite some time – a fact discovered recently by the Provincial Government during a licensing review that was undertaken to raise fees on heavy commercial vehicles. For owners of vacuum excavators, the loss of that loophole may mean a loss of payload, which would mean a loss of efficiency. One long-standing Ontario dealer, Joe Johnson Equipment (JJE), took the concerns expressed by its customers straight to the manufacturer, Vactor Manufacturing, which has responded by developing a truck that can meet regulations both in Ontario and throughout other regions where operators face weight-limit challenges.

The problem with vacuum excavators, according to Patrick McGee, Eastern Canada Sales Manager for vacuum excavation at JJE, is that they fell into a grey area in Ontario government regulations. "It was pointed out to the Ontario government by the Ontario Trucking Association . . . that there was a class of vehicles that wasn't paying anything; hydro excavators, combination sewer cleaners, concrete pumpers and cranes were all exempt from licensing in Ontario," McGee said. "Nobody is exactly sure why, but it goes back at least 50 years in the books. Under the previous category, they were categorized as 'roadbuilding machines' – the same as a wheel loader or a farm tractor. As such, they weren't subject to standard licensing requirements, tantamount to being exempt from weight restrictions and a host of other road safety and other regulatory requirements."
Licensing changes cost efficiency
Consultations with the government determined that changing the licensing requirements would also mean some significant changes for the vehicles themselves that would cut down on efficiency, McGee said. "One of the big things it was going to drive was a sizeable reduction in payload, which has a dramatic impact on the efficiency of these machines as they're going out to do their jobs," he described. "Instead of being able to stay on site and dig for six or eight hours, suddenly they were only going to be able to stay on site for four or five hours. You can imagine the chaos in what's probably the largest hydrovac market in Canada, and perhaps North America, where the equipment would essentially lose efficiency of 50 percent."
Those challenges would result in changing the way the weight distribution had to be approached on these types of machines. The implementation of new regulations in July 2017 led JJE to bring the issue up with Vactor, a manufacturer of vacuum excavators that JJE has partnered with for over two decades. Based in the U.S., Vactor has had to deal with varying state laws involving truck weight and axle loading. According to Vactor product manager Ben Schmitt, there was interest in investigating the new situation in Ontario to support the industry in the province.
"We have a pretty good market share there; it's a significant part of our business, which increased the urgency of doing something," Schmitt said. "We wanted to understand what was happening in Ontario, and what challenges our customers have in the other regions of North America that we support." Schmitt and the JJE team started a consultation process with customers, both in Ontario and elsewhere. "I went through and visited customers in all of these regions, and brought their feedback to our engineering department. We asked 'what are your challenges, what do we need to address, and how are we going to do that?'" Schmitt said.

Vactor has a deep R&D process. Their engineers went through the customer concerns and produced a number of concept ideas, which were then presented to the customers for further fine tuning. Once that was done, the Vactor engineers went to work. At September's ICUEE trade show in Louisville, Kentucky, Vactor displayed the results of that work: a concept truck that is intended to be a jumping-off point to meeting the many different weight management requirements in different regions.

"We have two trucks – one is built specifically for Ontario, and one for everywhere else," Schmitt said. "We're now taking the trucks back to the customers, getting more feedback as we continue these trials, and our engineering department is in the stages of preparing it for manufacturing." The challenge with vacuum excavators is that the weight is not static – it moves around in the vehicle's water tank and debris body. As the machine does its job, that weight can shift depending on the work being done.

"You start the job with a full water tank, so wherever the water tank is located is where the weight on the chassis falls," Schmitt said. "So, you may be at your legal limit on your front axle, with say 20,000 pounds from a full tank of water. As you use that water, the weight decreases in that area, and goes onto the debris body. If you look at any manufacturer out there, the centre lines of the water tank and debris body are in different spots. As the weight is shifting, it's moving throughout the chassis – you never optimize it. We paid strict attention to this reality in the product redesign."

Another issue that was identified is that as the water is used, and spoils are vacuumed into the debris body, the water's weight is a known quantity but the debris being picked up by the truck is not, Schmitt noted. "You know how much water weighs, but you don't know if they're finishing the job with 100 gallons or 1,200 gallons. You don't know where to put that to maximize it, and you don't know how heavy the debris is they're loading – it could be 10 pounds a gallon or 20, or more," he said. "So what we did is said 'okay, these are two variables we can't control – so what if we put them in the same spot? Then we know the variability of weight on the chassis is in that spot.'"

Making the most of axle capacity
Vactor's engineers determined the precise spot on the chassis of the company's popular HXX vacuum excavator to place the debris body so that, when the front axle reaches its maximum weight capacity, the rear axle is also at its maximum. The idea, Schmitt explained, is to have the axles reach their maximum capacity at the same time.

"Let's say a chassis can have 20,000 pounds on the front axle, and you can have 34,000 pounds on a group of two . . . with today's designs. When you're at 34,000 on the rear, you're only at 16,000 or 17,000 on the front – so you're losing that 3,000 pounds of capacity," he said. "What this new design allows us to do is reach those at the same time, so you're getting the maximum legal load capacity."

In addition, Vactor has taken this opportunity to make a few other adjustments to the truck design, responding to feedback from years of working with customers in the market.
"Weight was our number one goal. But we've got years and years of feedback on our current product so some additional enhancements were in order," he said.
The truck's boom was an area that many customers wanted to see adjusted. As the part of the truck that's used every time they dig, customers had many thoughts on how to make improvements.

"Every customer is using the boom all day, so being able to reach as much as they can, being able to dig deeper holes and reach farther from the truck with it is key for them," Schmitt said. "One of our goals was to increase that boom, so we went from a 21-foot reach to 27 feet – 6 feet farther. Plus, we gave them two more feet of boom movement in and out . . . they've got a more full working range around the equipment."

"Reduced setup and teardown time at each jobsite are benefits of that wider working range. Normally, a vacuum truck may have to move several times to dig a particular set of holes, which means downtime and lost productivity. A longer boom means less time doing resets and more holes per location," Schmitt said.

"We did a lot with the ergonomics of the equipment so everything is in a better spot for the operator, and then added a lot more reliability and service features as well," he said. "We're also introducing a new water pump on this product."

The concept truck was on display at ICUEE as a way to encourage more feedback before Vactor continued toward completion of the new vehicles, Schmitt said. Response at the show was strong, and according to McGee, customers back home also responded to the updates on the HXX.

"Customers were excited to be part of the process of developing what would be their next generation of equipment, and to see the finished product," McGee said. "Seeing the finished product, they were able to pick out the things that they had provided feedback about. Not everything made it onto the truck, but collating those ideas led Vactor engineering to a lot of new ideas and how they can approach it."
Company info
1621 S. Illinois Street
Streator, IL
US, 61364

Website:
vactor.com
Phone number:
(815) 672-3171
Read more