Hyundai debuts All-Around View Monitoring and new quick coupler on HL900 series wheel loaders at World of Concrete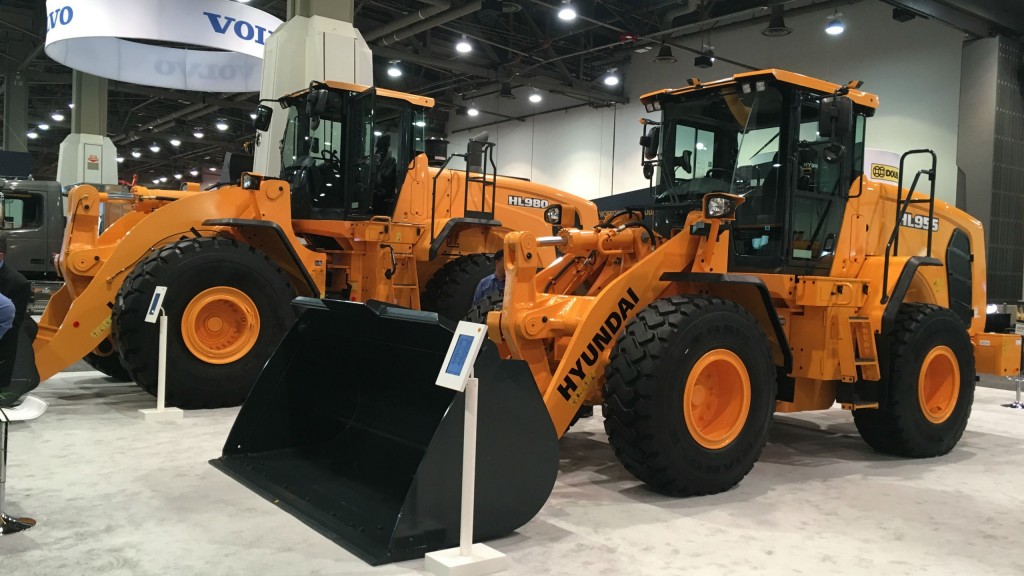 The Hyundai Construction Equipment Americas booth at World of Concrete showcases new products, new partnerships and what the company calls "the Hyundai Safety Edge."
Visitors to the exhibit (booth C7213) will see the Hyundai-exclusive All-Around View Monitoring system featured for the first time on one of its HL900 series wheel loaders, as well as a newly redesigned Hyundai quick coupler for its Z-bar wheel loaders.
The Hyundai-exclusive AAVM (All-Around View Monitoring) system is available on new factory orders of Hyundai HL900 series wheel loaders, which are available throughout the United States and Canada.
AAVM has been available as an option on Hyundai HX series excavators since Oct. 2015.
Equipped with four cameras, including one each mounted on the left- and right-side mirrors, one on the front of the cab, and the standard backup camera mounted to the rear hood, the monitoring system provides a 360-degree-surround virtual operating view of the jobsite.
"Safety on the jobsite is a necessity. Now with the new wheel loader AAVM system on our HL900 series, Hyundai provides owners and operators a safer solution than other options on the market." said Corey Rogers, marketing manager, Hyundai Construction Equipment Americas.
Included in the AAVM system is the IMOD (Intelligent Moving Object Detection) system that senses and warns the operator with onscreen flashing arrows and an alarm when objects come within either of two selectable ranges (6.5 feet/2 m or 22.9 feet/7 m) of the wheel loader. The image is integrated into the Hyundai seven-inch colour touchscreen cluster-monitor in the cab.
The AAVM system uses Hyundai's proprietary imaging software to display multiple 3D and 2D views of the operator's working environment, including a unique bird's-eye view.
The newly redesigned quick coupler now available as an option on the Z-bar models of HL900 series wheel loaders is on display on an HL955 wheel loader at World of Concrete.
The ISO 23727 standard-compliant Hyundai quick coupler accommodates multiple attachment types common to industrial and construction applications. The coupler is designed for safe operation, good centerline visibility and optimum performance.
A Hyundai HL980 wheel loader is also displayed at the booth with an AMI 6.5-cubic-yard (5-cubic-metre) heavy-duty, spade-nosed rock bucket. This display represents a recent agreement to offer AMI OEM-warranted parts through Hyundai dealerships.
The Hyundai R60CR-9A compact-radius excavator on display is fitted with an Antraquip hydraulic rock/concrete cutter.
"Hyundai is on the move," said Stan Park, VP of distribution/marketing for Hyundai. "Our presence at World of Concrete, including these new products and partnerships, reinforces the growth we've experienced in North America and the expanded offerings we are making available to our customers. Contractors will also appreciate the emphasis we've placed on safety, evidenced by the addition of AAVM to our wheel loader line."
Company info
Related products
More from Earthmoving
A bottleneck of haulers waiting to be loaded is inefficient. Idle machines burn unnecessary fuel, increase maintenance costs and decrease resale values when you're ready to trade them in.
When you pair the new Volvo EC950F crawler excavator and A60H articulated hauler, you can load trucks faster. The EC950F can utilize a 10-yard bucket to fill a 60-ton capacity A60H in only four passes — reducing passes lowers fuel consumption and drastically speeds up cycle times to keep your haulers moving. See how the massive EC950F and A60H improve cycle times and more to boost your profitability.