MQ Whiteman track-drive power buggy offers 2,500 pounds capacity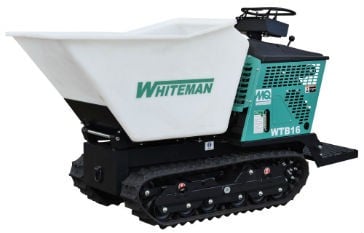 MQ Whiteman's newest track-drive power buggy, the WTB-16, features an aggressive track pattern enabling the buggy to travel through soft soils and muddy site conditions.

Optimal traction and durability are assured by a steel-embedded-ladder track design and rugged undercarriage utilizes cast ductile iron guide wheels. Powerful drive motors propel the buggy through tough conditions and offer fail-safe braking. "Our low-maintenance hydraulic design eliminates wear parts such as belt-drives and drive couplers," stated Warren Faler, Product Manager. "Additionally, contractors will appreciate our dual control levers which while minimizing fatigue common with other designs."
A versatile tub offers 16-cubic-foot capacity (2,500 pounds) and polyethylene construction for easy cleaning. A powerful and reliable Honda GX690 engine produces 22 hp and long run times are achieved with the five-gallon fuel tank. Travel is efficient around the jobsite with speeds up to 5.7 mph unloaded and 4.7 mph loaded.