Innovations running deep in the piling and foundations sector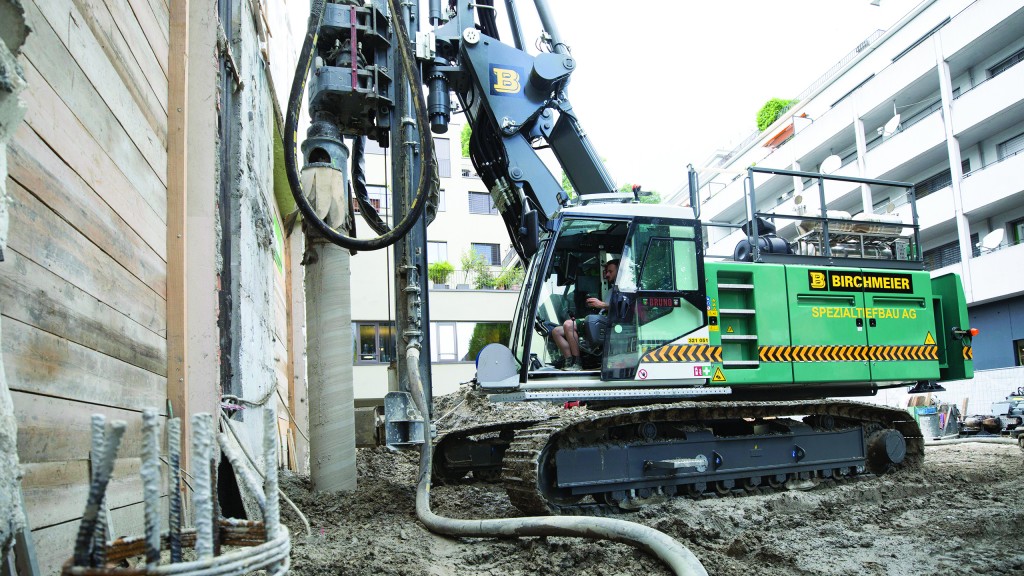 Liebherr launches new all-around machine
Liebherr is always busy, and this year is no different with the launch of the new LRB 16 piling and drilling rig, which is suitable for the diverse requirements of deep foundation work. It features a compact design as well as a range of available assistance systems which eases the work on the jobsite. With a longer leader, the piling and drilling rig is also now available as an LRB 18.
The LRB 16 gets its name from the sledge's travel distance, which is approximately 16 m. Special emphasis is on the compact design of the LRB 16 with an operating weight of barely 48 tonnes, which results in low ground pressure. The robust undercarriage offers excellent stability, which can be further increased with the optional rear supports. Innovative hydraulic concepts aid in efficiency for the machine; despite reduced engine power, high performance is achieved while keeping fuel consumption lower.

The proven parallel kinematics, which have been installed in many piling and drilling rigs from Liebherr, have a large working area and enable the leader to be folded back. The rigid leader of approximately 12.5 m absorbs high torque and is fitted with a rope crowd system for high pull forces of up to 200 kN. Furthermore, the quick connection system allows for the rapid fitting or exchange of working tools.

The LRB 16 can be easily transported in one piece, including mounted counterweight, and has a transport weight of only 43.5 t. This ensures quick setup on site as well as flexibility in transferring the machine between different jobsites. As an option the complete loading and setup processes can be carried out via remote control, which means only one person is required.

Particular attention was paid to the improvement of operator comfort. This was achieved, amongst other things, through a modern air-conditioning system, an optimized view from the cabin as well as an orthopedic operator's seat with automatic adjustment.

As a standard, the new piling and drilling rig is fitted with sophisticated control and assistance systems. Attachment recognition offers not only time recording for the respective attachment, the performance figures are also transmitted with the aid of LiDAT, Liebherr's own data transmission system.
SC-135 HD Tiger diaphragm wall drilling rig with Hydromill technology
Soilmec's Hydromill technology allows the construction of diaphragm walls in a variety of soil conditions and provides accurate vertical control at working depth, which was previously unattainable. The new SC-135 HD Tiger allows operation in a range of working radius and module rotations.

One feature includes a patented hydraulic system dedicated for cutting module and base machines with the filters installed directly on the main lines to avoid any possible breakdown due to bentonite contamination.

The hydraulic swivel for +/-90-degree module rotation, the high-power Cat C27 Diesel engine and other features are suitable for jobsites up to 150 m depth, and guarantee the highest performance in various conditions. The high-depth vertical sensor, the independent mobile and the DMS on board complete with 3-D graphic printout panel options all mean verticality control better than ever before.

The SC-135 HD Tiger presents a new safe anti-fall system including handrails and ladders, lashing points, remote control boards and reduced speed mode in order to carry out the main assembly/disassembly operations and maintenance procedures in safe conditions. The machine has been designed for modular assembly, with a maximum transportation weight of 45 t.
Junttan opens new subsidiary, adds hammer series
Finnish company Junttan Oy is making a push to be part of the North American market with the launch of its subsidiary based in Laurel, D.E. Junttan USA will fulfil service and parts needs, as well as supporting sales and rentals; the facility features a warehouse to help reduce parts logistics lead time, as well as a service area for hammer cylinder rebuilds.
The company also made a splash at CONEXPO when it launched its HHx series of offshore hydraulic hammers. The new generation hammers for tough conditions are especially designed to drive steel piles. The new level of total efficiency of the unit leads to a high level of piling project productivity. Reliability and ease of on-site service are also an important part of the HHx hammers. The robust, totally new structural design ensures that the hammer can be operated with full capacity at all times in the toughest conditions. The hammers are operated with the new generation Junttan xCU power packs which fulfil the latest environmental requirements and can be supplied with Tier 3 or Tier 4 Final engines. The xCU series power packs are scalable for different climates.
Junttan also offers new Junttan Life services for all new equipment to guarantee maximum uptime and minimum costs. Junttan Life Portal features fleet management, online access to manuals, remote service, troubleshooting and more.
Robit bits evolve to manage rough rock conditions
In recent years, top hammer performance development has not only been linear but exponential. Robit Button Bits have witnessed many improvements during this period. Improvements to the Evolution series share aspects across the size range based on simulation and advanced analysis.
For small size bits, development focused especially on the specific needs of high-power and high-frequency drilling in tunnelling and drifting applications.
Multiple model approaches were taken, with the boldest design boasting just six extra-large buttons in a 48-mm bit. All variants were extensively tested with customers and set against conventional hard rock bits. In the end, the best results were gleaned from modifications and optimization to face design, but particularly from increasing both gauge and face button numbers, as well as increasing the number of flushing holes.

In the medium-to-large sizes, significant performance strides were taken by diving deep into flushing properties. Computational fluid dynamics (CFD) simulations proved valuable in the pre-test phase, quickly finding optimal solutions and truly significant impacts. The 76-mm Retrac button bit has the signature Robit curving grooves and the sleek geometry flows through to the new face design.

The simulations clearly show that the new model isn't just easy on the eye. The flow pattern is more even, which reduces bit erosion. Field tests confirmed what the technical simulation background work had already proven; partner drillers were happy with the excellent performance and noted better flushing and longer grinding intervals.
Dawson Engineering's excavator-mounted drilling machine
For Dawson Engineering, 2017 has led to the launch of two new machines intended to make it easier for customers to drill on the job.
Dawson's excavator-mounted drilling machine has been designed to fit via an adaptor plate to the stick arm of an excavator and runs via the flow and return lines that normally supply the bucket or a double-acting breaker circuit.

There are two models to choose from: the EMD-15 drilling drive will turn utility and small foundation augers in most soil types. The auto-shift feature allows the drive to automatically shift between high speed/low torque and low speed/high torque. The EMD-20 drilling drive will also handle utility and small foundation augers. Its auto-shift feature allows the drive to automatically select the best drilling speed and torque. By selecting the correct drill bit combined with the down-crowd force of the excavator the EMD will make light work of the most demanding conditions. Another benefit of the EMD is that because it is mounted on an excavator, customers can drill vertical holes anywhere the machine can go.
Related Articles
Searching for the best-performing excavator? Your search ends here. We tested the Volvo EC350E and EC380E against a leading competitor in three different tests: trenching, truck loading and lifting capacity at reach. The results show a 20% difference in cost-per-ton, a 15% difference in tons-per-hour and a 12% difference in both operating costs and lifting capacity. See the results and put an end to your search for the best excavator.