FLO Components Ltd. Announces Second Winner in 40th Anniversary Giveaway Contest!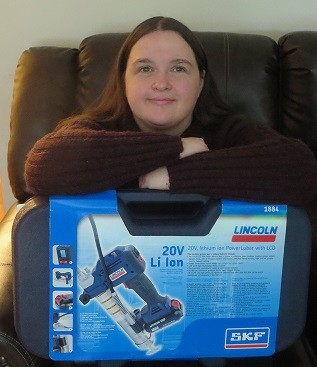 Automatic Greasing Systems specialist FLO Components Ltd.'s has announced the winner of the second draw in its 40th Anniversary Giveaway Contest. Gabriel Lopez, Marketing Specialist at FLO announced; "Jonnie Hartling of Spruce Grove, AB is the lucky winner of the second of three Lubrication Product Packages. Jonnie's name was drawn randomly from all eligible entries and she successfully answered a skill testing question. Jonnie received a Lincoln 1884 PowerLuber & Lincoln 5900 PowerLock Coupler Pack."
Lopez says, "Response to the contest has been very good. The Lincoln PowerLuber series of grease guns has a lot of history and is very popular in the market. This particular model of grease gun features a multi-function LCD that displays: quantity of grease dispensed, quantity of grease remaining in the cartridge, battery charge level, operation signal and stall indicator."
"This was the second of three Lubrication Product Packages we're giving away to lucky LinkedIn users over 3 Draw Periods. The final draw will take place on December 1. Anyone who entered in the earlier Draw Periods is automatically entered in this final Draw. People who haven't entered yet can do so by simply filling out the Contest Entry Form on our website and following FLO's LinkedIn page using a valid LinkedIn account. No purchase is required."
The third and final prize will be a choice of either the same PowerLuber & PowerLock Pack from the first two giveaways or a FLO Components "18-point Automatic Lubrication System in a box". This FLO Components "System in a box" is packaged as a complete kit capable of servicing up to 18 points and includes a 24VDC electric QLS301 Lincoln pump, 200 feet of 1Ž4 OD nylon tubing, progressive block-type metering valves (18 valve outlets) and 18 ninety degree bearing inlet fittings.
Lopez says; "The QLS System is a relatively simple method of centralizing or automating the lubrication process in many applications, from highway trailers to any variety of industrial machinery. It can help reduce downtime for machinery large and small and improve safety for those responsible for maintaining it."