New mobile shredder solutions coming in October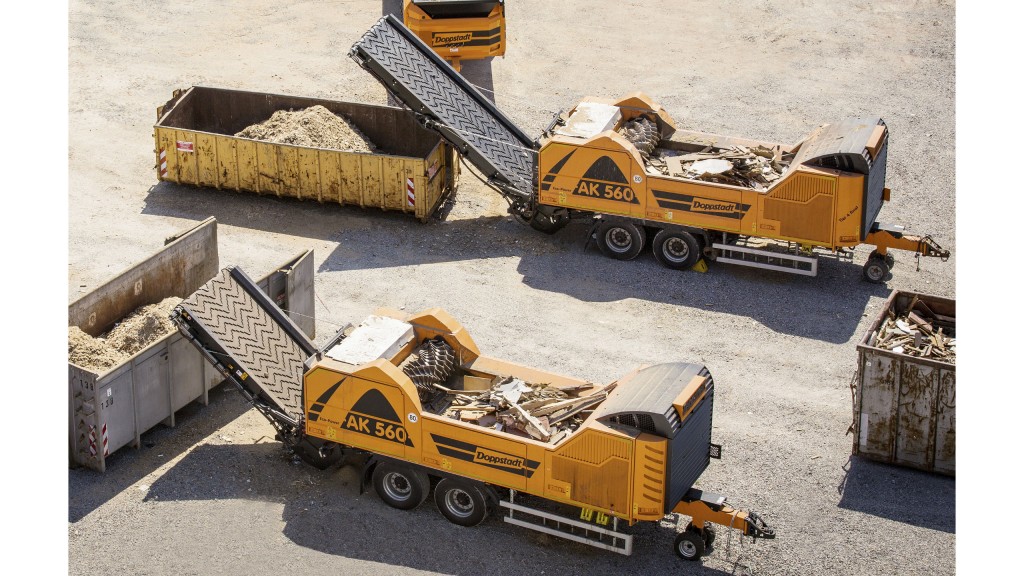 At the start of October, the environmental technology company Doppstadt will be launching its new mobile shredder solutions — the AK 560 and AK 635 EcoPower shredders, with the latest technical updates and a new rear conveyor option. Doppstadt's AK 635 comes with an eight-meter rear conveyor as standard, and the AK 560 can be fitted with a six-meter rear conveyor.
They achieve new drop heights of over four or five meters, and optimise work processes. Transfer of the crushed material into the downstream machines or containers is simplified, and pouring cones do not need to be emptied as often, as they can hold up to 25% more. The discharge conveyors can be extended and retracted hydraulically. When configured for transportation, the vehicle length barely changes, compared to the shorter conveyors. Daniel Kürten, Doppstadt Product Manager: "The new fast-running, environmentally friendly shredder solutions work faultlessly and efficiently. Six variants will be available, to suit different applications and budgets. There are large and small solutions, including on-road and off-road vehicles. But they all have one thing in common: their quality."
The AK 560 EcoPower is available with 2 or 3 axles, and the AK 635 EcoPower is available as a tracked vehicle or trailer. The trailers and trailer chassis are approved for road use with a maximum speed of 50 mph, and the tracked vehicle can travel at two different speeds. All the machines are powered by MTU/Mercedes Benz engines, which meet the legally required Euromot Stage IV final emission requirements. The overall efficiency and cost-effectiveness of the shredder solutions has been improved. This is all in line with the corporate strategy of the company, which supplies environmental technology: its solutions are designed to meet the needs of the future and take into account the latest developments in technology and environmental protection. This owner-managed company develops and produces all its machines in-house. Thanks to this depth of knowledge and production expertise, the company can react quickly to new developments and challenges because it uses tried and tested technologies.
Doppstadt can provide a rear basket option for waste wood shredding applications, a feature which improves the uniformity of the end product. The focus is on reducing excess lengths while improving material structure. The basket is resistant to contaminants, and does not harm the return belt, as contaminants can no longer impact it directly, so the basket also minimises the risk of return belt blockages. The waste wood rear basket is available with different mesh sizes, and can be installed and used in all the models in the AK and DZ series.
Company info
Related products