Volvo Trucks opens new Customer Center at Virginia facility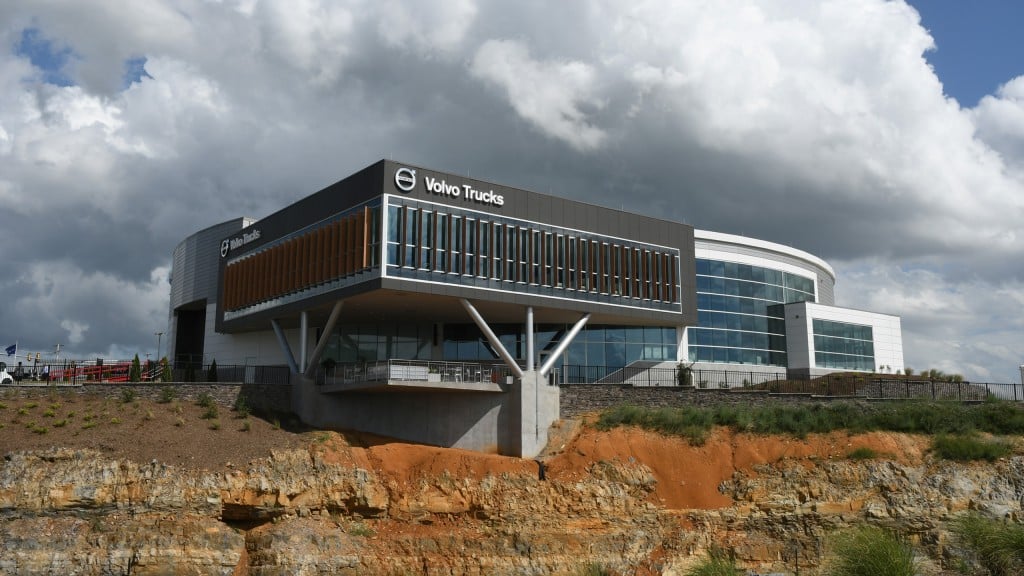 Volvo Trucks North America has opened the new Volvo Trucks Customer Center at its New River Valley (NRV) facility. Built to showcase Volvo products, innovations and the brand in a dynamic way to engage visitors, the Volvo Trucks Customer Center was part of a $38.1 million investment in the Dublin, Virginia facility where all Volvo truck models for North America are assembled.
"We are very pleased to open the Volvo Trucks Customer Center, which we believe will serve as a destination for all of our North American customers and other visitors," said Göran Nyberg, president of Volvo Trucks North America. "Now, our trucks, engines and transmissions are all spotlighted in one location, in a one-of-a-kind facility designed to offer a unique brand experience that only Volvo can offer."
Officials broke ground on the 36,000 square-foot custom-designed facility in September 2015. The facility includes a product showroom, two exhibit rooms, two pilot review rooms and a theatre-in-the-round at the center of the building seating 290. The theatre-in-the-round revolves and has an 82-foot turntable.
An observation area allows customers to view the trucks traveling around the 1.1-mile Customer Experience Track, where banked corners enable highway speeds and numerous surfaces and grades permit drivers to experience difficult road conditions in a designated off-highway area.
"This has been an historic day for Volvo Trucks North America," Nyberg said. "First, we launched our innovative and sleek new Volvo VNL, and we opened this new facility. We look forward to an exciting future for Volvo Trucks in North America and in Dublin, Virginia."
The building design is shaped like the Volvo Trucks iron mark and was developed with unique Volvo detailing in mind, following a Scandinavian timeless design. The purpose of the facility is to provide customers, dealers and visitors a uniquely Volvo experience.
In addition to the Customer Experience Center, the $38.1 million investment funded several plant upgrades to further improve the safety, quality and efficiency of NRV's manufacturing processes.
"This new facility recognizes the tremendous contribution that NRV employees deliver to the trucking industry and our customers," said Franky Marchand, vice president and general manager at the plant.