Reliable equipment needed to meet tough repaving deadline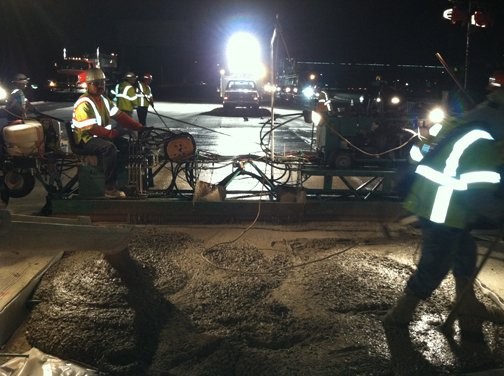 J McLoughlin Engineering, Inc. had just 140 working days to complete a $45 million contract to replace a 22-mile section of concrete highway. In addition, the work could only be done at night, from roughly 10 p.m. to 5 a.m. This would be a demanding job already, as the size and scope was certainly no small task, but the strict timeline meant the crew had to be especially diligent in working as efficiently as possible.
Company owner Joe McLoughlin was confident he and his crew could handle the project with a 50-person crew.
"We consider ourselves to be nocturnal because almost all of our work is done at night," McLoughlin said. "So that really wasn't a major issue for us. What was really going to make this job a challenge was the strict time limit. You figure there's 20 working days in a month, which gave us 7 total months. That comes out to around $6 million worth of work a month. That's extremely fast!"
Like most repaving jobs, the work was to be done mostly in sections or "patches" located at various locations along the stretch. The patching work started by cutting out a designated section using a concrete saw. A breaker was then used to break up the concrete within the patch area and the broken concrete was excavated. Finally, the crew brought in its concrete drills from E-Z Drill to drill holes where the dowel bars would be placed. After the bars were set and epoxied in, each patch was completed with a fresh pour of concrete.
For this project, J McLoughlin looked to its fleet of E-Z Drill slab rider drills. The crew used a total of eight drills in varying gang sizes. The primary drill used was the Model 210B-2 SRA, a two-gang slab rider unit. J McLoughlin ran four of these units at all times, while also utilizing two each of the 210-3 and 210-4 slab riders to accommodate various patch sizes and hole requirements.
"In that 22 mile stretch there were about 10,000 patches, which equates to nearly 200,000 total holes," McLoughlin said. "That's quite a bit of work. Then add in the fact that the patches could be different sizes and require a varying number of holes, and it got a bit more complex."
The large number and variety of E-Z Drill machines in the crew's fleet was hugely beneficial, allowing them to drill more holes and work multiple units at any given time to maximize their output and keep pace with the strict deadline.
Accuracy
In addition to drilling speed, accuracy was equally as crucial throughout the job. Holes had to be drilled precisely to specs.
"That's another thing I've found with E-Z Drill," he said. "We can always count on the accuracy. It's pin -point every time."
To ensure the crew's success operating the drills, E-Z Drill sent out a company representative to train crew members on the specifics of operating each unit for maximum efficiency.
"E-Z Drill has a great training program for getting crews familiar with the drills and using them as productively as possible. I was impressed by the whole process," McLoughlin said. It is this type of customer service that has made them a loyal E-Z Drill customer since 2001.
Meeting the deadline
Adding another element to the already-demanding project was the looming threat of penalty fines that J McLoughlin would incur if it didn't meet the completion date.
"We're looking at a $41,000 fine... each day we go past the completion date," McLoughlin said.
Even one broken or faulty piece of equipment could be a major setback in terms of completing the project on time. To set itself up for a penalty-free job, McLoughlin actually ordered additional drills from E-Z Drill – more than were required for the project. That way, if a drill broke down there was an extra that could be brought on and ready to go.
Even though experience told him there was no need to worry about the E-Z Drill units lasting for the long haul, he decided it was worth the peace of mind to have the backup.
"It's like having insurance. You hope you never have to use it, but you still have it just in case."
In the end, the combination of careful planning, proper training, reliable drills and a hardworking crew meant that
J McLoughlin had no trouble finishing the project on time.