Innovative engine testing facilities incorporated in new Briggs & Stratton lab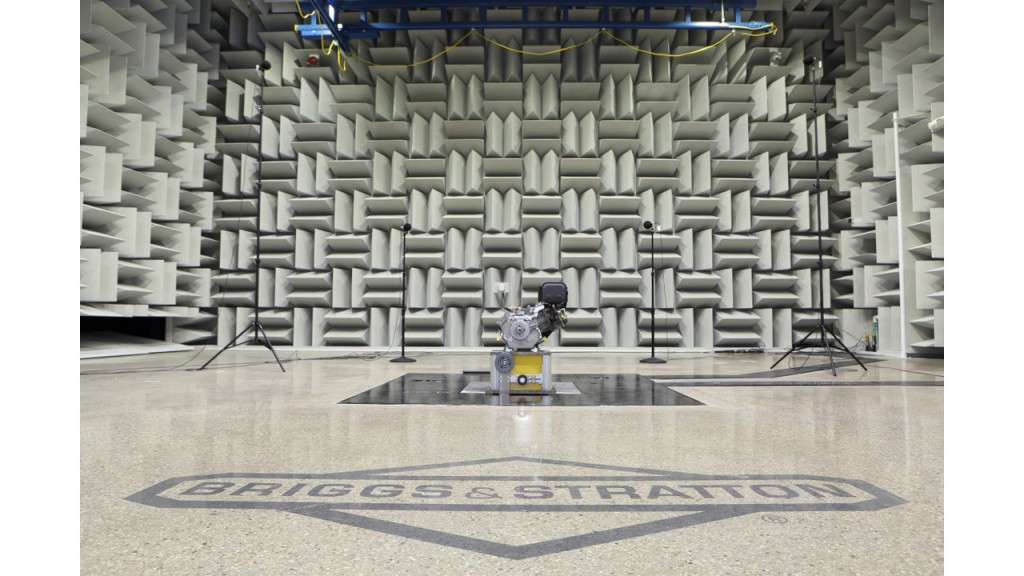 Briggs & Stratton Corporation recently opened the doors on one of the industry's most innovative engine testing facilities designed to help engineers create and test new features that meet consumers' demands.
The new Noise, Vibration and Harshness (NVH) Lab incorporates automotive-grade technology to accelerate testing and create high performing, long-lasting engines for residential use as well as the Vanguard commercial engines that help professionals tackle some of the biggest jobs around the world.
The lab's unrivaled capacity and capabilities allow Briggs & Stratton engineers to test noise and vibration levels in simulated real-world conditions. The lab also allows for harshness testing, ensuring engineers can fine-tune the performance of each engine component, to guarantee products withstand the most rigorous commercial applications.
"Our team of engineers and application specialists are continually looking to improve productivity, engine performance and user comfort," said Brett Birschbach, NVH engineering manager, Briggs & Stratton. "We put our engines through a rigorous testing protocol to ensure the quietest and smoothest running designs."
The NVH lab will continue to play a critical role in bringing to life innovations based on customer feedback. For instance, the previous NVH lab helped engineers develop Quiet Power Technology. That technology is now the backbone of the company's residential QPT Series engine, which is up to 60 percent quieter than other residential lawn mower engines. The new facility enables Briggs & Stratton and Vanguard to evolve and advance technologies like QPT and continue to develop groundbreaking solutions for consumer and commercial needs.
The new NVH lab, located at Briggs & Stratton's Milwaukee, Wisconsin headquarters, not only offers state-of-the-art testing chambers but also an experienced team of acoustic engineers and senior-level technicians. The team of seven, led by Birschbach, has more than 140 years of combined experience. Birschbach has more than 15 years of NVH experience with direct experience in NVH testing in the automotive industry.
The enhanced NVH lab exceeds the testing capabilities of any other small engine manufacturer by extending beyond simply testing the engine alone. The equipment and software used in the new facility is sourced from the latest technology developed for the automotive industry. The lab enables testing of the engine while integrated into the equipment, such as lawn mowers and construction equipment. This provides valuable data on the engine and allows OEMs to expedite their path to market. In some cases, testing can be completed in just 30 percent of the time it would take with industry-standard equipment. The reduced time required for testing decreases costs for OEMs and, in turn, their customers.
The new lab includes two sound-testing chambers: a standard chamber for vibration testing and detailed analysis and a larger chamber, designed for certification testing, where Briggs & Stratton engineers test for domestic and international noise regulation compliance.
Briggs & Stratton uses the large chamber to conduct comprehensive tests with the engine mounted to a piece of equipment. This allows engineers to better replicate actual operating conditions. Extensive indoor testing is possible because of an advanced air handling system that exchanges 100 percent of the chamber's air every minute.
In both sound chambers, data is gathered using a dynamometer isolated in a sealed area below the floor. By isolating the dynamometer, noise from the device cannot interfere with engine noise, ensuring consistent and reliable measurements. Dynamometer sound testing is done not only to measure volume but also to help engineers design engines with a more pleasing tone and pitch, which improves operator comfort and lessens noise concerns when working in residential areas.
Briggs & Stratton's NVH lab also conducts two primary vibration tests. The first uses an accelerometer to measure the degree to which an engine's vibration will transfer to a piece of equipment. The second tests for potential component failure using an electro-dynamic shaker to replicate real-world, application-specific conditions.
The electro-dynamic shaker test is conducted to determine product life expectancy for specific parts and components. If a part failure occurs, or vibration concern is noted, engineers can modify designs to counteract the problem. For example, a component's weight distribution may be re-engineered to counteract vibration.
After changes are made, technicians repeat the tests to ensure the engine will perform optimally for its intended application. The lab's advanced electro-dynamic shaker makes it possible for engineers to replicate the effects of 1,000 hours of real-world operation in only 300 hours.
Company info