Advances in Crushing & Processing help cut production costs, reduce maintenance, improve ROI and raise output for producers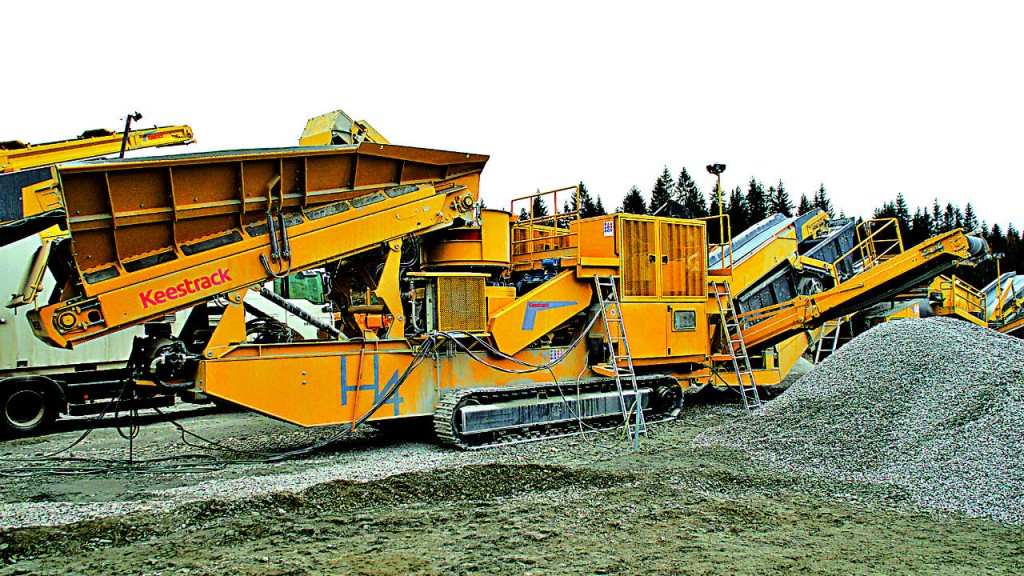 When you think about crushers, screens and other equipment for use in quarries and aggregates production, it might seem that there isn't much more that could be done to improve performance, reduce costs, increase equipment life and reduce servicing. Yet that is exactly what is happening, as this equipment report shows.
A good example is the new hybrid tracked processing line from Keestrack. They demonstrated it during the company's Customer Days last Fall at a granite quarry near Oslo, Norway.

The demonstration comprised the B4e jaw crusher with S5e stacker (for 0/20 pre-screen), the H4e cone with a three-deck after-screen module, and the final K3e two-deck-classifier for five end-product fractions. With a feed size of 600 mm and different sets of end products, the combination reached a maximum production of 180 mt/hour. All machines were powered through a single 500-kVA external gen set, without the need to activate their onboard diesels. Operation over several days gave average fuel consumption of under 60 litres per hour.

"We were surprised by these results," states Keestrack President Kees Hoogendoorn. "They clearly reflect the high economic potential of our full-hybrid technology. Applied in a mobile, multi-stage processing line, as presented here for the first time, it offers great advantages for the contractor, not only in daily practice but specifically in long-term evaluation if we consider lower maintenance costs and longer service life."

The screeners and conveyors on hybrid Keestrack classifiers and stackers are operated electrically, with the diesel-driven hydraulics only supplying the hydraulic cylinders and crawlers. Previously, all Keestrack crushing units were powered directly through the onboard diesel engine.
"Electric drives supplied via external gen sets or mains certainly offer high saving potentials, but without compromising the plants' mobility, crushing performance and productivity," Hoogendoorn said.

The all-new Keestrack B4/B4e jaw crusher is available with conventional diesel-hydraulic drive (B4) or as a hybrid "e-version" (B4e). Both have active two-deck pre-screening and the redesigned 1,100 x 700 mm jaw crusher which features patented N.S.S. overload protection.

The B4e is equipped with a 242-kW diesel engine and a 225-kVA on-board generator. The generator supplies the 110-kW electric crusher motor, all other electric drives on conveyors and screens and the separate 55-kW electric motor/hydro pump unit for all installed hydro drives (cylinders, tracks). During "plug-in" operation, using external genset/mains, the diesel engine doesn't have to be started, and all energy management is controlled automatically, including the electric supply of a secondary unit (screen, stacker).
McCloskey International reports that they are now offering the first self-powered telescoping stacker with an onboard diesel engine in North America. The SDX100 VBIN, available with either powered wheels or track drives, is highly mobile and easily transported from site to site. Setup from truck to stockpiling can be accomplished in 15 minutes.
This is the third product in McCloskey's growing line of self-contained desegregating conveyors, designed to streamline materials handling. The new stacker desegregates and maximizes stockpile capacity using a fully automated and highly flexible CAN-based control system, providing optimal control of material quality. It is more than capable of processing 750+ tph in applications like barge loading, desegregating, offloading in tight quarters, or stockpiling materials.

The VBIN section itself features hydraulic fold and boasts a standard capacity of over seven cubic yards. In order to deal with shock loads of 10 tons and more, the direct load stacker uses a heavy-duty build and includes tightly spaced impact rollers, heavy-duty three-ply belting, and reinforced frame.

When it comes to a screen that can separate nearly any solid material into as many as six different fractions, the new Doppstadt SM 720 SA Plus fits the bill. It can handle everything from construction rubble, sand and gravel to industrial waste and recyclables, and adapts to the screening tasks by component change. Various screening trommels, with different mesh sizes, can be changed without tools in less than fifteen minutes.

Compared to the previous model, the new screen is considerably larger and more powerful: The 7.2-cubic-metre hopper can be filled continuously, and the screen can receive and discharge more bulk material in shorter time.

The rear- and side-discharge conveyors are longer so that the conical pile becomes higher and larger, and has to be removed less frequently. In addition, the driving power of the trommel has nearly doubled, thus enabling a higher throughput. Even the user-friendliness of the machine has been optimized, with screening trommel speed and start and stop functions controlled comfortably from the rear of the machine.

A further advantage of the new screen is its mobility, as it can be moved on a semi-trailer without the need for a special permit. "In spite of its size, the SM 720 SA Plus can be used nearly anywhere," said product manager Karsten Runge.

When it comes to tracked screening plants, the new IROCK TS-512 is the tallest in the industry, according to the company, which means that operators can put more material under the belt before moving the screener from one stockpile to the next.

Small- to medium-sized producers will find it easy to use for sizing and sorting a wide range of materials, including aggregates, concrete, gravel, limestone, sand and topsoil. It was designed for fast and easy setup and tear down, as well as hassle-free mobility at the production site. Many components, such as the conveyors, are hydraulically powered so that operators can quickly and simply move them into place for production or fold them down for transportation. The TS-512 also features intuitive, easy-to-use controls to further enhance efficiency.

The plant has a 12-cubic-yard hopper and 100-hp CAT Tier 3 engine that enables the screener to process as much as 400 tph of material. Its three conveyors sort as many as three sizes of product into stockpiles 16 feet, 5 inches high.

The screener features two high-energy, two-bearing decks; a 12- by 5-foot top deck, and a bottom deck that is 10 feet 4 inches by 5 feet, giving producers ample screening area of 112 square feet. Interchangeable screen media gives producers versatility over end-product size.

The TS-512 is available in the standard tracked model or a wheeled version. Maintenance is simple with the TS-512's easy-to-access engine compartment that provides generous room for repairing or replacing components.

Additional features make it easy to customize the unit for specific applications. An optional remote-controlled livehead effectively sizes and loosens heavy, dirty and sticky debris from product before it enters the hopper. This speeds the screening process and boosts productivity. Control is via a standard tethered remote or optional wireless remote for greater flexibility around the site. A crusher chute gives producers the option to directly feed material into the hopper without removing the tipping grid. A single-shaft shredder is also available for proper topsoil screening.

Haver & Boecker says that their new portable F-Class vibrating screen can add greater mobility, flexibility and ROI to aggregate and mining operations.
"To help our customers streamline their operations, and provide solutions to a broader array of operations, we amplified our F-Class vibrating screen by adding portability…to easily travel from jobsite to jobsite," said Karen Thompson, Haver & Boecker Canada president. In addition, she added that their "leading edge, four-bearing screening technology virtually eliminates the common issues of pegging, blinding and cross contamination, therefore increasing overall efficiency and profitability."

The updated F-Class vibrating screen offers up to three screen decks. The vibrating screen features an advanced, double-eccentric-shaft design, supported by four high-performance, double-spherical roller bearings. Each F-Class is equipped with what Haver & Boecker says is a revolutionary quick-tensioning system, Ty-Rail, that minimizes downtime for screen media change-outs by about 50 percent.

With a unique, proven four-bearing technology, the vibrating screen minimizes structural vibration and delivers a consistent stroke, which two-bearing screens cannot provide.

It is mounted on a chassis, which uses hydraulics to achieve an optimal screening angle – from 15 to 25 degrees – as well as to lift the machine while adding cribbing for support. This setup process takes less than 30 minutes to complete. Take down is even faster, requiring less than 20 minutes to lower the unit in order to move it to the next location.

The F-Class is ideal for screening situations that require consistent, load independent performance at constant g-force in all operational modes. Businesses can also customize the portable F-Class setup to include a crusher system.

Haver & Boecker also offers the Pulse vibration analysis program to monitor the ongoing health of vibrating screens through real-time views, logged reports and data analysis. It's designed specifically for vibrating screens to catch small inconsistencies before they grow into problems and downtime.

Haver & Boecker has also introduced its own brand of Haver Exciters, with the largest static moment range on the market, minimal maintenance, and long service life due to the exciters' strength and advanced sealing system.

Compared with traditional shaft-driven machines, exciters can increase bearing life from to 200 to 500 percent. In addition, Haver & Boecker, in partnership with a premium bearing, seal and lubricants manufacturer, developed a seal system that features an oil deflector and mechanical labyrinth. The system works in combination with specific O-rings and V-rings to prevent contamination.

There are four exciter models with eight weight configurations each, resulting in a large range of possible static moment adjustments from 10,719 kgmm to 116,170 kgmm. The exciters drive the movement of the vibrating screen. Engineers fine-tune the exciters to ensure the vibrating screen has the correct static moment – or pull – for optimal screening performance in each application on any size machine.

Haver Exciters come standard on all new Tyler XL-Class vibrating screens. Companies can purchase the components for use on any brand of vibrating screen that uses exciter technology, and Haver Service offers refurbishments for all brands of vibrating screens during which time the exciters can be installed.

The latest introduction to Kolberg-Pioneer's jaw crusher line is their 3365 model. Tim Harms, product manager for Kolberg-Pioneer, says: "This crusher has up to 20 percent more capacity than the next size in its width class in both hard rock and recycled applications."

An innovative shaft and bearing assembly makes servicing easier and reduces maintenance and rebuild cost, providing a lower total cost of ownership through the lifetime of the machine. The electric motor mount, v-belt drive and guarding are all integrated on the machine, providing an easy-to-install compact package for mobile or stationary applications.

"The 3365 features an automatic adjust, for both the wedge style and tramp iron release systems," said Harms. "It also offers the advantages standard on Pioneer crushers, including replaceable jaw die seats and barrel protector plate, as well as an aggressive 1.5-inch stroke."

The new Liberty Jaw Crusher from Superior Industries functions as a primary crusher, compressing material in stone, concrete, asphalt and ore applications.
Superior acquired the original design in their 2015 acquisition of Canada-based Clemro Western. After collecting customer feedback, Superior engineers redesigned the unit and added a number of new features. The Liberty Jaw Crusher is engineered with an aggressive nip angle that maintains the machine's ability to consistently grab and process material at a high level of efficiency. In addition, a set of integrated lifting points are designed into the jaw dies for safe replacement or installation.

A unique feature is pitman toe protection. This replaceable component offers an insurance policy if wearing occurs in the pitman fabrication.

The motor is frame-mounted, freeing up deck space for maintenance, and the addition of a hydraulic-tensioning system and a hydraulic-wedge adjustment reduces maintenance. The Liberty Jaw Crushers are available in feed openings of 18 by 36 inches to 36 by 48 inches.

Superior has also released their first inclined screen, the Anthem Inclined Screen, which is available with single- or double-shaft drive, depending on the specific application needs of the customer. They are available in double-, triple-, and quad-deck configurations for 5×16, 6×16, 6×20, 7×20, 8×20, and 8×24 models.

According to the company, several features distinguish the Anthem Inclined Screen. Patent-pending bottle jack lifting points simplify and speed spring replacement and improve safety; a unique segmented belt guard requires only one person to remove and return the guards during maintenance; and screens can be custom designed to fit a customer's existing structure.

"In my opinion, one of the most unique features is our one style shaft design for all models of our inclined screen," says John Garrison, vice president of sales at Superior. "Typically, inclined screen shafts are custom machined to the weight of a specific unit, which creates long lead times for replacement parts. To create an eccentric offset on the Anthem Screen, owners and operators simply bolt on weights."

Alan Witherow, Product Manager, Terex Finlay, says that the enhanced material flow process of the new I-140 horizontal impact crusher "represents a significant step change to our engineering ethos and in due course will be extended to encompass our range of impact crushers."

The company's extensive field tests have shown significant productivity increases, depending on the application, over the model that it replaces.

A fully hydraulic apron setting assist provides convenient and efficient adjustment of the aprons, and a heavy-duty vibrating feeder (VGF) with integrated prescreen removes dirt fines and sizes bypass material for reprocessing. An under-crusher vibratory plate feeder is an option to aid material discharge flow.

The direct drive I-140 features an advanced electronic control system that monitors and controls the speed of the rotor and regulates the heavy duty vibrating feeder (VGF) with integrated pre-screen to maintain a consistent feed of material into the impact chamber for optimal crushing conditions. Material from the integrated pre-screen can be diverted to a stock pile via the optional bypass conveyor, or it may join the crushed product on the main belt. The standard hopper capacity is six cubic metres.

The crusher has variable speed and is intended for quarrying, recycling and mining applications.

CDE, a global manufacturer that specializes in wet processing, is set to unveil its latest innovation, the CDE M5500 wash plant.

Kevin Vallelly, Head of Product Development at CDE, said about the M5500: "CDE is upping the stakes by unveiling a powerful high-tech sand washing plant dedicated to the needs of the North American materials washing market. (This is) an innovative washing solution that will answer materials washing operators' needs for more efficient, user-friendly, economical and powerful equipment. This latest addition to the M-Series combines feeding, screening, washing and stockpiling onto one chassis, and packs an extra punch with unique features. These include a higher capacity of 550 tons per hour, a five-product capability and triple pass cyclone sand washing."

According to CDE, its materials washing equipment allows for more accurate material classification than traditional sand washing methods, higher quality washed sand, reduced costs of pond excavation, and reduced risks on site. The final product exits the plant ready for use, having been dewatered to 15 percent moisture.

"With an increasing number of operators switching from traditional sand washing machines to more efficient equipment, the North American market has become an important focus in the CDE business development strategy," added Tony Convery, President and Founder of CDE.

Another CDE innovation is the new Infinity technology designed for both dry and wet screening situations across a wide range of materials. Neil Mullan, Design Engineer at CDE, explained: "The new weld-free Infinity screens can generate the same acceleration as conventional screens with less weight, resulting in a reduction in power consumption and in operational costs, which presents significant benefits to our clients' operations.

Tony Convery concluded that: "The company's sustained investment in research and development seems to have paid off and the production and quality standards that the new M5500 sets bring an exciting alternative to existing equipment on the market."
Company info
Related products