IronDirect rolls out line of Shantui crawler dozers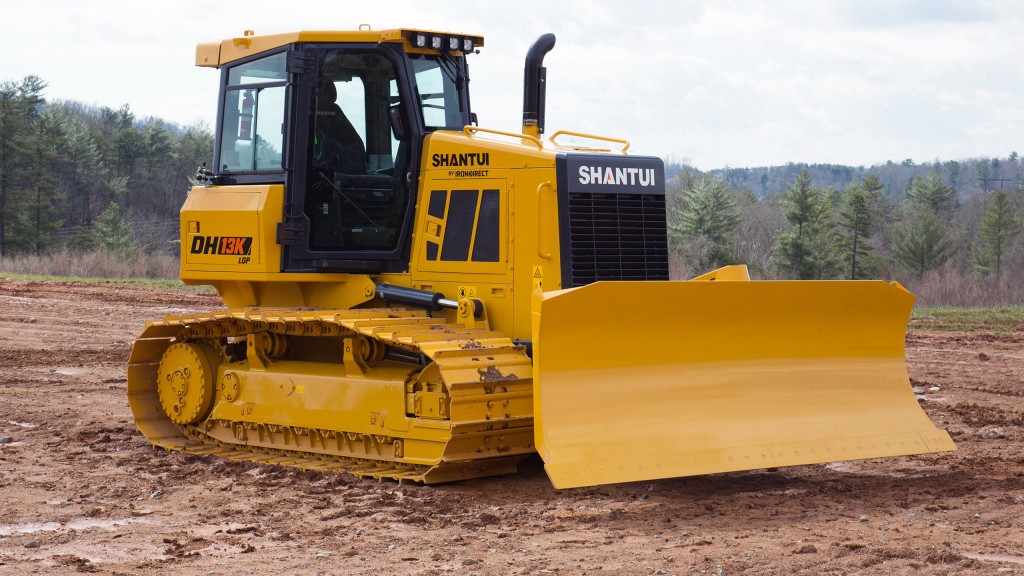 After a successful preview at ConExpo, IronDirect is rolling out a line of 10 fully hydrostatic Shantui crawler dozers that feature excellent blade and track control, superior visibility and a new, comfortable cab. The lineup includes four standard-track XL models that excel in hard and rocky soil, and six low-ground-pressure (LGP) models for soft ground conditions. The lineup ranges from 90 to 170 net hp (70 to 127 kW).
"Shantui dozers are known for rock-solid construction and great productivity at very competitive pricing," said IronDirect President Tim Frank. "The hydrostatic models have responsive control and are well-suited for rough dozing or finishing earth work. Visibility from the cab is as good as any dozer on the market. Contractors will find these Shantui dozers to be productive workhorses."
The Shantui dual-path hydrostatic transmission system adjusts automatically based on load conditions, delivering smooth operation and improved fuel economy. The speed and direction of the tracks can be individually controlled for maximum maneuverability and operational flexibility. In the cab, the left joystick controls direction while maximum speed is adjusted with the integrated thumb wheel. The right joystick controls blade lift and down, tilt, angle and blade shake. Steering and blade control can be set to aggressive, standard or fine. The hydrostatic system allows pushing a full load through turns without reduction of power or loss of momentum.
The integrated foot pedal includes engine accelerator control, deceleration and brake functions. In deceleration mode, depressing the pedal decreases transmission speed and engine speed at the same time. In brake mode, depressing the pedal decreases transmission speed but maintains engine speed. In both modes, fully depressing the pedal engages the brake.
Shantui hydrostatic dozer models come standard with six-way power-angle-tilt (PAT) blades, easily operated via ergonomic cab controls. The standard blade-shake feature allows the operator to easily remove stuck material from the blade. Dozers come grade-control ready and can be easily fitted with systems from Leica Geosystems, Trimble Inc. or Topcon.
The ROPS/FOPS cabs on Shantui dozers feature wide door openings with well-placed, rugged handles. The high-back Grammer air-suspension seat delivers operator comfort and lowers fatigue. A 7-inch high-resolution monitor provides machine performance metrics, while an overhead monitor provides clear views from the standard rear camera. Expansive glass provides excellent visibility to blade edges, curbs and tight spaces. Front and rear window wipers are standard. A robust lighting package has four front and two rear lights. The high-capacity heating and air-conditioning system ensures operator comfort no matter the weather conditions, and the sealed, pressurized cab keeps out dust and external noise. Ample storage space, an overhead radio/MP3 player and convenient 12-volt USB charger complement the other great cab features.
The hydraulic coolant fan automatically adjusts fan speed based on the temperature of coolant, intake air and hydraulic oil. The fan operates at the minimum necessary speed, lowering ambient noise and increasing fuel efficiency. Compared to more traditional belt-drive fans, the hydraulic system uses less power and consumes less fuel. The aluminum heat exchanger has wide fin spacing to prevent accumulation of dust and improve machine cooling efficiency. A reversible fan function is available on the DH13 and DH16 models, making it easy to clean the cooler and maintain cooling efficiency.
Optional rear ripper and winch options are available for all Shantui hydrostatic dozers. The DH08 and DH10 models feature the Allied H4A hydraulic winch. The DH13 and DH16 can be fitted with the Allied H5C hydraulic winch. Maximum pull forces range from 31,913 lbf (14 880 kg) on the H4A to 89,800 lbf (40 733 kg) on the H5C. Optional three-shank rippers are available for the DH10, DH13 and DH16 models, with maximum working depths from 13 to 19 in (340 to 492 mm). Tilt ranges from 25 to 43 degrees.
Company info
Related products