Roadtec MTV-1100e designed with low profile for better visibility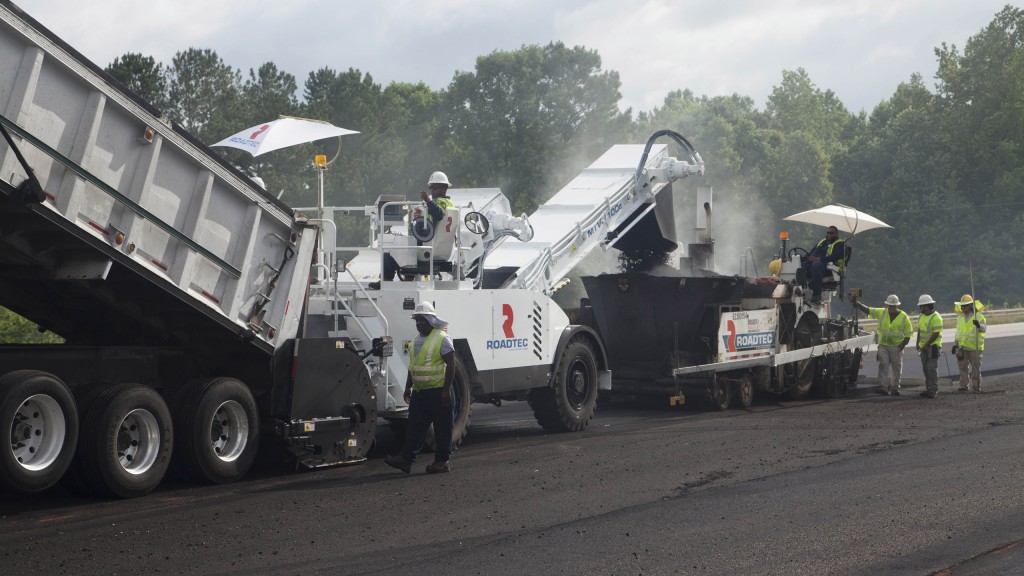 The Roadtec MTV-1100e offers a low, machine-height profile, which is designed to keep the operator closer to the ground. The lower 9' 10½" (3m) machine height with a deck height of 6' 2" (2m) is designed to provide the machine operator with a clearer view of the surroundings and the ability to more easily talk with ground crew. A dual staircase with handrails flanks the machine allowing workers to cross the paving train without risk of being on the ground between machines.
The MTV-1100e is a 47,890-lb. (21,722 kg) material transfer vehicle powered by a 250-hp Cummins QSB 6.7 Tier-4 Final engine. The machine features a dump hopper with 22-in. triple-pitch segmented auger and offers a 500-tph capacity.
The material transfer design of the 24 ton (21.7 tonne) Roadtec MTV-1100e uses triple pitch augers in the dump hopper for mild re-blending before the material moves toward the paver. Roadtec achieves the most segregation correction possible by placing the focus in the dump hopper where the machine has the largest segment of mix to pull from. The machine design features anti-segregation technology to keep the material in the best condition throughout the transfer process.
Sized for mass discharge from standard haul trucks, the front hopper is designed to allow trucks to unload fast. A vibrating bottom plate in the hopper is designed to prevent material build-up. Heavy-duty, swiveling support casters under the hopper are designed to provide smooth movement. The dump hopper is controlled from the main operator platform. Hydraulically operated clean-out doors are located at each conveyor. Maintenance items such as grease points, fluid-fills, the main electrical box and DEF tank can be reached from the ground and do not require personnel to open the hood or crawl under the machine on the ground for regular checks. The machine features a 9' 9" (2971m) width and an operating length of 40' 10" (12446).
Company info
Related products