Liebherr unveils the new PR 716 crawler dozer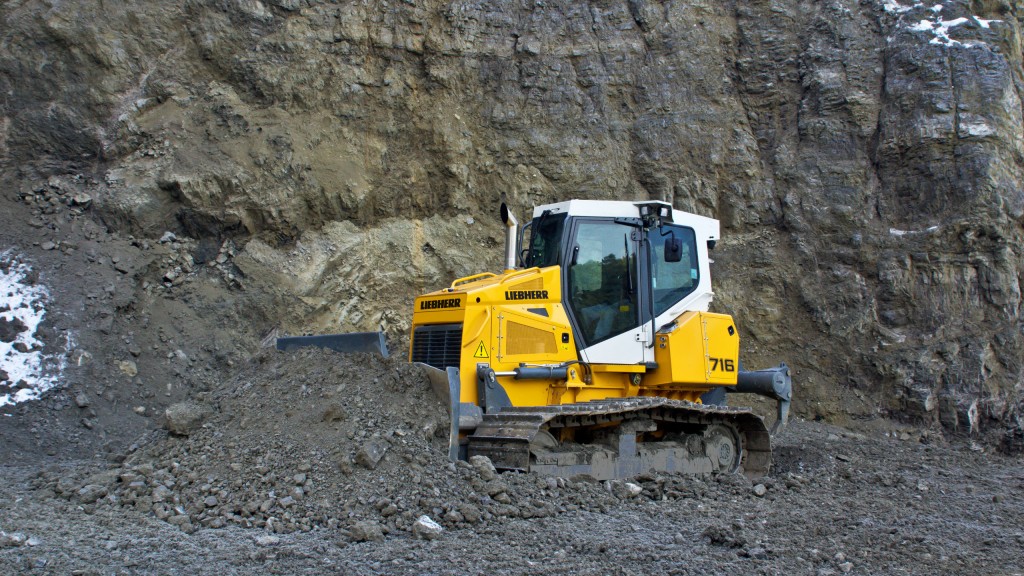 Liebherr has extended its Generation 6 crawler tractor line with the new PR 716 Litronic. The line now includes six models, with operating weights ranging from 29,100 to more than 160,000 lbs. The PR 716 crawler tractor introduced at Bauma last April will be launched to the North American market this year during Conexpo. It has an operating weight of 29,100- 33,510 lb with an engine output of 126 HP /93kW and is powered by a 4-cylinder diesel engine Tier 4f / Stage IV.
The new PR 716 crawler dozer and the rest of the Generation 6 models rely on the new Selective Catalytic Reduction technology (SCR) to optimize the combustion process. This new technology does not require the use of a Diesel Particulate Filter (DPF). Ease of maintenance and low fuel consumption are just a few of the benefits to Liebherr customers.
Highest performance and operating efficiency
As with all generation 6 crawler tractors, the new PR 716 Litronic features an electronic drive management system with an ECO mode setting. Making it possible for the operator to select between high performance and maximum economy. The ECO mode enables the PR 716 to achieve greater efficiency and is ideal for light and medium-duty applications.
Power control is automatically adjusted and activated when a higher level of thrust is applied,temporarily increases engine performance based on the current requirement.Along with faster response times, there is also a noticeable increase in pulling power and a higher reverse speed. The hydrostatic drive keeps the engine speed at a constant level. All drive components are optimally adjusted to the speed, contributing towards reduced fuel consumption.
Equipment and options for any application
A wide varietyof equipment features are available for the new PR 716 Litronic. The universal 6-way blade makes the new crawler dozer the ideal tool in a variety of applications. Thanks to the optional hinged corners, transportation betweenconstruction sites can be reduced as most transport will allow the blade to remain on the machine. Customers can select from different ripper tooth options; 3-tooth or 5-tooth as well as other features such as, a hydraulic rope winch, counterweight or tow hitch.
Different undercarriage configurations are available for the PR 716 Litronic. The XL and LGP undercarriage versions are available depending on type of terrain and work conditions. The Liebherr free- turning bushings (FTB) running gear is also available for fast-wearing ground conditions. This swivel running gear,exclusively developed for Liebherr, is particularly well-suited for deployment on soft, abrasive ground and considerably extends the service life in sand, for example. If used in areas with impact loads, such as on stones and rocks, Liebherr considers the trusted lubricated-for-life chains to be the ideal solution.
The PR 716 Litronic offers factory installed preparation kits for the simple and smooth implementation of automatic machine controls. These kits are available for all common system suppliers. Both laser and GPS systems can be used on the same machine.
Modern design, comfortable new cab
The modern design of the generation 6 crawler tractors offer operators an optimum unobstructed view of the working equipment and perfect all-round visibility. The operator's cabin the Compact class integrates numerous features of the larger generation 6 machines. Including; ergonomically shaped joysticks, intuitive touchscreen to conveniently access all key operating data, sound insulated and pressurized cab, as well as halogen or high performance LED headlights.
Central maintenance points, wide access doors, a standard tilting driver's cab, as well as the swivel-mounted fans for cleaning, optimize maintenance access for servicing the new PR 716 Litronic.
Hydraulic oil change intervals of up to 8,000 operating hours reduce costs and minimize downtime. The PR 716 has a standard 3-year / 5,000 operating hours warranty on the entire drive train. In addition, Liebherr offers special warranties as well as customized inspection and service programs. The Liebherr data transfer system LiDAT provides comprehensive information on the operationof the machine, optimizing availability and machine efficiency.
Company info
Related products