History plays part in purchase of articulated haulers
Terex Trucks' original dealer in North America, RECO Equipment, has purchased two Generation 10 TA300s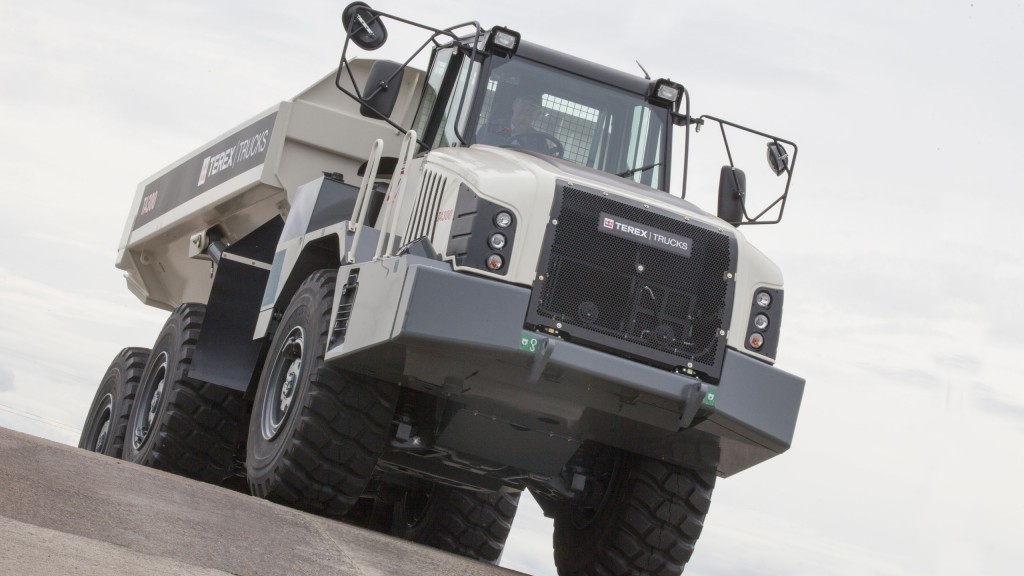 RECO Equipment has become Terex Trucks' first dealer in North America to buy not one but two Generation 10 TA300 articulated haulers. The momentous sale, which took place in just under two minutes shortly before CONEXPO-CON/AGG, also saw the leading heavy equipment distributor purchase four 30.9 US ton capacity Generation 9 TA300s.
"Timing played a minor role in this deal as at RECO we were in tune to freshen up some of our fleet, and I had it in my mind that I wanted to buy six trucks," explains Reed Mahany, President at RECO Equipment.
"I had a conversation with Terex Trucks and the offer came up that they had four trucks that would be common to what we already run and there would also be two of the new version trucks to bridge the gap – this of course was very appealing. With us being the lifetime Terex Trucks guys, the opportunity to be the first Gen10 dealer in the market was something we couldn't pass up," adds Mahany.
Matt Deloglos, Director Sales Terex Trucks America commented: "RECO Equipment has a long history and has been proudly serving the construction and mining industries for over 30 years. They have earned a reputation for excellent customer service and distinguished technical support. We are honored that RECO Equipment wanted to be the first dealer to order a new Gen10."
A whole lot of history
Founded by Robert E. Hathaway on February 28, 1983, RECO Equipment set up shop in the Morristown, Ohio coalfields with 28 employees. The following year after acquiring almost all the Terex parts available in Hudson, Ohio, the company serviced more than 200 Terex TS24s in eastern Ohio. In the late 80s, RECO expanded its operations as the economy boomed and opened facilities in Columbus and Cincinnati before moving into the articulated hauler market in the 90s.
In its present day, RECO has more than 200 employees and operates in a number of states east of the Mississippi River including Pennsylvania, Indiana, North Carolina, Florida, Kentucky, and West Virginia. Serving customers in the excavating, scrap processing, industrial, coal mining and construction industries, RECO is a full line distributor offering new, used, and rental equipment.
A partnership which dates back more than 30 years, RECO takes pride in its ability to provide sales, service, and parts for Terex Trucks' articulated range. Mahany says: "A direct result of our longterm relationship RECO and Terex Trucks know each other well, and while there's been some new people on both sides of the fence, there's an unsaid appreciation for each other.
"There's a lot of good history and I think what both companies have passed through over the years has given them both the strength to endure and work through tough times. The time-honored partnership is one both companies are really proud of – that's the way it's been for years."
Ready to bring its partnership with Terex Trucks into a new era, RECO received the two 30.9 US ton Generation 10 TA300s in March, alongside the four Gen9 machines. The culmination of more than 65 years of hauling experience, the Gen10 model is an EU Stage IV/Tier-4 Final emissions-compliant machine which showcases improvements in quality and durability and also features new styling.
Made in Motherwell, the Gen10 TA300's primary purpose is to ensure that customers benefit from lower operating costs and increased performance – even in the toughest of terrains. The second product to be launched by Terex Trucks since its acquisition by Volvo Construction Equipment, the hauler comes with upgraded hydraulic and electrical interfaces and improved aesthetics in order to maximize uptime. To aid productivity in all conditions, the engine and drivetrain have been optimally matched.
Additionally, cushioned stops on the steering cylinders have been integrated to provide operators with a more comfortable ride, and the cab comprises of an enhanced air conditioning and ventilation system. Furthermore, for customers in the US and Canada, the Gen10 model also comes with an extended three years of full machine warranty, three years planned maintenance and three years telematics as standard.
Mahany concludes: "RECO is proud to be a Terex Trucks dealer – we like the products, we like the people and we consider ourselves as Terex Trucks people. We've been through the good together and we've been through the bad together; we fly the flag!"