Low ground pressure ADT comes with more engine power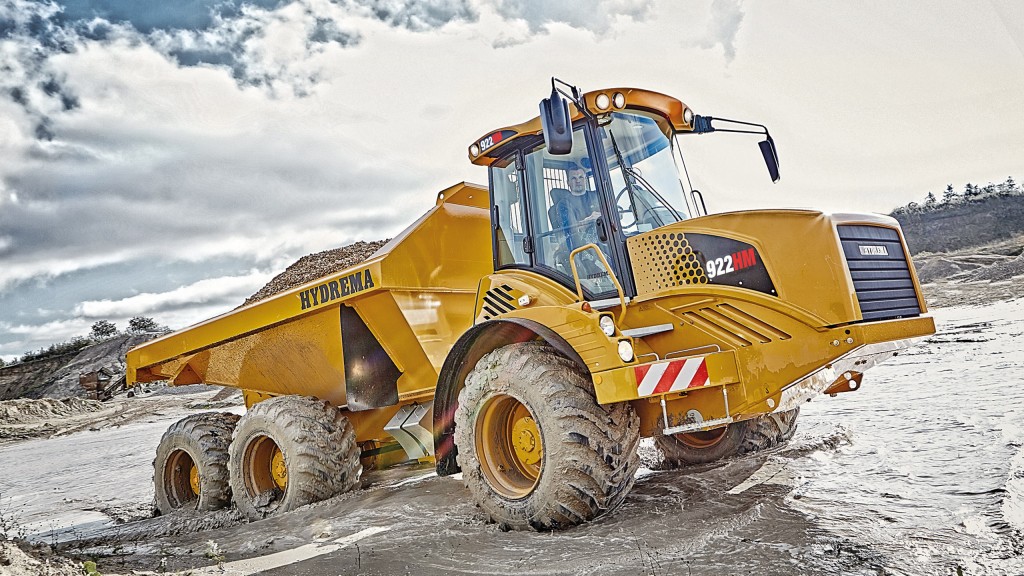 The latest F series Hydrema 922HM low ground pressure dump truck comes with more engine power, an upgraded cab and new controls. The 22-ton payload 922HM complies with the latest emission legislation/EPA Tier 4 Final without the use of Diesel Particle Filter (DPF) but by using DOC and SCR catalyst with DEF (Diesel Exhaust Fluid).
The powerful Cummins QSB 6.7 engine delivers 292 horsepower (218 kW), which is 8.5% more power than the previous model and with 5.5% more torque (1044 Nm; 770 lb-ft). Combined with the low weight, the truck has an unrivaled power-to-weight ratio and superb off-road capabilities. The machine has a new exhaust brake integrated into the variable turbo and a variable engine fan providing cooling as needed – quiet and fuel efficient.
The new F Series 922HM dump truck not only comes with an engine upgrade but has an all-new cab interior, providing greater comfort and easy configuration of the machine for the operator. The cab features:
A new backlit multifunctional joystick and electronic keypad panels for easy fingertip control.
New central computer unit and instrument display with simple access to on-board diagnostics and service tools.
Upgraded HV-A/C system with a bigger condenser providing improved cooling capacity.
Optional cooling/heating box for the long working days.
In addition, a range of features can now be controlled directly from the drivers' seat.
ZF transmission optimization.
Cruise control.
Calibration of the front axle suspension settings.
Idle Stop function, which stops the engine once it has been in idle for a longer period (adjustable 1- 60 min).
Monitoring of the differential lock.
Possibility for machine diagnostics: CCM, Transmission, Engine, CAN-System.
Fault-Codes from Engine, Transmission can easily be read on the instrument display for registry.
Along with the new features, the 922HM still retains the well-proven characteristics from previous models:
The intelligent ZF 6-gear Soft-shift transmission for a smooth ride.
Lowest ground pressure on the market.
Greater stability than traditional trucks from the unique articulation point.
Fast cycle times (7 second tip time and Auto Body Return).
Power up and down tip rams
Separate pumps for steering and tipping – allowing for tipping whilst positioning.
Great visibility from the driver's seat makes it easy to maneuver the truck in narrow conditions.
Easy ground level checks via the electrically powered bonnet.
The Hydrema 922HM is also available in optional Multi-Chassis format without the dump truck body and where a variety of customized solutions can be mounted. The Multi-Chassis truck is available as an extended version for hook lift, etc. or just as a regular dump truck with tire options to suit all applications.
Company info
Related products