Prinoth announces Altec crane availability on tracked carriers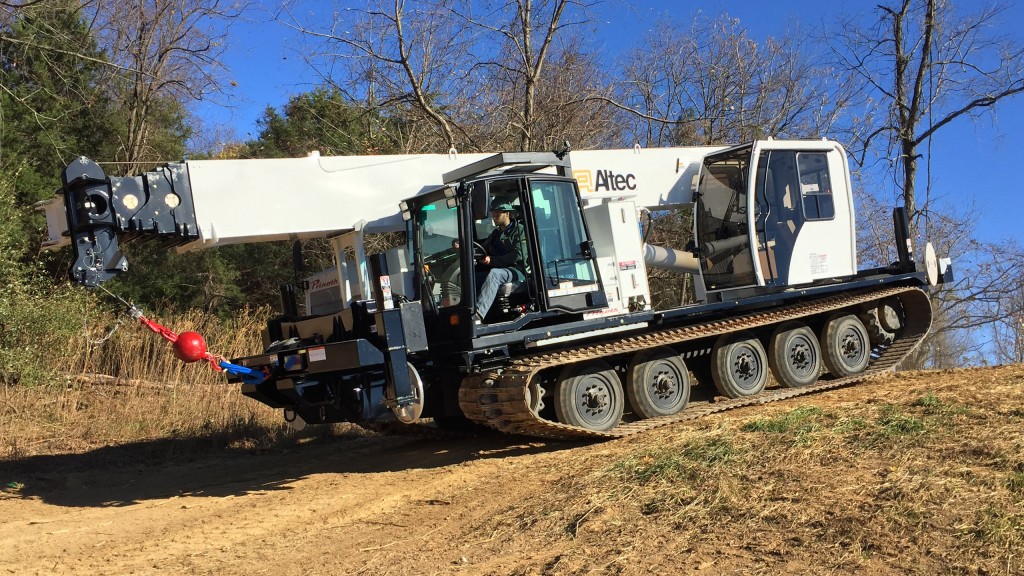 One of Prinoth's major customers, Altec Industries, recently announced that two of their biggest cranes, the AC40-152S and AC45-127S, are now available mounted on the Panther T22. This provides customers access to hard-to-reach areas and employ the unit in the aerial mode of operation with 222 feet of working height and 1,200 pounds of platform capacity.
Prinoth and Altec worked closely together on developing the unit to ensure both systems, the carrier and the unit, would have best-in-class safety, reliability and off-road performance. The quick-attach platform can be used on either the main boom, the 49 foot telescopic jib or the 6 foot composite reach extension. The unit was designed to optimize deck-space and allow easy access to the cab from anywhere in rotation. The workhorse AC45 is also available on the T22. More specifications can be obtained by contacting Altec directly.
The Panther T22 is Tier 4 Final and offers 46,000 pounds of payload and is undoubtedly one of the largest tracked carriers on the market. Equipped with the innovative R.A.D. chassis (Rapid Attach Design), a Prinoth exclusivity first designed specifically for the power utility industry, this vehicle can receive large cranes or other sizable implements. With a ground pressure of only 4.39 psi at the maximum GVWR (Gross Vehicle Weight Rating), the unit will easily travel through mud or other soft soils to allow power utility companies to reach even the hardest terrains.
The Panther crawler carrier series is comprised of the T6, T8, T12, T14R, T16, and T22 models, and can access difficult worksites without damaging the terrain thanks to their low ground pressure design. While treading softly, they also carry the biggest payloads in the industry – from 5,443 kg (12,000 lb.) up to an incredible 20,865 kg (46,000 lb.) worth of equipment, materials and supplies. Their superior stability and floatability are valuable assets when operating in challenging work environments such as mining, construction, oil and gas and electric utility.
Company info
Related products