Crane, loader, excavator and other simulations to be displayed at CONEXPO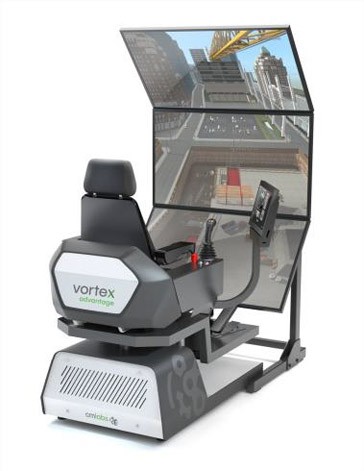 At CONEXPO 2017 (Las Vegas, March 7–11, booth G72413 in the Gold Hall), CM Labs Simulations will showcase its immersive Vortex Advantage simulator, running tower crane, mobile crane, overhead crane, boom truck, wheel loader, backhoe loader, and excavator operator training modules. CM Labs will also launch their new professional-grade entry-level training simulator.
New desktop simulator paves the way for professional-grade simulation training for the entire classroom
Optimally designed for a classroom environment, this new simulator mounts conveniently on a desktop and makes it easier than ever for training organisations to deploy CM Labs' full range of construction equipment training modules and maximise operator seat time.
The immersive Vortex Advantage construction crane and heavy equipment simulator is designed for maximum training flexibility. Features include:
1, 3, or 5 displays (with rotation for 3-display option)
Optional motion platform
Hot-swappable control sets and pedals
Operator training modules for mobile crane, tower crane, overhead crane, boom truck, backhoe loader, wheel loader, excavator
CM Labs' full catalogue of lifting and earthmoving training modules is ready to run on any Vortex simulator. Each module assures complete, effective simulator training, thanks to progressive learning exercises, objective trainee performance metrics, and best-of-class equipment simulation.
Company info
Related products