TMAX 30K service body designed for multiple user groups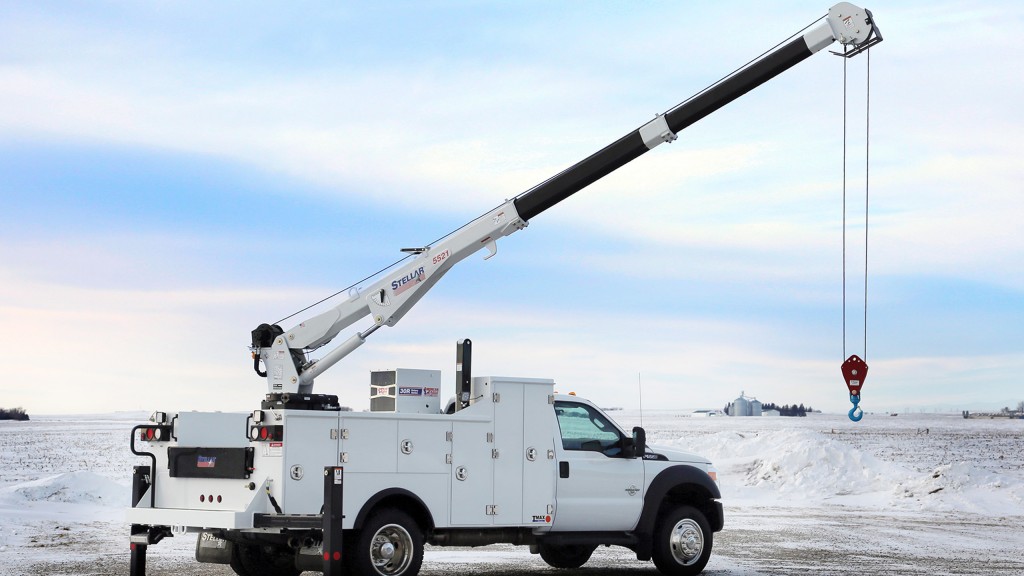 Stellar Industries, Inc.is introducing the TMAX 30K service body. This body is designed to serve municipal markets, contractors, rental houses, light equipment dealers and others needing a service crane that lifts 5,000 pounds or less. The TMAX 30K weighs nearly 1000 pounds less than its heavy-duty counter part, the TMAX 1.
The TMAX 30K is designed to accept a 30,000 foot-pound rated service crane or smaller (The Stellar 5521 crane or smaller), the TMAX 30K features the Stellar Torq-Isolator torsion box understructure and crane compartment which isolates the cranes lifting forces into the stabilizers and chassis frame, not into the storage compartments. The body side compartments are constructed of 14-ga. galvanneal steel, with double-panel aluminum doors with a bonded internal hat channel for ultimate strength while still reducing overall weight. It uses stainless steel billet style hinges, 3-point stainless steel compression latches, and double spring over center door closures to keep door in a positive open or closed position. Each body is completely undercoated to protect from corrosion. All Stellar bodies are painted with a two-part polyurethane enamel paint for added protection and visual appeal.
"Based on market and customer demand, Stellar has developed a lighter weight service body to handle smaller cranes on smaller chassis," says Tim Davison, Product Manager. "There is a growing need for service trucks on smaller, less expensive chassis that can lift up to 5000 pounds. The Stellar TMAX 30K is designed to meet customer expectations of weight reduction while maintaining productivity and top shelf features."
Company info
Related products