Merlo reduces costs from five men and 30 minutes to one man and 15 minutes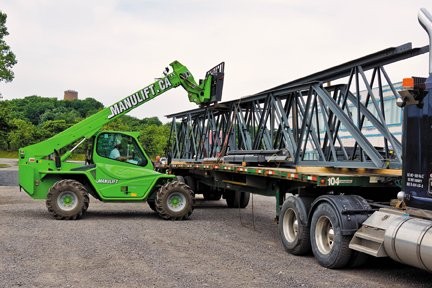 Located in St-Odilon, 85 km south of Quebec City, Structures MFV specializes in erecting steel structures. Since their beginnings in 2005, they have become known across the province of Quebec for the quality of their work and because of this are constantly growing.

With the aim of increasing productivity and decreasing operational costs, they decided in 2011 to acquire their second Merlo, a Panoramic 72.10, in order to feed their crane. They immediately witnessed an impressive increase of productivity.

Previoulsy, to unload material and place it near the crane required five men and 30 minutes each time. Now, with the Merlo P72.10 only one man is needed and the work is done in 15 minutes. Each time this operation is done, Structures MFV saves the equivalent of 2.25 man-hours. With the average cost of $65 per hour for one worker, this company is saving $146 every single time, simply because they are working with adapted and productive equipment. For a project involving unloading 20 times, this means savings reach $2920.

Furthermore, while the Merlo unloads and places, the crane keeps raising steel beams and material to upper floors at 100 percent of its productivity. Keeping rental equipment at its full potential all day is the goal of every project manager, especially with the rental rate charged per hour.

The Panoramic 72.10, with its 15,900-pound capacity and 31-foot 4-inch reach also allows Structures MFV to build small buildings without other lifting equipment. The side shift's precision enables movement of the entire chassis by 18 inches without any capacity loss.

Since projects change from one year to another, it is difficult to quantify the total savings but it is certain that this feature is also an important source of savings.
Some of the many attributes that make Merlo famous are its Ring of Steel (a ring of high quality steel around the lower periphery of the machine and forming part of the cab mounting, it adds stability and protection), anti-torsion chassis, class 1 hydrostatic transmission, 360-degree visibility, impressive pulling and pushing capacity, stability, 500-hour maintenance interval and compatibility with the 90 Merlo attachments.

In addition, the Panoramic 72.10 offers economic fuel consumption and is able to reach a speed of 40 km/h.