Hirschmann MCS camera indicator gives the operator constant view of the application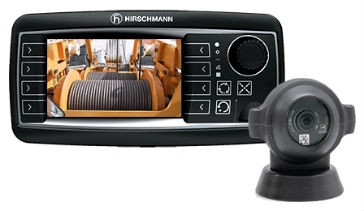 Hirschmann MCS is introducing a new camera indicator that can be used on all types of mobile equipment. The system provides a direct view of the application (ie: drum rotation) allowing the operator to have a constant visual of any situation.
The camera is compatible with Hirschmann's 4.3- and 7-inch colour graphic vSCALE consoles and offers the option of horizontal or vertical camera orientation. It also features an IP68 / IP69k protection class rating and is shock and vibration resistant. The new camera kits include the 4.3- or 7-inch colour graphic console, 12-foot power harness, camera, magnetic camera mount, and required cable assemblies.
Hirschmann's MCS division supplies information, monitoring, and control systems that meet OEM and aftermarket requirements in lifting applications.
Company info
Related products