IronDirect provides new online platform for purchasing value-priced and premium brand products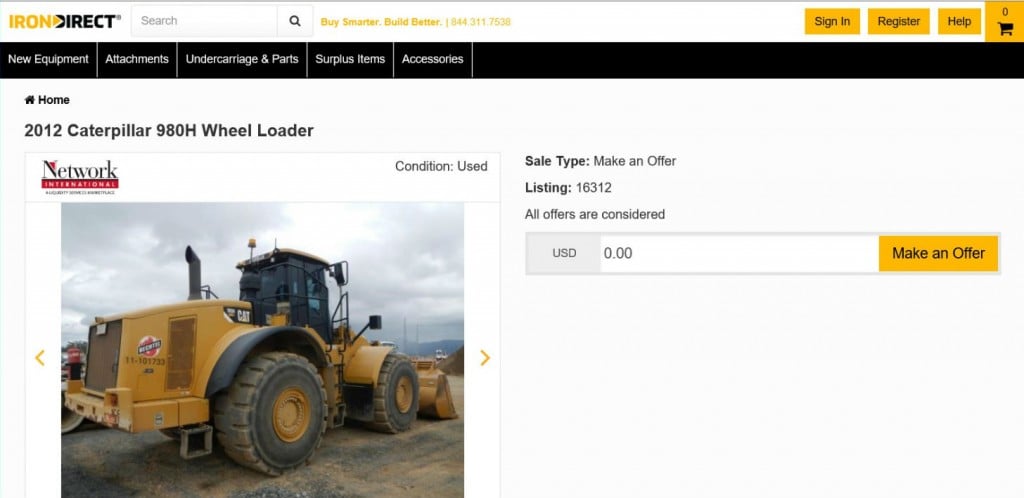 Liquidity Services has announced the launch of a new marketplace, IronDirect, that provides construction equipment buyers a convenient online platform to purchase a large and growing number of value-priced and premium brand products – including bulldozers, excavators, wheel loaders and telehandlers – all from proven manufacturers around the world. The IronDirect marketplace provides both large and small contractors and corporate end-users easy and direct access to high-quality equipment, attachments and parts needed to meet their functional needs along with a suite of innovative support and service programs and technologies that reduce risk and maintain uptime across the machine's full lifecycle.
"IronDirect removes unnecessary cost and inefficiency from the traditional captive distribution sales model, resulting in a smarter, better way to do business – something that our longstanding customer and supplier colleagues in the construction vertical have been desiring for a long time," said Tim Frank, president of IronDirect. "Our innovative, direct model was built on industry feedback and enables buying customers to save up to 50 percent over the entire ownership lifecycle of high-quality construction equipment by utilizing our efficient turnkey solution to directly procure, finance, manage and dispose of assets."
IronDirect is backed by e-commerce pioneer Liquidity Services, which operates a leading business-to-business online marketplace platform with nearly three million registered buyers and $6 billion in completed transactions. Through this relationship, IronDirect leverages world-class e-commerce technology, asset management and disposal services, and an established global infrastructure including over two million square feet of distribution centre space to meet the needs of its customers.
"The launch of IronDirect supports our strategy of leveraging investments in technology, superior process and integrated services to drive transparency, convenience and win-win value creation for customers in large, global markets," said Bill Angrick, chairman and chief executive officer of Liquidity Services. "IronDirect uniquely addresses the needs of the construction equipment industry by providing global suppliers a more efficient way to reach customers, and for buyers to obtain more control over the selection and type of equipment, parts and services they desire to support their business needs. Customer access to IronDirect's multi-brand seller marketplace with real-time pricing and technical support, parts and service unlocks tremendous value and choice for buyers of new equipment items and for those who wish to trade in their old equipment as part of the transaction."