Prinoth Panther T14R rotating dumper has 29,100-pound payload capacity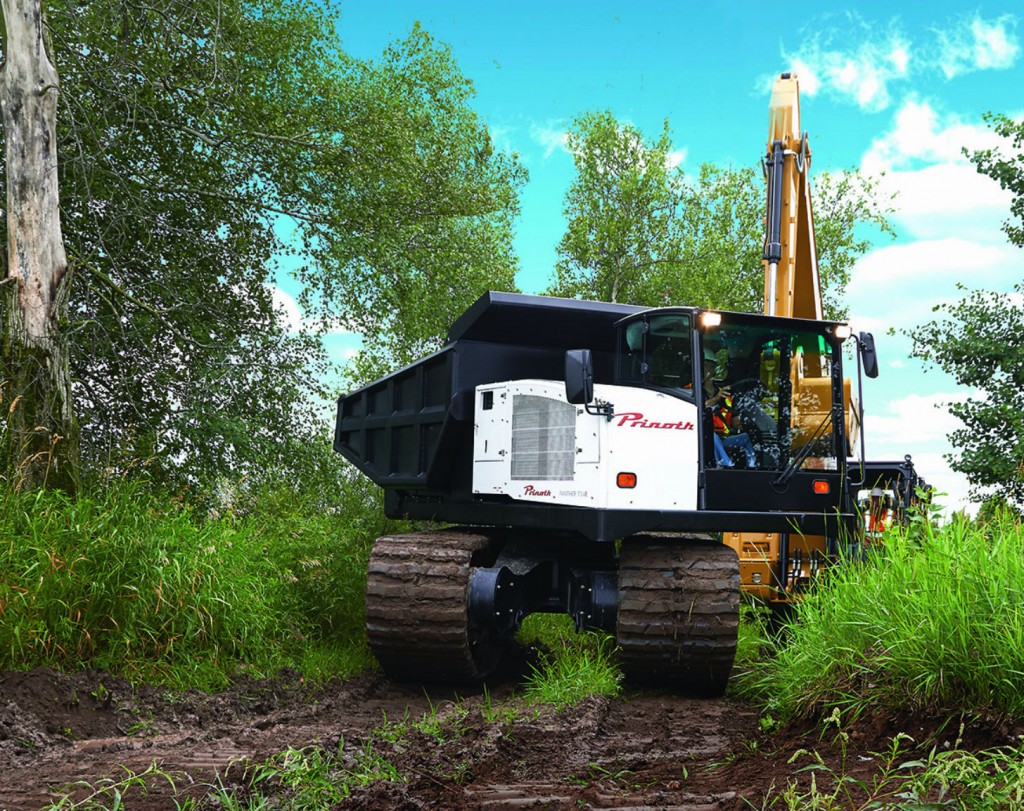 PRINOTH is launching the newest model in the Panther series, the Panther T14R Rotating Dumper. The Panther T14R carrier will set new standards in productivity and mobility and will present a patent-pending innovation called direction reset.
Panther T14R rotating dumper
Available in the Fall 2016, the new Panther T14R will allow the continuous rotation of the upper portion of the vehicle independent from the undercarriage. With its 13,200-kg (29,100-pound) payload capacity, the company says that this carrier will have the largest payload of any vehicle of this type in its category. The rotating separation of this vehicle will allow working in tight, sensitive areas where other vehicles do not have access. Featuring the same large wheels/tandem suspension undercarriage design – unique to the Panther vehicles, the T14R stands out to competitive products by offering increased off-road capability and stable transport of material over rough terrain.
Superior speed, narrow width and optimal safety features
The Panther T14R also differentiates itself from the competition by its superior speed of 13 km/h (8.1 mph) and its narrower width of less than 102 inches, which complies with the North American standard transportation regulations and thus saves companies money and makes transporting the vehicle from one site to another much easier.
Pavement-friendly rubber tracks and remarkable speed make the Panther highly mobile
Additional features of the Panther T14R include a ROPS/FOPS certified cab designed for operator safety and comfort. A steering wheel control allows for a safe grip while moving through rough terrain and maintaining optimal precision and control. The steering components are ergonomic, telescopic and tiltable. The drive controls appear in standard colour display allowing advanced interfacing capabilities.
Patent-pending innovation
A new feature called a direction reset has been added to this vehicle. Once the vehicle has turned 180 degrees, the upper portion rotates against the lower portion of the vehicle. By simply pushing a button, the operator will be able to reset the vehicle's upper and lower portions' alignment. "By using this feature, it will be easier, more intuitive and thus safer for the operator to drive the vehicle," explained Eric Steben, Director of Engineering at Prinoth. "We feel this is a great feature which clients, rental houses and operators will appreciate and benefit from. We have even applied for a patent on this innovation and in fact, we are developing more safety and productivity features to be incorporated in future versions of the T14R," continued Steben.
Panther Series
The Panther crawler carrier series is comprised of the T6, T8, T12, T14R, T16, and T22 models, and can access difficult worksites without damaging the terrain thanks to their low ground pressure design. While treading softly, they also carry payloads from 5,443 kg (12,000 pounds) up to 20,865 kg (46,000 pounds) worth of equipment, materials and supplies. Their superior stability and floatability are valuable assets when operating in challenging work environments such as mining, construction, oil and gas, and electric utility.
Company info
Related products