Genie Xtra Capacity SX-135XC boom lift expands outreach, first model in new product line that complies with proposed ANSI standards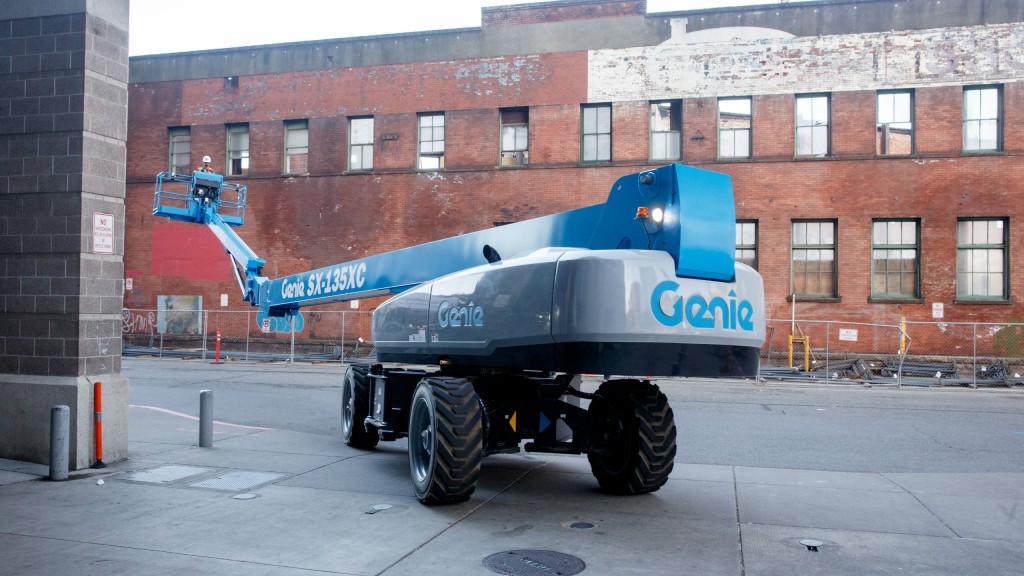 The Genie SX-135XC self-propelled telescopic boom lift delivers outreach and capacity throughout the full working envelope for incredible operational accessibility. The first model in the new Genie Xtra Capacity (XC) family, the Genie SX-135XC boom lift is packed with industry-leading features, including 90 feet (27.43 m) of outreach, 660-pound (300 kg) unrestricted lift capacity, the ability to work 19 feet 8 inches (6 m) below grade and a 12 foot 11 inch (3.94 m) x 13 foot 6 inch (4.11 m) compact footprint.
Spec'd for productivity
Built to safely and quickly lift operators to full platform height — 135 feet (41.15 m) — in 2-1/2 minutes and drive enabled at full height, the Genie SX-135XC boom lift will position workers and gear exactly where they are needed. And, its powerful enough to work on most jobsites with a Deutz TD2.9 L4 74-hp (55 kW) Tier 4/Stage 3B emissions-compliant diesel engine with four-wheel drive and four-wheel steer capabilities.
The Genie SX-135XC boom's innovative design includes a working envelope ideal for the most extreme access jobs with a working height of 141 feet (43.15 m) and a horizontal reach of 90 feet (27.43 m). That's 10 feet (3 m) more of outreach than any other self-propelled boom on the market offers.
Enhanced design adds to jib's versatility and flexibility
The new Genie SX-135XC boom also boasts exceptional range of motion with an 18 foot (5.48 m) - 30 foot (9.14 m) Telescoping Jib-Extend jib, which offers operators up and over capabilities, as well as 125° of jib articulation, boasting 55° down to 70° up of vertical articulation. The working envelope is also increased with this boom's extended reach out and down capability — 19 feet 8 inches (6 m) of reach below grade.
"To accommodate the Genie SX-135XC boom lift's increased capacity and range of motion," says Adam Hailey, Genie Director of Product Management, Terex AWP, "Genie engineers developed a new hydraulically Telescoping Jib-Extend design that is robust enough to handle all of the up, over, out and below tasks rental customers need to do. And when the job is done, the jib is designed to be stowed under the primary boom for ease of transport."
On, off and around jobsites
Designed with transportability in mind, the Genie SX-135XC boom features the new Genie mini XChassis axle design, which extends and retracts the axles to and from the stowed position with a more compact footprint — 8 feet 2 inches (2.49 m) x 13 feet 6 inches (4.11 m) retracted or 12 feet 11 inches (3.94 m) x 13 feet 6 inches (4.11 m) extended — to provide both stability on the job and a narrow profile for transport. "Similar in design to the full-size XChassis expanding axle on the Genie SX-150, SX-180 and ZX-135 booms," says Hailey, "the mini XChassis system boasts two-thirds the footprint of the full-size version for excellent maneuverability on and around confined jobsites without disrupting people or traffic."
Weighing 47,900 pounds (21,727 kg), with an overall transport length of 43 feet 7 inches (13.3 m), a tail swing of 3 feet 9 inches (1.14 m) and ground clearance of 15 inches (0.38 m), the Genie SX-135XC boom lift is transportable on a standard trailer; no over width or over height permits are required.

Xtra Capacity is standard
With the ability to perform a wider range of heavier lift and access tasks on rough terrain using a single machine, the new Genie family of XC boom lifts, including this Genie SX-135XC model, offer a dual lift capacity with an unrestricted 660 pound (300 kg) and a restricted 1,000 pounds (454 kg), giving your customers the ability to work with up to three people onboard while still leaving room for tools and jobsite materials. The new XC design includes a standard 8-foot (2.44 m) tri-entry platform with side-swing gate.
The Xtra Capacity, or XC, nomenclature also lets rental customers know that this new boom complies with the overload restriction guidelines in the proposed ANSI A92 and CSA B354 industry standards in North America, as well as the current European EN280 and Australian AS 1418.10 standards. Hailey notes that all Genie XC models include a new low-maintenance load sense cell technology that monitors the weight on the platform and disables function if the load exceeds the platform load limit. "The overload sense functionalities are compensated for on all Genie XC boom models by increased platform load capacity, increasing these booms' utilization in heavy-load applications compared to units with more restrictive platform load limits," he says.
The new Genie SX-135XC boom shares commonality in design, parts and accessories, as well as serviceability benefits, including easy access to crucial service points, with all Genie products.
Company info
Related products
Related Articles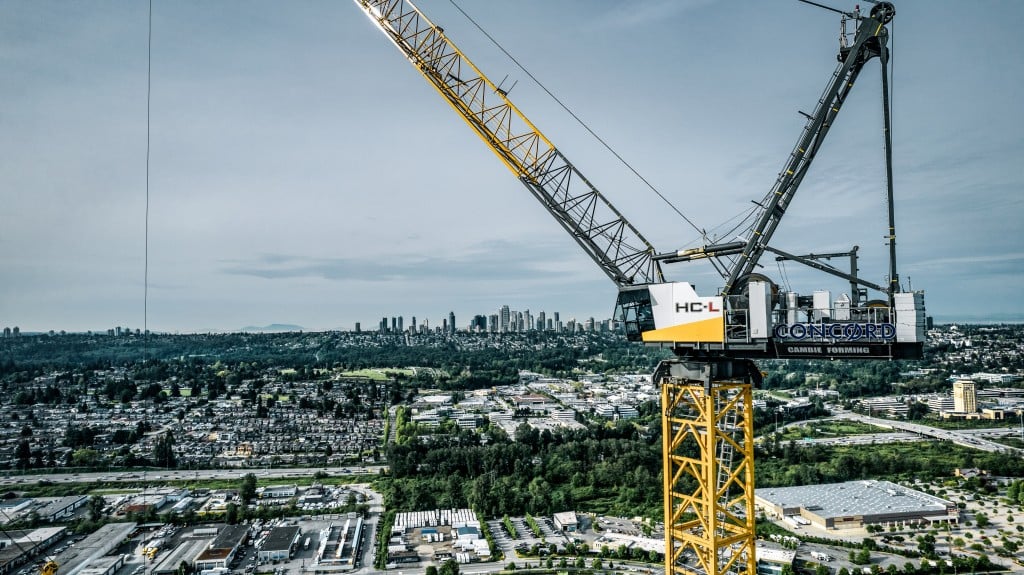 Cambie Forming to build 56-storey Burnaby residential building using newly bought Liebherr tower crane