Daimler Trucks North America set to begin production of the Detroit DD5 engine in the Freightliner M2106 this fall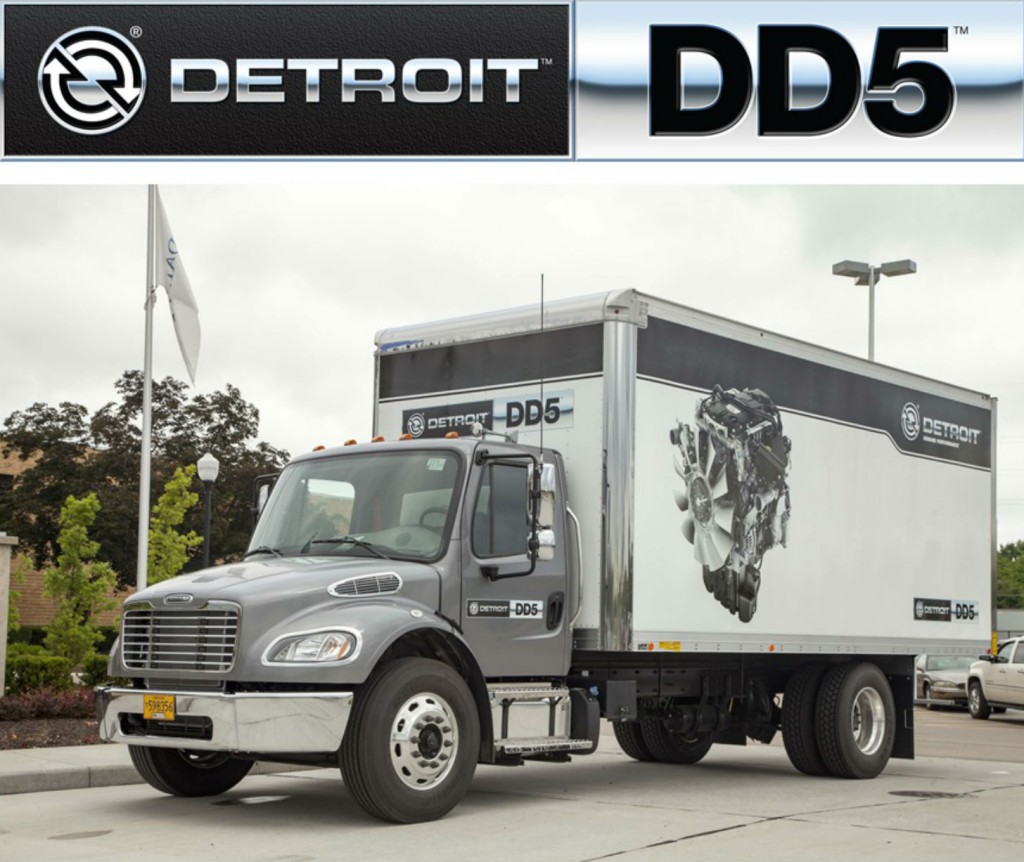 Daimler Trucks North America has announced that it will begin production of Freightliner M2106 trucks equipped with the DD5 engine beginning in October.
The DD5 is the newest Detroit engine to be released and is built off of the same sound principles and design that have led to overwhelming success of its heavy duty platform which includes the DD13, DD15 and DD16.
The DD5 will offer customers a number of benefits over competitive engines. One example is the DD5 best in class scheduled maintenance intervals. Operators in short-haul pick-up and delivery applications will have extended oil and fuel filter change intervals up to 45,000 miles. The engine has undergone extensive development and testing in preparation for release and boasts impressive durability with an expected B10 life of 400,000 miles.
The engine will first be offered in 210 HP0-575 lb-ft and 230 HP-660 lb-ft ratings and testing has proven that the DD5 will provide best in class fuel efficiency. In addition, Detroit will provide DD5 customers its award winning Detroit Connect Virtual Technician remote diagnostics system. The same system heavy duty customers use to make service decisions that minimize downtime, support accurate repairs when necessary and maximize up time.
"As a testament to our confidence in the DD5, I am excited to announce we are backing it with a 3yr/250,000 mile engine and aftertreatment system warranty," Kary Schaefer, General Manager, Marketing and Strategy, Daimler Trucks North America. "The Freightliner M2106 is a preferred choice today by customers in the medium duty market segment and combined with the fuel efficiency, durability and reliability of the DD5 presents an unbeatable combination."
The DD5 5.1L engine uses common design principles found on the heavy duty platform such as a deep rib block that provides robustness and minimizes noise. The engine also introduces some leading edge technologies of its own such as variable cam phasing. Variable cam phasing technology provides Detroit the ability to optimize thermal management under low engine load conditions and improve the overall performance of the aftertreatment system. This is a key benefit to keeping customers up and running trouble free in the pick-up and delivery segment that often experience low load stop and go operating conditions.
While pick-up and delivery is a perfect segment for the initial launch of the DD5, the engine is also a great fit for a number of vocational applications. There are already plans to include power take-off options and widen its use within the DTNA portfolio in 2018 as production of the DD5 shifts from Mannheim, Germany to its Detroit powertrain facility. Detroit also has plans to launch a larger displacement DD8™ beginning in 2018.
"Once again our global powertrain engineering and vehicle integration teams have worked together in uncompromising manner to deliver a true total vehicle solution specific to our markets that will deliver real cost of ownership benefits to our customers," Richard Howard, Senior Vice President, Sales & Marketing, Daimler Trucks North America. "Not only am I excited to have the addition of the DD5 but our outstanding dealer and service network are extremely excited for its release and are committed to its support. This is a true testament to DTNA's continued commitment to providing our network partners, customers and end users with the best possible truck and powertrain solutions for their business needs"
Company info
Related products