BOSS Snowplow extends its line of ATV and UTV snowplows
New 5'6" XT V-Plow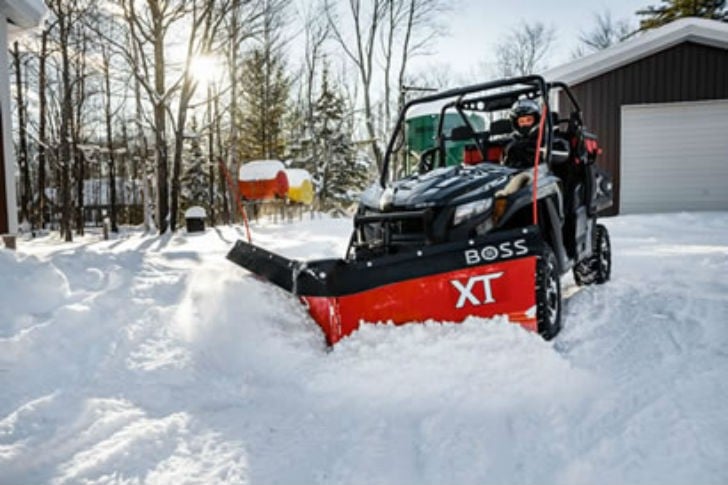 BOSS Snowplow continues to expand its versatile snowplow offerings with the addition of the 5'6" XT Vplow for mid-size UTVs and ATVs. Along with the durability, toughness, and reliability you expect from BOSS, the 5'6" XT features exceptional ground clearance for hard-to-reach places and tough terrain. The fully hydraulic system delivers maximum efficiency with no winches, chains or pulleys.
"The 5'6" XT has a 30-degree lift height for superior snow-stacking," said Mark Klossner, marketing vice president for BOSS Snowplow. "The maneuverability and size of this tough, compact package make it perfect for taking on snow, especially sidewalks."
BOSS ATV and UTV snowplows have the same tough, reliable, innovative design features of the BOSS truck plows and allow users to RESTORE ORDER in any environment.
The 5'6" XT was designed to fit most ATV and mid-size UTV vehicles. The plow features a low-profile undercarriage designed for trail compatibility and a quick attachment system for the product to attach and detach with ease. The handlebar controller for ATVs and the handheld controller for mid-size UTVs are easy to use and eliminate the strains of operation, with or without gloves.
Visit the BOSS Snowplow product page for an overview of product features and benefits for the new 5'6" XT V-plow.
Company info
Related products