Putzmeister America announces Peter Mendel as President and Chief Executive Officer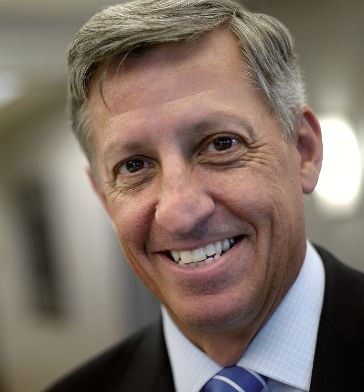 Dave Adams, President and Chief Executive Officer of Putzmeister America, Inc. since January 2000, has announced Peter Mendel as his successor. Adams' career with Putzmeister spans 20 years, starting with the company as its Vice President of Engineering, and his past 16 years as President and CEO.
According to the company, under Adams' leadership, Putzmeister America achieved significant success, including outstanding business growth, greatly expanded facilities in Sturtevant, several innovative product line additions, and new business developments in several countries. These accomplishments have resulted in Putzmeister as market leaders in North and South America.
Adams says, "After two decades with Putzmeister, I feel now is the right time for another individual to assume the responsibilities and new challenges ahead for Putzmeister and our industry. Peter Mendel, who joined our company as Senior Vice President and Chief Operating Officer in 2015, has earned my respect and trust, and I'll do all I can to further mentor him as he assumes the full responsibilities of his new position."
Adams remains on the Putzmeister America Board of Directors, and he will also take on a significant role related to strategic business and product development. His input and presence within the industry will remain evident at trade shows and association events.
In his new role, Mendel will assume full responsibility for overseeing Putzmeister America and its subsidiaries located in California, Houston and Mexico.
Mendel joined the Putzmeister team in March 2015 as Senior Vice President and Chief Operating Officer, and he quickly learned the business and operations related to concrete and material placing equipment. Prior to Putzmeister, his experience included more than 20 years in operations, engineering, manufacturing and quality while involved with industries, predominantly automotive, located in the U.S., Germany and Mexico.
"Peter is well prepared to lead the company," said Dave Adams, outgoing President and CEO of Putzmeister America. "Peter's expertise and vast knowledge will be extremely beneficial to Putzmeister and our customers." In his new role, Mendel will report to Dr. Gerald Karch, CEO of Putzmeister Holding GmbH (Germany), and he will remain based at Putzmeister America's headquarters in Sturtevant, Wisconsin.