Multi-Body Transformer: A new concept in offroad equipment
The MBT-40 package on the new Western Star 6900XD Offroad chassis makes it easy to change bodies in minutes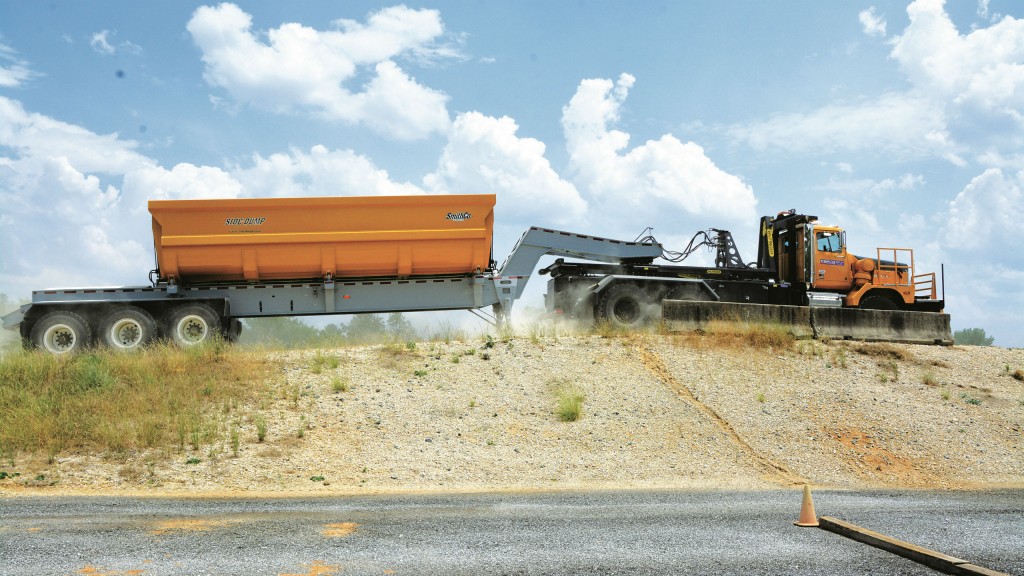 Western Star Truck Sales has launched a new extreme-duty XD Offroad package and the MBT-40 Multi-Body Transformer.
The XD Offroad package is engineered specifically for extremely rugged environments and is available on both the 4900 and 6900 models.
The MBT-40, based on the new XD-40 Offroad truck chassis, is a unique new concept in offroad equipment developed by Western Star, Carco Industries and Palfinger. "This is a 40-ton chassis that has swappable components," said John Tomlinson, XD and vocational sales manager, Western Star.
"Currently, if you buy a 40-ton articulated or rigid-frame truck and put a water body on it, it's a water truck for life, as changing bodies is a costly and lengthy operation," he said. "What we've developed is a product that is very adaptive – you can take off the water body and put on a dump box in less than five minutes."
Western Star demonstrated the MBT-40 for media at a recent event in South Carolina, showing off a trio of bodies. The truck is built with a Palfinger G68 68,000-pound hooklift installed, which previously was only placed on trailers, Tomlinson said.
"We developed the idea: what if we put the G68 on my truck – which doesn't even notice it's got a hooklift on it – and pull bodies on? Our dealers can stock this truck and keep it in the yard, and if customers need the water body, you can buy that attachment; if they need a tip trailer, they can order that," he said.
In a presentation to the media, the MBT-40 showed how quickly a body change can occur. An operator disconnects lines from the body where necessary and engages the hooklift, which pushes the body back off the truck, allowing the operator to drive out from under it.
The operator can then use the hooklift to connect with another body, pull it on, plug in the lines and head out. Making that change between water truck and dump box takes between 5 and 10 minutes.
A fifth-wheel hitch can be pulled on to the truck to turn it into a tractor. Western Star demonstrated this at the media event and hooked up a 70-ton side-dump trailer from Smithco.
"This becomes a very versatile vehicle for the construction and mining industry," Tomlinson said. "If you see an articulated water truck sitting by the road, that's a chassis someone paid $700,000 for and it sits idle most of the day. With the MBT, you can water in the morning and dump the rest of the day – it's faster to change the body than it is to fuel up."
"The XD Offroad vehicles are really not trucks," said John Tomlinson, Western Star XD and vocational sales manager. "We had offroad customers and truck customers come in. The truck customers go 'Wow, what would you use that for, and how much is it?' Then the offroad guys come in; they do things differently. They looked at the equipment and said 'Wow, we could really use that! How much? Really – that cheap?'
Western Star's new extreme-duty XD Offroad package is designed to make it easier to purchase equipment for a range of jobs. Based around existing truck sizes, it is designed to be easily ordered and delivered through Western Star dealers, Tomlinson said. "We have taken years of experience and looked at packages that make sense. Our dealers and customers have experimented with things like axle options," he said.
"Dealers like those packages. These are very expensive pieces of machinery to order, and if you do it wrong you wind up with a very expensive planter. We have dialed these down to where you can quote one of these machines in less than an hour."
The XD-40 is available in 6x4 and 6x6 configurations, with a number of options on axles and suspension. The vehicles are powered by the Detroit Diesel Series 60 or DD16 engines, depending on the customer's needs. They are designed to handle the rough terrain that mining or other offroad operations can put them through. Western Star has brought together a number of body builders to produce bodies for the XD-40 and MBT-40, and is encouraging others to get involved with providing options. "The MBT is an open platform concept – we encourage all body builders to use that platform and adapt their bodies," Tomlinson said.
Related products
Related Articles
Searching for the best-performing excavator? Your search ends here. We tested the Volvo EC350E and EC380E against a leading competitor in three different tests: trenching, truck loading and lifting capacity at reach. The results show a 20% difference in cost-per-ton, a 15% difference in tons-per-hour and a 12% difference in both operating costs and lifting capacity. See the results and put an end to your search for the best excavator.