Rental companies return to growth in 2011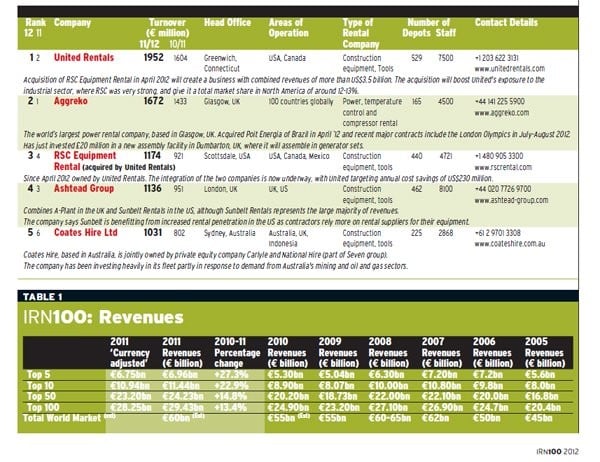 Worldwide equipment rental revenues grew significantly in 2011 as contractors and other equipment users increased their reliance on rental suppliers, according to the latest IRN100 survey of the largest 100 equipment rental companies worldwide published by KHL Group.

Rental companies in all regions reported revenue growth last year, although European firms lagged behind the rest.

Total rental-related revenues at the world's top 100 rental companies grew by 13.3% last year, with revenues at the top 10 growing on average by 22.9%, after adjusting for currency changes. The full survey is published in the July-August issue of International Rental News (IRN).

North American rental companies in the list grew on average by 17% while European renters reported much more modest growth of 5.9%. US rental giant United Rentals tops the list – even before accounting for its recent acquisition of RSC Equipment Rental - with UK-based power rental company Aggreko at number two.

The 2011 survey reflects wider trends in the global economy, with growth shifting to emerging markets and recovery in the US proving more robust than in Europe. Of the top 100 companies, 44 were from Europe, the lowest number since the survey was started in 2005 and the first time it has been below 50.

Emerging markets continues to increase their participation in the list, with Chinese and Middle East companies in the top 100 for the first time. Chinese tower crane rental company Shanghai Pangyuan Construction enters at number 90 with revenues of €77 million, while Dubai-based Rental Solutions & Services (RSS) and Byrne Equipment Rental enter at 85 and 93, respectively.

Capital expenditure on fleet was also up dramatically in 2011, with the top 25 spenders investing €5.7 billion, gross, in their fleets. That is more than double the €2.5 billion in 2010 and reflects high replacement investment by rental companies in the US, Japan and Australia.

Murray Pollok, the report's author, said; "A mix of factors contributed to the growth in rental last year. Many of the biggest rental companies in North America and Europe saw rental revenues recover from depressed levels in 2009 and 2010, while in developing areas of the world rental companies are expanding rapidly as the rental concept catches on.

"In addition, many rental firms believe that the current economic uncertainty, and difficulties in obtaining finance, are leading equipment users to source more of their equipment from rental suppliers. This trend is most evident in North America, where rental penetration rates are increasing."

IRN100 – the world's largest 100 equipment rental companies

Position (Last Year) Company - Country
1 (2) United Rentals - US
2 (1) Aggreko - UK
3 (4) RSC Equipment Rental - US
4 (3) Ashtead Group - UK/US
5 (6) Coates Hire - Australia
6 (5) Algeco Scotsman - US
7 (12) Aktio Corp - Japan
8 (7) Hertz Equipment Rental Co - US
9 (8) Loxam - France
10 (10) Nikken Corp - Japan

Note: Rankings based on rental-related revenues in 2011 (or fiscal year 2011/12) and excluding new equipment sales.

The survey includes rental companies who rent construction equipment, aerial platforms, power generation equipment, portable accommodation/storage units and cranes.

The IRN100 is available to buy from KHL's information store, www.khl.com/information-store, either as a report on single years, or as a multi-annual study.