Deep foundation equipment from Liebherr deployed by Hilti & Jehle GmbH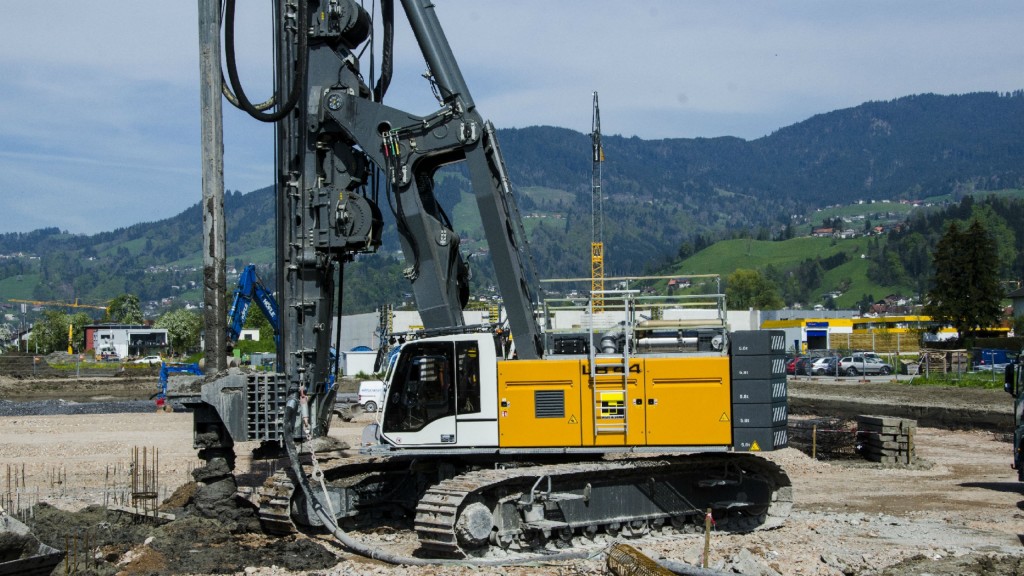 The Austrian construction company Hilti & Jehle GmbH is relying on modern and high performance machines from Liebherr for complex deep foundation tasks. A rotary drilling rig type LB 44 is currently working on the construction of a factory building in Dornbirn. At the end of last year, Liebherr's new piling and drilling rig LRB 355 celebrated its debut on one of Hilti & Jehle's jobsites.
The LB 44 is presently the largest pure rotary drilling rig from Liebherr and it is currently being used by Hilti & Jehle to insert pile foundations for a new production building measuring 203 x 130 m. The building project is for Julius Blum GmbH, a company specializing in the manufacture of functional furniture fittings.
At the outset, the auger drilling method (CFA) was used. However, due to the extent of the excavations it was finally decided to change to full displacement tools for the drilling work. No less than 2,988 piles must be inserted at depths of 28 and 29 m for the foundation work in Dornbirn, which started in the middle of March this year. According to actual information, it should be completed at the beginning of August. The ground conditions present a special challenge. Although the soil comprises mainly loam and peat, the work is made more difficult through several layers of densely compacted gravel which are up to 6 m thick.
LRB 355 – jobsite debut in Dornbirn
Also in operation for Hilti & Jehle is the new high performance piling and drilling rig LRB 355, which has been sold for the first time worldwide. The 105-tonne machine with a maximum height of 33.5 m made its debut last autumn on a building site at the exhibition grounds in Dornbirn, Austria. Despite its dimensions, the deep foundation machine is easy to transport with mounted leader, slide and ropes.
Due to the difficult soil conditions, and in order to avoid any subsidence, a large number of concrete piles in various forms had to be inserted at the jobsite in Dornbirn. In the process, the LRB 355 proved its strengths for the first time under tough jobsite conditions. In the past, various types of machinery would have been necessary, but this new multifunctional machine can create different types of piles, depending on the requirements and soil conditions.
"With the LRB 355 from Liebherr we have a modern, top-line machine at our disposal. Thanks to its multifunctionality the quality of foundation work is improved and, at the same time, we are more flexible and can work more efficiently," says project manager Markus Maehr from Hilti & Jehle describing the advantages of a new piling and drilling rig.
Piling and drilling rig with outstanding features
The LRB has a robust undercarriage as well as long crawlers that ensure a higher level of stability. Thanks to the parallel kinematics, the piling and drilling rig has a large working radius. A further advantage is the assembly of all winches directly on the leader. On the one hand, this enables a clear view of the main winch from the operator's cab and, on the other hand, ensures that the ropes do not move when the leader is adjusted.
A particular highlight is the fuel efficiency of the 600 kW V-12 diesel motor, which runs at a reduced speed of 1,700 U/min. Moreover, using the Eco-Silent-Mode the engine speed can be reduced to a predefined level. This enables a significant reduction in both the fuel consumption and the noise emission without impairing performance or efficiency.
The innovative BAT rotary drive is a new working tool with a torque of 450 kNm, which can be individually configured depending on the application. The main advantages of the hydraulic drive, manufactured by Liebherr, lie in the automatic torque regulation, the continuous speed optimization and four electronically adjustable speed ranges.
Further deployment of the LRB 355 on a Swiss jobsite
The most recent jobsite for the LRB 355 was in St. Gallen, Switzerland. Here it was equipped with the double rotary drive type DBA 300. In combination with a Liebherr concrete pump type THS 80 D, the piling and drilling rig was used to insert 316 piles for a secant pile wall.
This foundation work is for a multi-storey office and apartment building. The piles have a diameter of 900 mm and lengths of between 18 and 22 m. The LRB 355 also convinced on this jobsite thanks to its outstanding efficiency. Despite challenging soil conditions and remarkable drilling depths for this particular type of application, a mere 1.5 hours was required to complete one pile.
In addition to drilling with a double rotary drive, the LRB 355 can also be used for all other common drilling methods, for example: Kelly drilling, full displacement drilling or continuous flight auger drilling. Using the Kelly drilling method the LRB 355 achieves its maximum drilling depth of 60 m. Other applications for which it can be used include soil mixing and operation with vibrators and hydraulic hammers.
Company info
Related products
More from Foundations
The all-new CASE TR340B compact track loader — operating at 90 horsepower with a 3,400-pound rated operating capacity — is the most powerful radial-lift CTL in the CASE lineup. Its all-new 8-inch LCD display improves on industry-leading CASE visibility with a new backup camera that is viewable in both forward and reverse operation. The display also showcases critical operating information and "trip" details. All-new electro-hydraulic controls, managed through the display, make it easier than ever for operators to dial CASE CTLs into specific application demands. All new cab controls and joysticks make the new TR340B easy to own and operate.
Industries such as construction, mining, energy, utilities and forestry, face many challenges when it comes to tracking assets and employees. Equipment often has to be transferred between locations, or monitored while it is dormant during off seasons. Lone workers may have to travel long distances or visit multiple sites during the course of their activities. And, all of this is further complicated today with shifting supply chains and economic realities putting further strain on the bottom line.