McCloskey International turns the spotlight on crushers at Hillhead 2016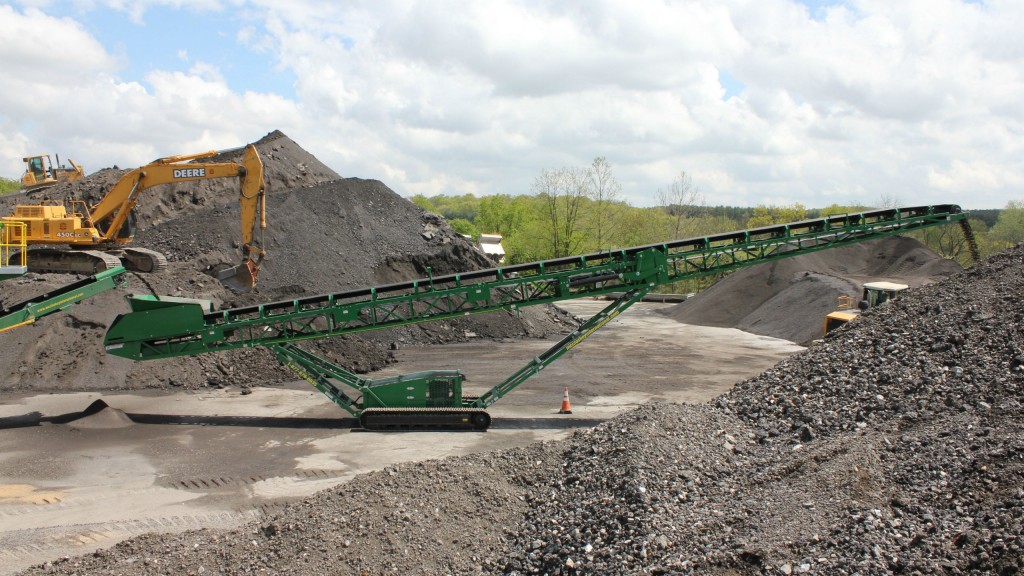 Hillhead 2016 visitors will get a closer look at McCloskey International's jaw crusher duo, the J40V2 and J45R, in Buxton Quarry June 28-30, 2016. The spotlight is on crushers, with a J40V2 at work in the demo area with a tracked stacker, and a J45R jaw crusher on display along with an I44 Impact Chamber.
The demonstration of the J40V2 feeding an ST80T tracked stacker will take place in the Rock Processing Demo area, adjacent to McCloskey's Stand L22.
In the demo area
McCloskey International will be running the nimble, high production J40V2 with its heavy-duty cheekplate design, 40-inch-wide jaw, and user-friendly control panel with excellent machine diagnostics. At 2.5 metres wide, the J40V2 jaw crusher has enhanced portability and is ideal for sites that require a high degree of mobility. Maximum productivity is delivered through the enhancements to the jaw box, including a larger gap between the crusher discharge and main conveyor feedboot.
Taking on the material produced by the J40V2 will be the ST80T, designed for high capacity stockpiling operations. The ST80T comes as standard with diesel power units, hydraulic main lift and hydraulic top fold. The tracked stacker line includes a radio controlled track mounted unit for maximum mobility, a setback axle and 22.5 degree maximum conveyor angle, which the company says allows for the highest stockpiles per conveyor length in the industry. These conveyors have a durable frame, large direct feed hopper and base production capacity of 500 TPH with optional upgrades to 800 TPH.
On the stand
On display at Stand L22 will be the high performance J45R jaw crusher which allows operators to produce a crushed and screened final product with one machine. The J45R combines the productivity of the 45- x 27-inch single toggle jaw with a High Energy Screenbox and a recirculating conveyor system to create a full crushing, screening and recirculating system for maximum productivity and unmatched portability.
Powered by a 350-hp engine, the J45R has an I-beam plate fabricated chassis construction and boasts a 14-foot 10.2-inch x 7-foot 3/4-inch hopper with close to 9.0 cubic yard capacity. The 5- x 10-foot Screenbox features "High Energy" technology, with adjustable speed, and a G-force of 5.05.
The heavy duty 3-ply chevron pattern belt returns oversize material to the feeder, and serves as an excellent tool for oversize materials bypass giving a substantial production boost with low operational costs.
The I44 Impact Crusher Chamber will also be on display at Stand L22. The impactor's features include four-blow-bar, 45.2-inch-wide impact chamber and a wider crushing chamber with larger opening and heavier impact rotor for unrivalled production compared to similar sized impactors. In addition, four-bar vertical liftout quick change hammers can be used with two high and two low bars for high capacity primary crushing. The I44's impact chamber makes it ideal for a variety of applications worldwide, including asphalt recycling, concrete recycling, rock crushing, construction and demolition.
McCloskey authorized dealer, Aggregates Processing & Recycling Ltd. (AGG-PRO) will display the flagship screener, the S190 Triple Deck, along with the R155 Scalping Screener at stand M10.
Company info
Related products