Vacuworx SS 2 vacuum lifting system takes skid-steer versatility to the next level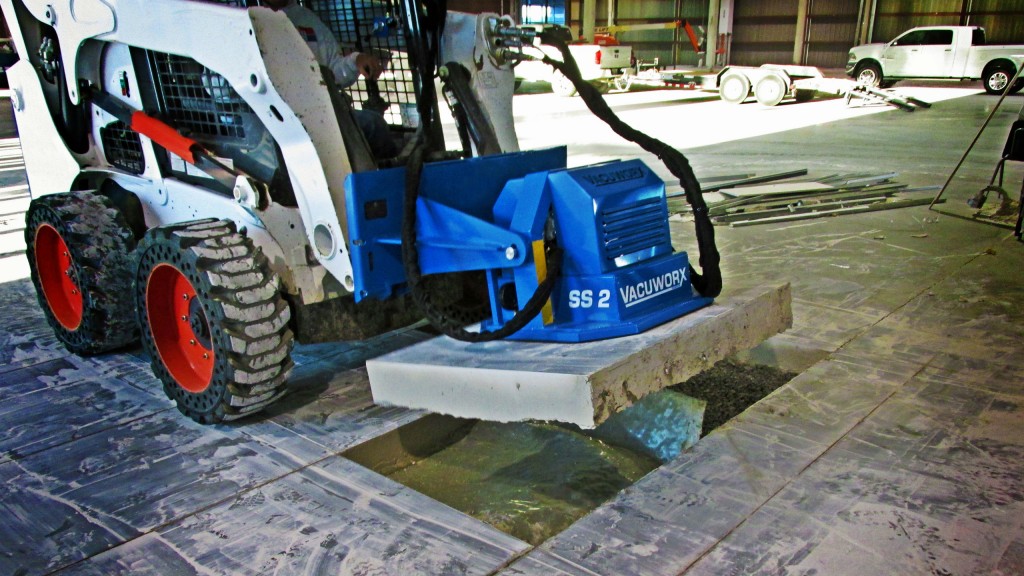 Vacuworx has introduced an attachment to make skid steers in even more versatile – the SS 2 Vacuum Lifting System. With the SS 2, a skid steer becomes part of a system that can lift steel plate; saw-cut concrete, granite and marble slabs; landscape pavers; and other materials faster, safer and smarter.
Ultimate skid-steer attachment
Lightweight and extremely versatile, the SS 2 is the ultimate skid-steer attachment for construction and demolition contractors. Featuring all-aluminum construction, the patent-pending design has a hydraulically driven vacuum pump and can be easily attached to any skid steer. Quick-connect hydraulic hoses and a "universal" mounting plate makes switching attachments fast and easy so you can maximize productivity. The SS 2 can also be used with a variety of mini-excavators or small cranes using the clevis hook connection.
Productivity in a small package
The compact design weighs just 98 pounds (without mounting plate) but has a lifting capacity up to 2,716 pounds (1.25 tonnes). The SS 2 is compatible with all skid-steer brands and is perfect for floor, sidewalk, driveway, road and landscaping projects. Not only is vacuum lifting a safer alternative than hooks and chains, it also increases productivity and allows you to move on to the next job faster. With the help of the SS 2, you can cut concrete, remove the sections and pour new concrete all in the same day.
How vacuum lifting works
The vacuum pump operates using the auxiliary hydraulics from the host machine (minimum 10 gpm required with maximum 3,000 psi). The vacuum pump maintains a constant vacuum in the pressure reservoir. When activated, the system pulls a vacuum between the integrated 24- x 24-inch vacuum pad and the object to be lifted, providing a powerful positive seal. Vacuworx Tough Seal pad seal is used on the vacuum pad to cover the material to be lifted and create the necessary suction. The vacuum seal holds until the operator activates the release (even in the event of a power failure).