Terex Finlay announces exciting new product introductions at Hillhead 2016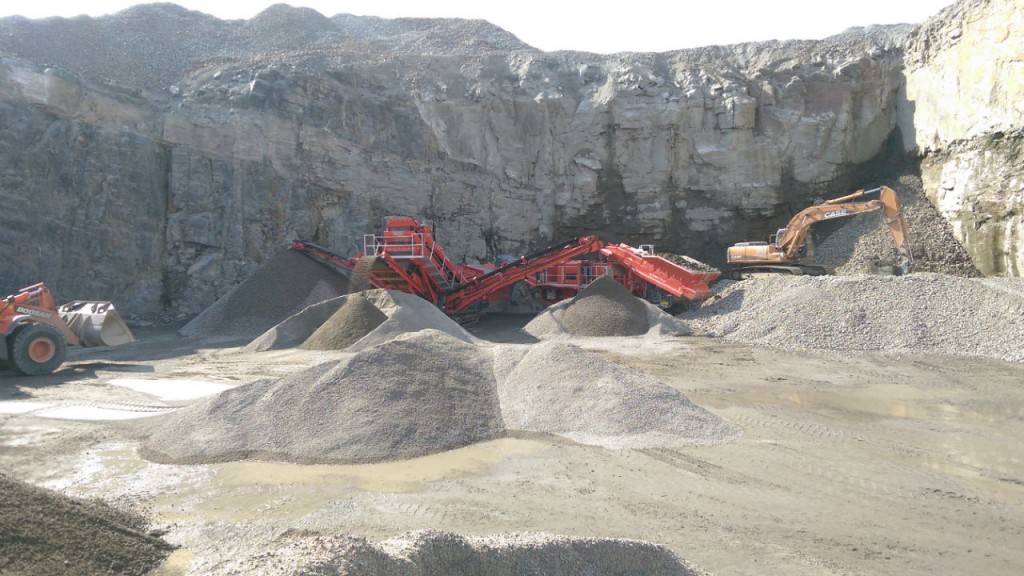 Terex Finlay is set to unveil three exciting new products at Hillhead 2016 in their largest ever presence at the show. Terex Finlay will officially launch the new C-1540 direct drive cone crusher and 674 3-deck inclined screen. They will also preview the new I-140RS impact crusher in advance of its launch in Q3, 2016.
"We are looking forward with excitement to the upcoming Hillhead 2016. We return to the showcase event for our industry with even more exciting new product introductions and a fantastic story to tell our customers. In total we will have 12 machines on display in what will be our largest ever presence at Hillhead. Literally every machine on display at the show is a new product introduction, been recently launched or a preview of another new model," commented Nigel Irvine, Sales and Marketing Director.
The full Terex Finlay machine lineup is confirmed as follows.
Working area (in front of booth):
J-1480 jaw crusher
New C-1554 cone crusher
New I-140RS impact crusher
Recycling areas:
J-1170AS jaw crusher
New 873 Spaleck recycling screen
Booth (static display):
New I-140 impact crusher
New C-1540 cone crusher
New C-1545 cone crusher
J-1170 jaw crusher
J-960 jaw crusher
New 674 inclined screener
883+ heavy-duty screener
One of the highlights from the Terex Finlay crusher portfolio will be the official launch of the NEW C-1540 direct drive cone crusher. This machine has been developed to satisfy the requirements of medium-sized owner operators and contract crushers. The machine has been well received at a number of customer preview events and we are pleased with the initial order levels being placed on the factory. We will also be exhibiting our C-1545 cone crusher at the booth. We introduced this machine in late 2015 and have been delighted with the uptake and acceptance from the international market.
From our extensive range of impactors we will be displaying our new I-140 impact crusher. This next-generation impactor was premiered at the 2016 Bauma exhibition and was one of the stand out machine launches at the show. We will also be previewing the latest development with the preview of our I-140RS impact crusher.
From our comprehensive range of jaw crushers we will be exhibiting the ever popular J-1170 and J-960 jaw crushers. Both these machines are well respected and key models for the important UK and European markets.
The Terex Finlay screener line up is equally impressive and we will be launching our NEW 674 inclined screen at Hillhead. This small to mid-size inclined screen has been specifically developed to appeal to the contract crusher and small scale owner-operator looking to produce four specification products from the one platform.
The 674 inclined screen has been developed to enter new space in the mobile screening market. We're excited by the buzz and interest that has been expressed in this new model and expect it to be a real star of the show.
From our 8-Series range of we will be showcasing our biggest volume machine, the 883+ heavy duty screener and our recently introduced 873 Spaleck recycling screener.
'Crusher Alley' demonstration
Terex Finlay are 'unleashing the beasts' in the main working area in the form of the J-1480 jaw crusher and recently launched C-1554 cone crusher. These two heavyweights are sure to be show stoppers during the live working demonstrations with the tonnage of material that they will put on the ground. These large capacity workhorses have consistently been producing up to 800 tph and will be demonstrated showing the production capacity during the show.
Terex Finlay will also be previewing the new I-140RS impact crusher in the main working area in advance of its launch in Q3, 2016. This exciting new machine features an onboard detachable sizing screen and recirculation conveyor for producing a spec'd product. For applications not requiring utilization of the recirculation system the conveyor can be slewed into position and used as a stockpile conveyor. Used in this configuration the machine can produce three products from one platform.
Recycling areas demonstration
In the recycling working areas Terex Finlay will be exhibiting the J-1170AS jaw crusher and new 873 Spaleck heavy duty recycling screener. We previewed the J-1170AS at Hillhead 2014 and put the machine went into serial production in early 2015. This highly adaptable machine has been well received by contact crushers and owner operators as it provides the flexibility of a crushing and screening plant on one platform for use in mining and recycling applications. The detachable on-board sizing screen can be quickly removed allowing the operator to use the machine as a standard unit depending on the application.
The 873 Spaleck recycling screen is the latest model to be developed in partnership with Spalck GmbH. Launched in late 2015 this machine has gained positive traction in the global market, particularly in those markets where machine movement from site to site is complicated. The machine still provides impressive material processing capabilities in aggregates, sand and gravel, construction demolition and recycling applications but from a more compact transport envelope to the existent 883+ model.
The top deck 3D screening segments and bottom deck flip-flow technology put this machine into a class of its own, even in wet, difficult and sticky applications where are machines would struggle to operate with minimal downtime.
T-LINK demonstration
Terex Finlay will also be demonstrating their T-Link telematics remote monitoring and fleet management system on in their booth.
Trained personnel will be on hand through the duration of the show to demonstrate to visitors how the T-LINK system can help them stay connected with and keep track of their equipment, monitor work progress, manage logistics, access critical machine information, analyze and optimize machine performance and perform remote operator support.
These demonstrations will take place in the Terex Finlay hospitality booth and will focus on the machines that are actually working at the show.
"We have seen the power of 'listening to our customers' and what a culture of positive leadership and working together can accomplish. All of us at Terex Finlay are committed to delivering even more of the great products and innovations that will deliver growth and define our company going forward." Commented Paul O'Donnell, Terex Finlay Global Business Line Director.
Company info
Related products